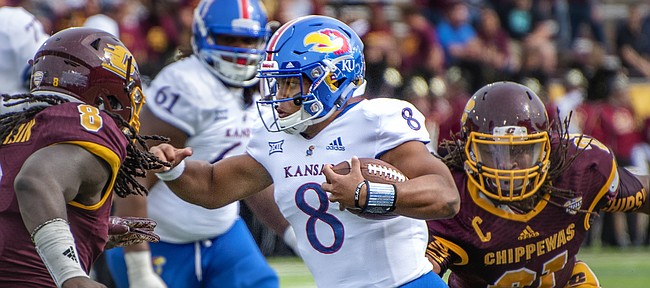 During his final weeks as the football coach at the University of Kansas, David Beaty hesitated to reveal much publicly about the program's plans for redshirting certain players this season.
As of Thursday, seven days since the Jayhawks' finale, the team, now coached by Les Miles, has yet to make any official decisions on which players will use 2018 as a redshirt year.
Any member of the team who played in four or fewer games and hasn't taken a redshirt in a previous season would be eligible to do so.
However, that doesn't automatically mean Miles and members of his coaching staff, once assembled, will want to implement the strategy and give a certain player another year of eligibility with KU.
Here is a list of KU's likely scholarship players who could be awarded redshirts, with the number of games in which each appeared this year listed in parentheses.
• Kenny Bastida, fr. LB (4) — A three-star linebacker from Deerfield Beach High (Fla.), KU used him a little this season on special teams.
• Julian Chandler, jr. CB (4) — In his third season at KU, the corner from Houston played on special teams the first four games of the year.
• Evan Fairs, jr. WR (4) — After making a limited impact in the season's first four weeks, with two catches for 26 yards, Fairs suffered an undisclosed injury and sat out the rest of the season.
• Davon Ferguson, soph. S (4) — A first-year transfer from Hartnell College (Calif.), Ferguson played here and there during the first half of the season, and even recorded an interception at West Virginia, in what proved to be his final appearance of the year.
• Quan Hampton, soph. WR (4) — Much like Fairs, Hampton entered the year as a promising target in KU's passing game. And, like Fairs, it never materialized for Hampton as he battled a nagging injury. Hampton caught five passes for 59 yards, with his last appearance coming against Oklahoma State.
• Elijah Jones, jr. CB (4) — Another junior college transfer, Jones played sparingly in his first year at KU, making two tackles and breaking up a pass.
• Miles Kendrick, soph. QB (4) — Kendrick's usage went from every game to non-existent after he suffered a shoulder injury Week 4 at Baylor. Beaty stated before the season began that Kendrick would play every week, but that plan changed mid-season, even though the backup QB was deemed healthy enough to play. In four appearances, the transfer from College of San Mateo (Calif.) completed 11 of 19 passes for 100 yards and a touchdown and rushed 16 times for 47 yards and a TD.
• Reuben Lewis, jr. OL (1) — In his first season at KU after transferring from Coffeyville Community College, Lewis only played on special teams in Week 2 versus Rutgers.
• Jacobi Lott, fr. OL (0) — During preseason camp, the true freshman lineman from Amarillo, Texas, suffered a season-ending injury.
• Ryan Malbrough, fr. RB (1) — A true freshman from Cecilia, La., Malbrough's only appearance came in the late stages of KU's Week 2 dismantling of lowly Rutgers. Malbrough ran the ball three times for 10 yards.
Podcast episode
Now that the Les Miles era of KU football has officially arrived, KUsports.com and Lawrence Jouranl-World beat writer Benton Smith is joined by Matt Tait and Shane Jackson to discuss all that Miles has been working on already and answer your questions regarding the future of the program, recruiting, Pooka ...
• Api Mane, jr. OL (3) — During the non-conference portion of the schedule, Mane picked up steady in-game reps at guard and on special teams. But Kendrick's one-time San Mateo teammate didn't play in KU's final nine games.
• Kyle Mayberry, jr. CB (3) — A three-star prospect in the Class of 2016 from Tulsa, Okla., Mayberry started five games for KU in 2017, as a sophomore. But he only played in three this year. Mayberry suffered an injury in September and would only go on to play in the opener and the season's final two games. He recorded three tackles and broke up a pass at Oklahoma.
• Jalan Robinson, fr. OL (0) — The hometown freshman from Lawrence's Free State High did not play during his first year as a college athlete.
• Nick Williams, fr. OL (0) — After enrolling at KU early, for the spring semester, Williams, a 6-foot-8 freshman offensive lineman from Overland, Mo., didn't appear in any games.
Miles reportedly looked into reviving football elsewhere
According to a report from the Dallas Morning News, KU's new football coach, months before taking the job, was involved in discussions about reviving the defunct football program at UT Arlington.
Per the report, Miles, who hadn't coached since LSU fired him four games into the 2016 season, met with an Austin-based construction and design company this past March to discuss plans for a UTA football facility. The university hasn't fielded a football team since 1985.
KU introduced Miles as its head coach on Nov. 18.