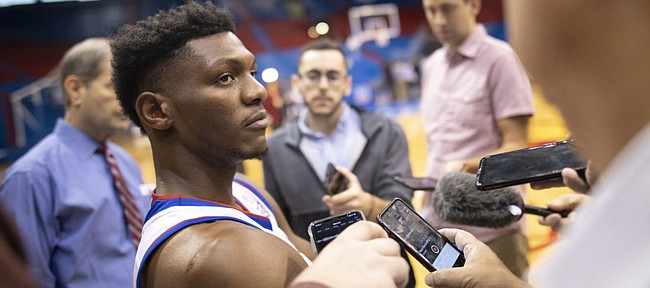 Kansas basketball coach Bill Self said Thursday that he did not have "anything new to report on that at all," when asked about the eligibility status of sophomore forward Silvio De Sousa.
De Sousa, who remains sidelined at KU's discretion pending the outcome of an NCAA investigation into his eligibility, has not played at all this season — including exhibition games — and is awaiting the results of a deeper look at his involvement in the federal trial that led to the conviction of two former Adidas executives and an aspiring agent.
KU officials have said throughout the process that the university would cooperate fully with the NCAA and act in correspondence with the NCAA regarding any decisions about De Sousa returning to KU's lineup.
De Sousa and guardian, Fenny Falmagne, claim that neither of them took any money from anyone. But sworn testimony during the trial tied De Sousa's guardian to a $60,000 payment from a booster at Maryland, a $20,000 payment to help De Sousa attend KU that was never made and $2,500 for online classes to get De Sousa enrolled at Kansas.
It marks the second year in a row that De Sousa has had to await word from the NCAA regarding his eligibility, though Self noted Thursday that the two scenarios are drastically different.
"He had to wait last year, but that was no fault of anybody," said Self of De Sousa, who has been working with KU's second unit during practices. "He got here at a certain time and you have to get cleared and it took four games or whatever to get him cleared and it could seem like that's frustrating, but he wasn't ready to help us a week after he got here anyway. So that wasn't as big of a deal. This is a bigger deal."
Neither Self nor anyone else at KU has provided details of any kind of timeline for a ruling on De Sousa's status. And the KU forward is likely to remain sidelined indefinitely until something is decided.