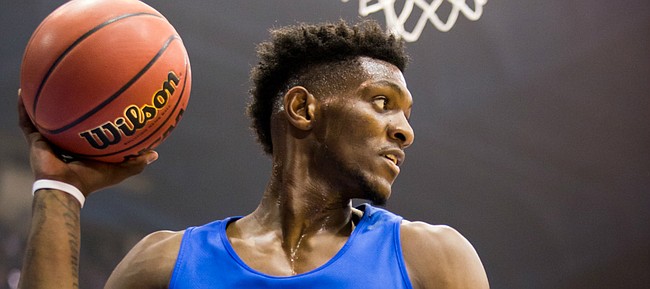 Since he first arrived in Lawrence a little more than 11 months ago, Silvio De Sousa, by no choice of his own, has grown accustomed to waiting.
The 6-foot-9 Kansas basketball forward, who graduated from IMG Academy in Florida early in order to join the 2017-18 Jayhawks just before the start of conference play, had to wait four games before receiving clearance to play as a freshman. The NCAA, per its standard procedure, had to first review De Sousa's academic and athletic history, one that began on another continent, in Angola.
This year's halt, as his coach Bill Self put it Thursday, though, is a "bigger deal."
When De Sousa's recruitment, both by Maryland and KU, surfaced during a federal trial examining college basketball corruption, it left the big man's immediate future in limbo.
Now five games into what may or may not be his sophomore season, De Sousa still doesn't know when — or if — he will again suit up for the Jayhawks, currently ranked No. 2 in the nation.
In the meantime, KU continues to cooperate with the NCAA's investigation into De Sousa's eligibility, in the wake of federal testimony that revealed his guardian, Fenny Falmagne, allegedly received $2,500 for college courses to send the five-star prospect to Kansas, after Falmagne allegedly got an additional $60,000 from a Maryland booster.
While De Sousa hasn't been made available for interviews since KU's media day in early October, the people who see him and interact with the physical forward attest all this uncertainty hasn't weighed the high-energy big man down.
Self described De Sousa's attitude as terrific.
"He has stayed positive and he is working his tail off," Self began, "and he is doing it playing on the second unit, because you can't give him all the reps on the first unit — we don't know when it's going to happen. But he's getting the vast majority of his reps with the second unit. He's had a great attitude and staying very positive."
When redshirt sophomore point guard Charlie Moore sees De Sousa at practices, he sees someone making the most of those unglamorous repetitions. If De Sousa is worried about what will become of this investigation, it doesn't sound as if that is putting him in a bad head space when his teammates need him.
"Knowing that he's been sitting out and things like that," Moore shared, "I know it's been hard for him. But at practice, he's been giving it 110 percent. Every practice is like a game for him. That's how he's carrying (himself) and coming to practice every day. And he's been doing great with that."
Given the abnormal circumstances, sometimes KU's coaches ask De Sousa to be someone else in practice settings. Fellow big man Mitch Lightfoot said when the Jayhawks prepared for their top-10 showdown with Tennessee in New York, part of the scout work and preparation included De Sousa taking on the role of Volunteers forward Grant Williams.
But even when no such specific assignment exists, KU's active front court players benefit from the challenges De Sousa provides.
"It's great to go against Silvio every day, because he's obviously a force. He's built," Lightfoot added, flexing his shoulders wide to mimic De Sousa's stature. "He knows how to play. He's been doing a great job of bringing that energy and not letting anything get to his head. I feel like that's special. Not a lot of people could do that."
Who knows whether a prolonged delay in the case will change De Sousa's manner? For now at least, Lightfoot said the unpredictability of his teammate's situation doesn't show.
"Even if he does slip a little bit, it doesn't last. It'll last a play, maybe," Lightfoot reported. "He fixes it and figures out how he can help the team."
If De Sousa were cleared to play, he would have the incentive of earning a starting spot or more playing time fueling his efforts. Those motivations are nothing more than hopes at this juncture.
Yet, by all accounts, the 20-year old from Luanda, Angola, continues to work as hard as a valued member of the rotation.
"My hat's off to Silvio," Lightfoot said. "The kid's doing a great job and he doesn't get enough recognition for that."
Division I athletes dream of playing in front of national TV audiences, not behind the closed doors of a practice court.
By the time the NCAA's investigation concludes, De Sousa might find himself unable to ever play for KU again. But he keeps plugging away when many in his situation wouldn't.
How does De Sousa do it? Do Self and his assistants have to give him pep talks?
"Everybody needs a pep talk," Self said. "You need a pep talk every now and then. But, no, he's been engaged."
And that approach, even while De Sousa is withheld from games, will benefit his teammates when they're competing in a packed Allen Fieldhouse and he's watching from the bench.