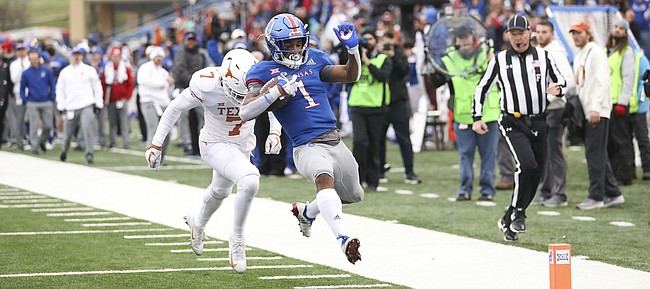 With the help of yet another Pooka Williams Jr. feat, the Kansas football program, in spite of its 3-9 season, landed three players on the 2018 All-Big 12 First Team.
The conference's coaches evidently witnessed enough overall improvement from the program and unmistakable talent from freshman running back Williams, as well as redshirt seniors Joe Dineen Jr. and Daniel Wise, to vote all three standouts onto the first team.
To cap his extraordinary debut season, Williams became the first KU player to win Offensive Freshman of the Year and the first KU freshman to earn first-team distinction from the Big 12.
A 5-foot-10, 170-pound back from Louisiana, Williams joined Oklahoma State junior Justice Hill as a first-team running back, but was also selected as the lone punt and kick returner on the first team.
Williams averaged 102.3 yards per game on the ground, while playing in 11, finishing his debut season with 1,125 yards and seven rushing touchdowns. The versatile back also contributed 289 receiving yards, 33 catches and two TDs receptions. Plus, Williams threw a nine-yard TD pass at Oklahoma.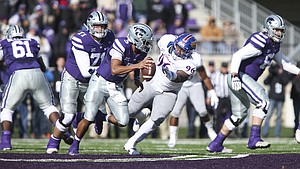 On special teams, Williams' 246 yards on 11 kick returns helped him lead the conference in all-purpose yards, at 150.9 per game.
A back-to-back All-Big 12 First Team selection, Wise, from Lewisville, Texas, became the first Jayhawk to pull that off since cornerback Aqib Talib, in 2006 and 2007, as well as the only KU defensive lineman to garner first-team distinctions in consecutive seasons since the Big 12's inception.
Listed at 6-foot-3 and 290 pounds, Wise led the KU defense with 12.5 tackles for loss and five sacks, and finished with 34 total tackles and five quarterback hurries.
A second-team All-Big 12 linebacker in 2017, Dineen jumped to the first team to finish his career after leading the conference in tackles for the second season in a row. As a redshirt senior this year, Dineen made a career-high 147 total tackles, the sixth-best mark in program history.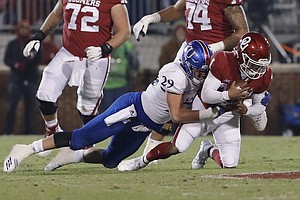 A native of Lawrence and once a star performer at Free State High, Dineen ranked fourth among all FBS defenders this season, with 12.3 tackles per game.
Incredibly, Dineen led both the Big 12 and FBS in solo tackles (108) for the second year in a row. The fifth-year senior made 11 TFLs this year, as well as three sacks, two fumble recoveries, an interception, two pass breakups and three QB hurries.
KU had not put three players on the conference's first team since 2014, when linebacker Ben Heeney, cornerback JaCorey Shepherd and punter Trevor Pardula were selected.
More KU honorees
The All-Big 12 second team included two more Jayhawks: junior offensive lineman Hakeem Adeniji and sophomore punter Kyle Thompson.
A 6-4, 300-pound left tackle from Garland, Texas, Adeniji started all 12 games for KU for the third year in a row.
A second-year specialist from El Cajon, Calif., Thompson averaged 43.3 yards per punt, sent 17 of his attempts 50 yards or longer and placed 26 inside the opponent's 20-yard line. Thompson, with some home-field bounces, pulled off a career-best 76-yard punt this past week in KU's finale versus Texas.
Four more Jayhawks received honorable mention from the coaches in all-conference voting: senior kicker Gabriel Rui and junior defensive backs Hasan Defense, Mike Lee and Bryce Torneden.
What's more, the following players received honorable mention for individual awards: Dineen (Defensive Player of the Year), Wise (Defensive Lineman of the Year), Corione Harris (Defensive Freshman on the Year) and Stephon Robinson Jr. (Offensive Newcomer of the Year).
KU football's 2018 all-conference selections
• Offensive Freshman of the Year: Pooka Williams
• First team All-Big 12: Pooka Williams, running back and kick/punt returner; Joe Dineen, linebacker; and Daniel Wise, defensive lineman.
• Second team: Hakeem Adeniji, offensive lineman; Kyle Thompson, punter.
• Honorable mention: Hasan Defense, Mike Lee and Bryce Torneden, defensive back; Gabriel Rui, place kicker; Joe Dineen, Defensive Player of the Year; Daniel Wise, Defensive Lineman of the Year; Corione Harris, Defensive Freshman of the Year; Stephon Robinson Jr., Offensive Newcomer of the Year.