As Les Miles looks ahead to Year 1 of the massive rebuilding project he agreed to take on when he signed a five-year contract to coach the Kansas football team, he doesn't appear to be a man ready to temper his expectations.
Speaking on the latest episode of his "Les Is More" podcast for The Players' Tribune, Miles reflected on his first season as a head coach, back in 2001. At the time, Oklahoma State football had not yet taken off. The Cowboys were 3-7 entering their finale, when they closed Miles' first year in charge by knocking off their rival, Oklahoma, a team ranked in the top five.
"It really started the run at Oklahoma State," Miles recalled. 'We would like to have that kind of success in our first year at Kansas."
Just getting started at KU, Miles said in order to pull that off in 2019, he and his coaching staff will have to pave the road for success with their first recruiting class.
"I think it's a challenge, but I think it's something we can do," Miles said. "I think we will win in the first year."
Photo Gallery
KU football introduces Les Miles as next head coach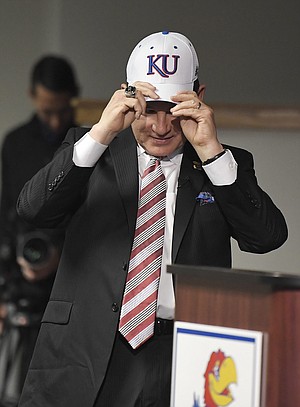 Les Miles was introduced as the next KU football coach Sunday afternoon.
Miles revealed he spent much of his time in the days leading up to the Thanksgiving holiday calling and texting with recruits. Of course, KU will be able to engage potential signees even more once Miles has a coaching staff in place and his coordinators and assistants can get out on the road to visit with players and their families.
This past week, with college football's regular season still in progress, Miles explained he could only do so much in terms of assembling his first Kansas staff. At that time of year, he said, coaches aren't concerned about anything other than preparing for the final game on their schedule.
So Miles called potential candidates, both coordinators and position candidates, just to touch base with them and let them know he would want to speak with them further this week, once they have more free time and aren't engrossed in game planning.
Once the staff is in place, Miles indicated he plans for KU's coaches to make a push for nearby recruits.
"I think there's talent right outside our door," Miles said, "and we have to get there, make our case and say, 'Hey, do you want to do something special? Do you want to play for your hometown? Do you want to play for that state that you were raised in? Do you want to make it easy for your friends and family to see you play?'"
A three-star cornerback from St. Thomas Aquinas, Jayden Russell, the top uncommitted prospect in the Sunflower State's Class of 2019, told Jayhawk Slant he will visit KU this coming weekend.
KU football, of course, hasn't won more than three games in a season since 2009, the final year of the Mark Mangino era.
This job, Miles realizes, won't be anything like when he took over at LSU in 2005 and he could just "step in and go" with one of the nation's top programs.
As he gets the lay of the land in the weeks ahead, Miles said he plans to let KU's seniors-to-be and returning leaders describe their culture, and he'll interact with them and provide advice.
"This is what you want, this is what you don't want," Miles said of how those conversations will go. "Those meetings take time, where they get to know me and I get to know them."
Miles recorded the podcast with his daughter, Smacker, on Wednesday, in Louisiana. He was expected to return to Lawrence on Monday.