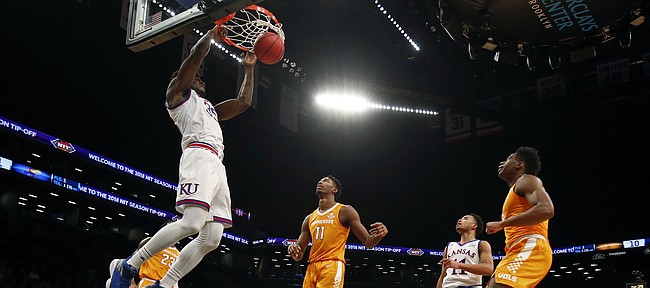 The Kansas men's basketball team may have held on to the No. 2 spot in this week's Associated Press poll, voted on by various media members who cover college basketball, but the Jayhawks could not crack the Top 10 in the first ever NET Rankings, released Monday by the NCAA.
New to college basketball this year as a replacement for the RPI system that long has shaped the way teams are added to the postseason NCAA Tournament bracket, the NET rankings (NCAA Tournament Evaluation Tool) analyze "game results, strength of schedule, game location, scoring margin, net offensive and defensive efficiency and the quality of wins and losses."
Why Kansas is ranked outside of the Top 10 despite having two wins over teams currently ranked in the AP Top 10 is not clear, but could have something to do with the fact that KU's most recent opponent, No. 6 Tennessee, is ranked 27th in the first NET rankings.
Michigan State, meanwhile sits at No. 7.
Only one of KU's three other opponents to date even cracked the Top 100 in the NET rankings, with Marquette coming in at 99th. Louisiana (120) and Vermont (224) round out KU's foes thus far.
The NET rankings include all 353 men's Division I college teams and simply list the ranking of each school and the overall record, home record, neutral-site record and non-Division I record.
No other magic number or fancy formula rating exists.
The creation of the NET rankings marks the second year in a row that the NCAA has tweaked its college basketball rankings system.
Last year, a new quadrant system that put greater emphasis on success in road games became a much-talked-about tool for predicting which teams would get into the NCAA Tournament and determining which teams belonged.
According to the release announcing the new rankings system earlier this year, the move to the NET system was approved in late July after months of consultation with the Division I Men's Basketball Committee, the National Association of Basketball Coaches, top basketball analytics experts and Google Cloud Professional Services.
Part of the process to develop NET included taking real data from recent games — including NCAA Tournament games — and analyzing that data from all angles, with the goal being to create a formula that is as accurate as possible and fair in its judgement of team performance.
"What has been developed is a contemporary method of looking at teams analytically, using results-based and predictive metrics that will assist the Men's Basketball Committee as it reviews games throughout the season," said Dan Gavitt, senior vice president of basketball for the NCAA. "While no perfect rankings exist, using the results of past tournaments will help ensure that the rankings are built on an objective source of truth."