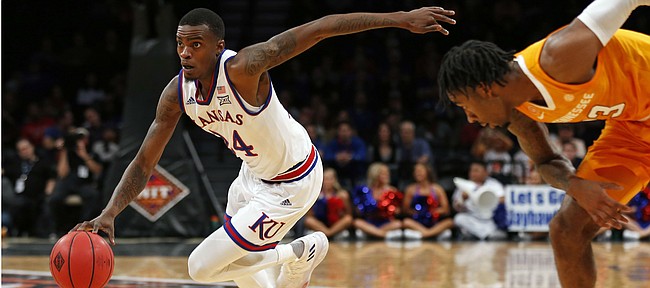 Udoka Azubuike, Lagerald Vick and Dedric Lawson won't be losing any sleep with Monday's news that Gonzaga vaulted past Kansas to the No. 1 spot in the new AP poll.
Neither will their coach, Bill Self, whose list of things to worry about doesn't include any mention of how many votes his team did or didn't receive.
Perhaps we should follow their lead.
Sure, rankings can be a fun way to track the progress of any given college basketball season. But the system is flawed. Not every voter approaches her or his top 25 with the same criteria, and some people who fill out a ballot each week just may have built-in biases, whether they think they do or not, because, you know, they are human.
Is No. 1 Gonzaga better than No. 2 Kansas? Maybe so.
The debate isn't without ambiguity. Just look at the results from this week's AP poll: The perennial West Coast Conference champions edged the Big 12's reigning champs, 1,590-1,584, in points and, 32-31, in first-place votes. That's not exactly a consensus.
If any outrage regarding the Jayhawks' No. 2 standing exists among KU's passionate fan base, that's because, traditionally, when the No. 1 team loses and the No. 2 team doesn't, that usually means a bump in next week's rankings for the runner-up.
What makes this even more of an outlier for the Jayhawks, of course, is that this is the second time this month a team below them overtook them in the rankings for the No. 1 slot.
Although KU remains unbeaten, its status as the AP poll's preseason No. 1 proved short-lived once Duke (the AP's preseason No. 4 team) walloped Kentucky (preseason No. 2) at the Champions Classic, on the same night and in the same Indianapolis arena where the Jayhawks had just defeated Michigan State (ranked No. 10 at the time) by five points.
Duke got credit for pummeling Kentucky. Two weeks later, Gonzaga pulled in an influx of national respect by knocking off No. 1 Duke. And few outside of Lawrence seem to care that the Jayhawks own neutral court victories over two teams currently ranked in the top 10: No. 6 Tennessee and No. 9 Michigan State.
Is Gonzaga actually better than Duke? The Bulldogs were on Thanksgiving Eve in Hawaii, more than four months before they could possibly meet again, deep in the NCAA Tournament.
Is KU better than Duke? Now that's a matchup I'd love to see, providing some Cinderella or hot-shooting underdog doesn't prevent it from happening when March finally gets here.
While we're all waiting and watching the season play out, though, just remember that in-season rankings end up footnotes to footnotes in the grand scheme of a five-month-long season capped by a crapshoot do-or-die tournament to determine the national champion.
Students don't make "We're No. 2!" posters to bring to hold up for TV cameras inside Allen Fieldhouse and fans don't design "We're No. 1 in November" edits for Instagram and Twitter, either, because all that anyone ultimately remembers about any KU team's season transpires in March and, occasionally, April.
The good news for KU fans is that some potential Jayhawk-jumpers — No. 4 Virginia, No. 5 Nevada and No. 7 Michigan, all of which remain undefeated, too — aren't soon playing against any other top-ranked teams that might inspire voters to disregard the Jayhawks as a No. 1 choice.
The bad news? It's easy to foresee Duke clobbering its nonconference competition the next few weeks, Kansas playing a close game here or there while maintaining a loss-free record, Gonzaga suffering a narrow loss that knocks them from the top of the poll and the Blue Devils lapping KU once again.
Just remember not to agonize over it when it happens. This is college basketball. Let's save our overthinking for March.