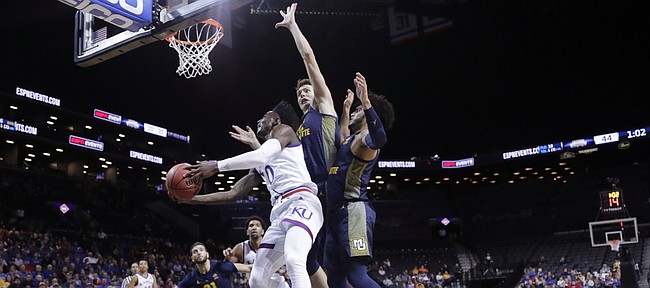 Brooklyn, N.Y. — Kansas basketball coach Bill Self revealed before Friday's game with No. 5 Tennessee that sophomore forward Marcus Garrett would not play because of what KU officials called, "concussion-like symptoms."
Garrett, who started the second half of KU's win over Marquette on Wednesday in the NIT Season Tip-Off semifinals, was hit in the head late in the win over the Golden Eagles.
Officials reviewed the play but did not call a flagrant foul. The contact was enough to cost Garrett Friday's game.
"We didn't have maybe our toughness player tonight," Self said after the 87-81 overtime rumble with the Volunteers. "So it was a great team win."
In 28 minutes Wednesday, the sophomore from Dallas finished with 11 points, three rebounds, two blocks and a steal. His poise and defensive play helped Kansas erase a 9-point halftime deficit in the win over Marquette.
Garrett is averaging 6.3 points and 2.8 rebounds per game in 23 minutes during the Jayhawks' first five games of the 2018-19 season.
KU is off until Saturday, Dec. 1, but no word was given about a time table for Garrett's return.
"He's going to be fine," Self said. "We were hopeful that he could play (Friday), but he had some of the concussion-type symptoms and there's no way we would let him play. …That was an easy decision to make."
Wiggins warm-up
Former Kansas guard Andrew Wiggins led his Minnesota Timberwolves onto the Barclays Center floor for a noon tipoff on Friday. And Wiggins and company walked away with a 112-102 victory over the Brooklyn Nets.
Wiggins, the former No. 1 overall draft pick who entered Friday's game having averaged 21.5 points per game on 49.3 percent shooting in four prior trips to Barclays Center, shot just 4 of 14 on Friday and finished with 9 points.
It hardly mattered. Wiggins was all smiles after the game, given the fact that it was the Wolves' first road victory of the young season.
Wiggins said after the game that he knew KU was in town and that he had caught up with KU coach Bill Self on Thanksgiving. He also sent KU assistant Kurtis Townsend a text message on Friday saying he knew KU was in town and wishing the Jayhawks luck.
"Always, always," Wiggins told the Journal-World after the game when asked if it was good to catch up with his former coaches. "I talked to Coach Self yesterday over the phone. He just told me they were playing here and a couple guys might come to the game and good luck. That kind of thing."
Wiggins also said he exchanged text messages with KU assistant Kurtis Townsend on Friday and that he still follows the Jayhawks.
"I watch it here and there, whenever I can," he said.
Wiggins' game Friday marked a return to the building where he became the No. 1 pick back in 2014 and, although the setup was different, Wiggins remembered it like it was yesterday.
"It's always fun coming back," he said. "I've been here a couple times. I played here in high school and then got drafted here. It's been some good memories."
Four-star PF picks Arizona
A little more than nine hours before No. 2 Kansas and No. 5 Tennessee got to work in the title game of the NIT Season Tip-Off at Barclays Center, the Jayhawks got a bit of bad news from the recruiting trail when four-star power forward Zeke Nnaji announced his commitment to Arizona.
Nnaji, a 6-foot-10, 215-pound prospect from Hopkins High outside of Minneapolis, announced the news in the Hopkins gymnasium with friends, family members and teammates in attendance.
Nnaji picked Arizona over Baylor, Kansas, North Carolina, Purdue and UCLA. The Minnesota native had made official visits to five of those six schools, including Kansas around Late Night, and also took an unofficial visit to UNC last weekend after the Tar Heels jumped in on him late.
Nnaji, who is ranked No. 37 overall in the 2019 class by Rivals.com, becomes the second high-profile power forward to pass on Kansas in the past month. Top 10 prospect Jeremiah Robinson-Earl, of IMG Academy by way of Bishop Miege High, elected to join the Villanova program a few weeks ago instead of staying close to home with Kansas.
Friday's news leaves top 10 prospect Matt Hurt and four-star shooting guard Cassius Stanley (KU, UCLA and Oregon) as KU's most important remaining targets in the 2019 class.
Because Hurt and Nnaji played AAU ball together, many believed the two could wind up at the same college, but a handful of recruiting analysts have reported that Hurt and Nnaji are not necessarily a packaged deal.
The 6-9, 200-pound Hurt, No. 6 per Rivals.com's latest rankings, is expected to make an official visit to KU sometime this season and make a college decision next spring.
All-Tourney Team
The Jayhawks landed two players on the all-tournament team on Friday night, with Lagerald Vick landing one spot and NIT Season Tip-Off MVP Dedric Lawson picking up the other.
Lawson tallied a double-double in both KU victories in Brooklyn, finishing with 24 points and 13 rebounds in Friday's championship game.
"I thought he was great," Self said of the junior transfer from Memphis. "The jump hook he made was a big time jump hook. … I thought he played great."
It was much more than just that one shot, though. After an up-and-down showing through the first two halves, Lawson really got cooking in the overtime.
He scored seven of KU's 18 overtime points, four of them coming off of plays that Lawson doesn't show all that often — slam dunks.
"I just wanted a dunk," Lawson recalled with a laugh. "So I just ran as hard as I could and Lagerald hit me in stride and that kind of sealed the deal."
Added freshman point guard Devon Dotson of Lawson's dunking: "He had a lot of energy and you could tell he really wanted this one."
As for where the dunks came from, Dotson said they may have been the result of Self's urging during practices.
"He does. He tells him to jump more," Dotson said of Self and Lawson. "Sometimes in practice he kind of gets lazy and doesn't want to jump. But he got up there (tonight). So that was great to see."
This and that... (WIN)
Kansas is now 5-0 for the second consecutive season and seventh time under Self... The Jayhawks are 20-3 all time in the NIT Season Tip-Off and have won the event four times... The Jayhawks have now won 13 straight regular season games against Top 10 opponents and are 15-3 against the AP Top 10 since the 2015-16 season... KU's last regular-season loss to a Top 10 team came against No. 1 Kentucky in the Champions Classic in 2014 in Indianapolis... Kansas has now won five consecutive in-season tournaments, dating back to 2014. KU leads the series with Tennessee, 3-1 and has won two in a row over the Volunteers.