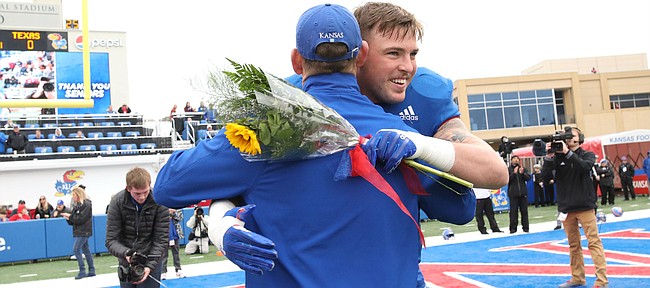 The hope Friday for the Kansas football seniors, particularly the ones who experienced the Jayhawks' previous home matchup with traditional powerhouse Texas, was to duplicate the thrill of their 2016 victory over the Longhorns.
They couldn't pull it off in a 24-17, season-ending loss to UT at David Booth Kansas Memorial Stadium.
Whether it was the adrenaline from playing such a competitive game or just the fact that being a part of the program is all he has known for close to five years, redshirt senior defensive tackle Daniel Wise said afterward it hadn't even hit him yet that his college career was through.
"Just the fact that I won't be playing with these guys again really," Wise said, while smacking fellow redshirt senior Joe Dineen on the back, when asked about the toughest part of an emotional day.
"I mean the toughest thing really is not coming away with a win," Wise elaborated. "Obviously on Senior Day, after all the hard work, obviously we want to come up with a win every week, but especially on Senior Day we wanted to get it like we did two years ago. But still grateful for the opportunity to play for Kansas. Just grateful for every down and snap that we took. And never looking back and regretting anything we did."
Photo Gallery
Kansas football v. Texas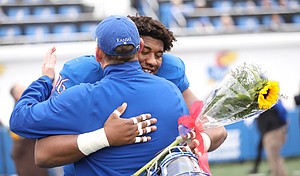 View a gallery of images from Friday's game between the Jayhawks and Longhorns at Memorial Stadium in Lawrence, Kan.
Dineen, a Lawrence native, said during his postgame interviews it was "hard to tell" right now what he will remember most about his time at KU.
"Over the years I really met some great people. Football here has introduced me to a lot of really good dudes, and good women, as well. I'm just really grateful for my time here," Dineen said.
The linebacker figured his time around the KU facilities and locker room will stay at the front of his mind for years to come.
"Just like the bond that you share with your teammates. I met some of my lifelong friends," Dineen said. "I met some of the guys that are going to stand at my wedding. It's been a great experience."
Prior to kickoff, KU's athletic director, Jeff Long, and its chancellor, Douglas Girod, greeted each senior with a handshake, and acting head football coach David Beaty embraced the players one by one, as they were introduced over the public address system and shown on the video board.
KU honored not only active seniors who have been a part of the team this season, but also some that were not able to complete their playing careers due to injuries. The players met members of their respective families with flowers and watched a "Thank you, seniors" video of highlights from their time at KU before returning to the locker room for their final game preparations.
Here are the 29 seniors who were recognized prior to kickoff:
• QB Peyton Bender
• WR Jeremiah Booker
• Former OL Jacob Bragg
• LB Joe Dineen
• C Alex Fontana
• DT Isi Holani
• DT J.J. Holmes
• WR Kerr Johnson Jr.
• DE/LB Brian Lipscomb
• LB Keith Loneker Jr.
• S Tyrone Miller Jr.
• S Emmanuel Moore
• RB Kendall Morris
• LB Osaze Ogbebor
• WR Tyler Patrick
• RB Reese Randall
• Former C Mesa Ribordy
• K Gabriel Rui
• Former OL Hunter Saulsbury
• TE Mavin Saunders
• WR Ryan Schadler
• DL KeyShaun Simmons
• WR Steven Sims Jr.
• CB Shak Taylor
• RB Deron Thompson
• OL Dwayne Wallace
• Former CB Justin Williams
• LS John Wirtel
• DT Daniel Wise
Dineen and Wise
With 14 total tackles, Dineen passed Curtis Moore and moved into fourth place all-time at KU with 391 career stops.
Wise delivered two tackles for loss in his finale, bringing his career total to 43.0 and putting him second, behind teammate Dineen's 45.5 TFLs, in KU's record books.
Mike Lee, Dom Williams talk future
Among the small group of KU players made available for interviews after the game, only two were non-seniors.
Both junior safety Mike Lee and sophomore running back Dom Williams said they don't have any plans of transferring and intend to return for the 2019 season to play for incoming coach Les Miles and his staff.
Freshmen aren't made available for interviews, per KU team policy.
Pooka's final numbers
On the last day of his remarkable freshman season at Kansas, running back Pooka Williams came up just three yards shy of breaking the program's rushing record for first-year players.
With his 103-yard showing, Pooka Williams, who didn't play in the season opener, finished with 1,125 rushing yards, tying KU legend Gale Sayers for second all-time. Sayers hit that number as a sophomore in 1962, when freshmen weren't allowed to play.
June Henley (1993) remains atop KU's record book for first-year rushers, at 1,127 yards.
Pooka Williams rushed for 100-plus yards four times in 11 games.
No Bevo
Because of KU's no live mascot policy, the Longhorns' mascot, BEVO, wasn't at Friday's football game.
It marked just the second time in 73 years that BEVO missed UT's Thanksgiving week game.
The matchup in Lawrence was UT's first non-home game, or nontraditional matchup with Texas A&M;, on Thanksgiving or the Friday after since the Longhorns played at Baylor on Thanksgiving in 1994.
Leaper captain
A team manager who currently has 49 years of experience working for Kansas Athletics, Todd "Leaper" Williams was an honorary captain for KU football's season finale.