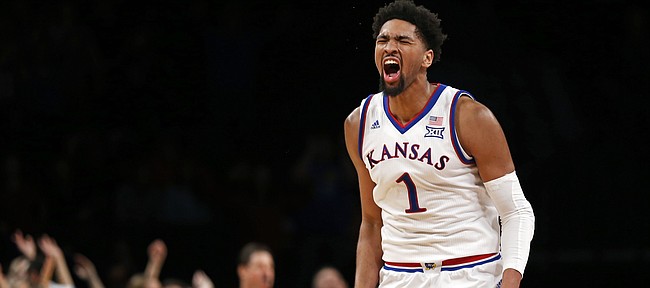 Brooklyn, N.Y. — Kansas freshman Devon Dotson may not quite be worthy of mention in the same breath as former KU stars Frank Mason III and Devonte' Graham just yet.
But he's gaining on it.
And one of the big reasons he is stems from the fact that Dotson already appears to have learned a valuable lesson that served both Mason and Graham extremely well during the past couple of seasons — get the ball to big man Udoka Azubuike.
Dotson did just that early and often during the second-ranked Jayhawks' 87-81, overtime victory over No. 5 Tennessee on Friday night at Barclays Center in the title game of the NIT Season Tip-Off.
Four times in the game's first six minutes, Dotson put pressure on the Tennessee defense by attacking hard and dumping an easy pass to Azubuike near the rim.
The strategy might have worked for much longer, and much better, had it not been for one problem. Azubuike just could not stay on the floor.
So, instead, the lightning-fast, jet-quick, ultra-tough Dotson (17 points in 40 minutes) did everything he could to lead Kansas to victory in other ways, aided by another double-double from Dedric Lawson (24 points, 13 rebounds, 5 assists in 41 minutes) and a strong night from K.J. Lawson, who contributed eight points, six rebounds and two steals while playing 19 minutes with Marcus Garrett sidelined because of concussion-like symptoms.
It wasn't the prettiest of efforts by either team. But Kansas coach Bill Self had no problem with that after his team collected its latest trophy and celebrated a hard-fought win.
"It's OK to win ugly," Self said. "And winning ugly's actually pretty at the end of the day. You shouldn't apologize for beating a team that's ranked in the Top 5 in the country and I'm not going to. That was a great win."
Kansas, which actually began looking like the No. 2 team in the country in the overtime, grinded through a tough night and a bunch of mistakes — 20-of-32 from the free throw line was one of the more glaring issues — and did so without Azubuike being the type of factor that a 7-foot, 265-pound bully of a ball player can be.
For the second game in a row, Azubuike picked up his second foul in the first half — this one on an unnecessary over-the-back call after a Dedric Lawson miss — and went to the bench for a significant stretch.
Self subbed freshman David McCormack in for Azubuike with 8:20 to play in the half and Kansas leading 19-14. Azubuike did not return to the game until the start of the second half.
With Azubuike in the game, Kansas built a 19-14 lead through the first 12 minutes of the first half. With Azubuike out, Tennessee (4-1) closed the half on a 19-12 run to take a 33-31 lead into the locker room.
"I think that we, obviously, played makeshift lineups tonight and didn't play particularly well at all, offensively," Self said. "(We) didn't have Marcus and had a couple starters really struggle and somehow found a way to hang in there. Charlie (Moore) and K.J. were great off the bench and played a key role.
"It was a good, grind-it-out win, toughness win, not artistic at all. But I think we need to learn how to win that way. This team's never really done that but we were able to do that tonight."
K.J. Lawson said he was prepared for a bigger role the minute he heard Garrett would not play. But that knowledge was only half of the reason he delivered.
"I knew I would play significant minutes," the sophomore reserve said after the win. "But I always stay ready, since Day 1 because, you know, you've got to be ready whenever your name's called."
Added Dedric Lawson of his older brother's performance, which KU needed every statistic of to survive: "I thought he played terrific. He came out there with high energy. He's a dog on the floor. He's a competitor."
The first half was hardly pretty for either side. Kansas (5-0) spent most of the half shooting 50 percent or better but also turned it over nine times and shot just 22 percent from 3-point range, airballing or hitting the backboard first on a couple of those long-range bombs.
Tennessee, meanwhile, shot just 39 percent in the half but hit key baskets at opportune times and, on two different occasions, built the only thing that even came close to resembling momentum for either side.
The Vols found some actual momentum early in the second half, opening up a nine-point lead four minutes in thanks, at least in part, to Azubuike picking up his third (19:11) and fourth (16:15) fouls of the game.
Both were on the offensive end and only one was his fault. Either way, Tennessee's ability to get Azubuike off the floor put Kansas in a world of trouble.
Azubuike re-entered with 10:11 to play and Kansas trailing by six. Over the next six minutes, Azubuike showed what the Jayhawks had been missing, cleaning up the offensive glass, throwing down a monster dunk and even hitting the front end of a one-and-one free throw situation.
Yes, the Dok Cheer did travel, as the KU contingent at Barclays went nuts when he made the free throw.
Azubuike, who picked up two of his five fouls on the offensive end, fouled out with 4:25 to play on a sloppy possession that led to an unlucky loose-ball foul. He finished with nine points, four rebounds and four turnovers in 17 minutes.
Luckily for Kansas, senior Lagerald Vick (15 points in 43 minutes), who opened the game by swishing his first shot of the night, tied things at 56 with a step-back 3-pointer with 7:20 to play. Kansas got a stop on the very next possession and Vick came down gunning again. Swish. Kansas 59, Tennessee 56.
The back-to-back 3-pointers pushed KU's run to 11-2 and Vick made it 13-2 with a jumper on the very next possession.
After another stop by the Kansas defense, the Jayhawks failed to give their senior so much as a touch on the next possession and Dedric Lawson misfired on a jumper that set the stage for a 5-0 Tennessee run that tied the game at 61.
From there, the two teams played nip-and-tuck to the finish and KU misfired on two chances to win in regulation in the closing seconds.
The first came when K.J. Lawson missed a driving runner. And the second when Dedric Lawson's desperation heave at the buzzer flew long.
That shot, which came on an inbounds pass under the basket, should never have happened. Self explained why after the victory.
"Lagerald was wide open on the lob. I mean wide open," Self recalled. "And Devon was scared to throw it.
"You've got to watch what you say to kids," Self continued. "Because I said, 'We're going to run it this way and then, if it's not open, Dedric will take the shot, just make sure you get the ball to Dedric.' Well (Dotson) just got the ball to Dedric (when) Lagerald's wide open for an easy lay in. We've got to improve on things like that."
Tennessee coach Rick Barnes left the Barclays Center irked that Kansas even had an opportunity to draw up the lob play to Vick that never happened.
"We were one rebound away from having a chance to win it in regulation," Barnes said. "And we couldn't get it. That was another thing. I thought they beat us to 50-50 balls. ... We had a chance. (But) they outplayed us. They beat us."
KU will stick around New York for a day of sightseeing on Saturday before returning to Lawrence on Sunday.
The Jayhawks will then get a week's worth of rest before hosting Stanford at 4:30 p.m. on Dec. 1 at Allen Fieldhouse.