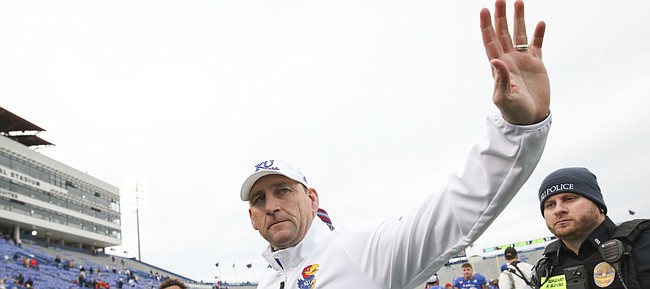 On the final day of David Beaty's tenure as football coach at the University of Kansas, the Jayhawks would need a break or two to go their way on Black Friday in order to recover from a three-touchdown deficit and topple No. 11 Texas.
And even though they actually found a few instances of fourth quarter fortune, like so many other games during Beaty's four years at KU, a victory proved unobtainable.
The Longhorns' Lil'Jordan Humphrey put an end to the Jayhawks' upset bid with 1:36 left in the fourth quarter, as the junior receiver recovered Gabriel Rui's onside kick attempt, securing UT's 24-17 victory at David Booth Kansas Memorial Stadium in the process.
Those members of the announced crowd of 15,219 who weren't wearing burnt orange, like the Jayhawks on the field and along the home sideline, hadn't relinquished their hope before then.
A 31-yard Peyton Bender touchdown pass to Daylon Charlot with 3:27 left in the fourth, followed by KU senior Tyrone Miller Jr.'s recovery of another Rui onside kick — on a re-kick following an illegal batting penalty against Texas no less — meant the Jayhawks weren't dead yet.
That sequence, followed by Rui's 45-yard field goal with 1:37 left to play got the home underdogs within seven. It allowed KU coaches and players to consider the possibility of a super-positive close to a 3-9 season that didn't even reach its conclusion before Jeff Long, KU's athletic director, decided with three games remaining that this year would be Beaty's last.
"We felt like we had the momentum there and I was really proud of Rui coming in there and drilling that field goal," Beaty said during his final postgame press conference, after his record at KU dropped to 6-42 overall and 2-34 in the Big 12. "And going and getting that onside kick after the rekick was big. … But I was proud of our guys because they executed the way we wanted them to do."
Photo Gallery
Kansas football v. Texas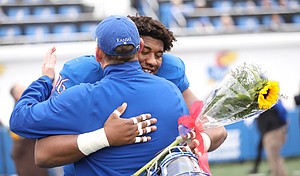 View a gallery of images from Friday's game between the Jayhawks and Longhorns at Memorial Stadium in Lawrence, Kan.
Though Texas (9-3 overall, 7-2 Big 12) only outgained Kansas (3-9, 1-8) 297-296 in yardage and KU won the turnover margin, 2-1, too many stumbles through most of the first three quarters, including a final tally of nine penalties for 98 yards, worked against Kansas — which also outperformed Texas on third downs, converting 9 of 18, compared to UT's 6 of 15.
The Jayhawks avoided heading into college football's lengthy offseason on the heels of a shutout loss when the program's star freshman, Pooka Williams (16 carries, 103 yards, TD), saw a gaping hole to burst through on the second play of the fourth quarter.
Williams noticed the open turf on the left side of the field after initially taking a handoff from Bender (18-for-35 passing, 159 yards, TD, interception) and running a few steps toward the middle. The freshman from Louisiana bounced it out left and blew past two would-be tacklers in the open field for a 57-yard touchdown.
The Jayhawks first entered full-on legitimate rally mode when their defense followed up Williams' huge run with senior cornerback Shak Taylor picking off Texas quarterback Sam Ehlinger (16-for-28 passing, two TDs, two interceptions) deep in UT territory.
However, a drive that began with hope, just 22 yards away from the goal line, was over two plays later. Texas junior linebacker Jeffrey McCulloch swatted a Bender pass over the middle, then secured the interception to return it 65 yards, flipping the field and all but solidifying a Texas victory, one that sealed the Longhorns' spot in this year's Big 12 Championship Game.
Cameron Dicker's 34-yard field goal that followed pushed UT's lead to 24-7 with 10:57 to play.
"Great play by Shak, terrific play by the kid from Texas," Beaty said of the fourth-quarter interceptions that swung momentum back and forth. "We got Steven Sims (five receptions, 13 yards) running wide open right behind him, the dude (McCulloch) kind of ducks down and we really can't see him. And Peyton's going to put the ball right on (Sims) and the guy jumps up and tips it and tips it right to himself, makes a play. And that's kind of what happens."
On KU's Senior Day, fifth-year linebacker Joe Dineen (14 total tackles, one tackle for loss) and his fellow seniors didn't get to end their careers by celebrating with their embattled head coach, partying on the field and in the locker room. Instead, they walked off the turf solemnly for a final time, as Beaty stopped on several occasions to embrace players and well-wishers.
"It's unfortunate that we didn't get that done. It would've meant a lot obviously," Dineen said of winning the finale for Beaty. "That's kind of the goal every week. I think we'll look back on this and not be happy, but proud, I guess, because of the way that we competed. I'm not, obviously, happy with the way that we're sending Coach Beaty out. These last three games we didn't win. But I think we fought hard and I think this program's headed in the right direction."
A good two quarters of the two teams primarily punting the ball back and forth was finally met with some variety on UT's second possession of the third quarter. After five consecutive fruitless series for the Longhorns, they added to their longstanding 7-point lead, pushing it to 14-0, with a 10-play, 60-yard TD drive.
Doing so didn't appear likely when KU senior edge rusher and linebacker Brian Lipscomb raced into the backfield to strip Ehlinger. But all the sequence yielded for Kansas was a sack, as UT recovered the QB's fumble. That allowed Texas to convert a 3rd and 17, as Ehlinger found Humphrey, whose yards after catch extended the drive.
Shortly thereafter, a holding penalty on KU junior cornerback Hasan Defense gave UT a free first down. Four plays later, Ehlinger ran in for a 3-yard touchdown and a 21-0 Longhorns cushion.
Kansas headed to the locker room at halftime, with just five first downs and 82 yards of offense to show for its efforts.
On the final drive of the second quarter, which began at the home team's own 37-yard line, the Jayhawks had 14 seconds to go with two timeouts in their pockets.
But Beaty elected to call just one play, a run which Williams turned into five yards, before the clock ticked down to 0:00.
The Longhorns got to open their fourth possession at KU's 40-yard line after KU's Emmanuel Moore was flagged for targeting when he blew up a Brandon Jones punt return, forcing a fumble that UT recovered. Jones' lowered helmet collided with Moore's on impact, leading to the targeting call and ejection for Moore, a senior safety.
Despite the advantageous field position, Texas couldn't build on its 7-point lead, even after being gifted another 15 yards on a Taylor pass interference call, KU's fifth penalty of the first half.
On the fifth snap of the series, Ehlinger, looking for junior receiver Humphrey, did something he hadn't since Week 1 against Maryland. The Texas QB's interception-free streak ended when Kansas junior defensive end Najee Stevens-McKenzie snatched an errant throw out of the air, helping the Kansas defense get off the field unscathed for the third consecutive series.
After UT opened its regular season finale by marching 98 yards for a TD, the Longhorns gained just 60 yards on their final four possessions of the half, as KU's defense adjusted to its early mistakes, assuring the Jayhawks of at least a competitive finale to the season.
"They were really just running the same plays," said KU junior safety Mike Lee (five total tackles, QB hurry). "We caught onto them, we were stopping them."
A personal foul on receiver Kerr Johnson Jr. derailed KU's first promising drive of the game, its third series of the matinee. The Jayhawks reached UT's 31-yard line before the penalty put them in 3rd and 21 and the Longhorns got off the field by corralling Williams in the backfield for a six-yard loss.
KU left the field without progressing any farther than its own 45-yard line on each of its six first-half possessions, and the Jayhawks couldn't even get Rui out for a field goal try until the fourth quarter.
In the game's opening minutes, punts of 60 and 76 yards, the second of which benefited from some friendly home field bounces, from sophomore Kyle Thompson followed unsuccessful drives for KU's offense.
Even though the first Thompson punt forced the Longhorns to go 98 yards on their first possession, the visitors pulled it off, as Ehlinger orchestrated an 11-play TD drive, finishing it off in style with a 26-yard pass to the end zone for Collin Johnson.
Six days after KU introduced Beaty's replacement, Les Miles, the outgoing coach, who had stated he probably wouldn't speak with his successor, was asked what his message to Miles would be before handing over control of the program.
"I'm not going to answer a bunch of questions about Coach Miles," Beaty replied. "This is his job moving forward. I'll just say that whether I'm talking to Coach Miles or a man off the street, that if you want a good man," Beaty said, while gathering himself, trying not to get too emotional, "go get a Kansas football player."