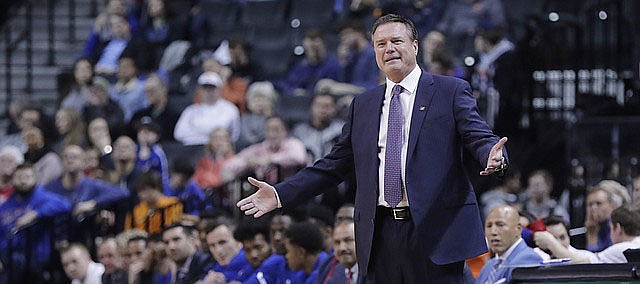 Brooklyn, N.Y. — Kansas sophomore Marcus Garrett was on the floor to start the second half of KU's come-from-behind, 77-68 victory over Marquette at Barclays Center Wednesday night.
And Kansas coach Bill Self said afterward that there was a very simple reason for Garrett temporarily taking the spot belonging to freshman guard Quentin Grimes.
"Well, we were just trying to play the guys that played the best," Self said of his thought process after KU trailed 47-38 at halftime. "It wasn't punishment for Q. Q had a rough, rough, rough half. I thought that was our best chance to come back, to play our best defensive team and no matter how you slice it up, Marcus is part of our best defensive team."
Garrett, who has logged seven starts in his first 43 games as a Jayhawk said he found out just before leaving the locker room at halftime that he'd open the second half on the floor.
None of Garrett's previous starts have meant all that much to him. He's not the type of player who worries about such things. And he wasn't worrying about it on Wednesday night. All he knew was that somebody had to help second-ranked Kansas (4-0) get things turned around and he was willing to give it his best effort.
"He let us know we were trying something new just to get a spark," Garrett recalled of Self's halftime instructions. "I just knew we had to lock in defensively because they were making everything that first half."
Garrett, whose floater in the lane at the first-half buzzer accounted for the first of a 24-0 KU run that spanned the end of the first half and the first 9:15 of the second, finished with 11 points, three rebounds, two blocks and a steal on 4-of-13 shooting in 28 minutes.
Asked if he had ever witnessed anything like KU's tidal-wave run on Wednesday night, Garrett said, "No. I've never had one in my life. That was impressive when coach told us that. It really didn't feel like that. We were just playing one possession at a time and I didn't realize they didn't score until the 10-minute mark."
We're No. 1?
With top-ranked Duke falling to No. 3 Gonzaga in the finals of the Maui Invitational on Wednesday, and Kansas taking care of Marquette, the Jayhawks could quickly find themselves in the conversation to reclaim the No. 1 spot in the polls that they had when the season began.
KU, of course, will have to take care of No. 5 Tennessee on Friday night in the NIT Season Tip-Off title game to have any shot at claiming the top spot, but junior forward Dedric Lawson made no effort to hide his thoughts about where Kansas should be ranked now that Duke had fallen.
"Definitely, if they lost," he said. "I think that's what happens when you lose, you drop."
When told that Duke's loss — 89-87 — came to the No. 3 team in the country, Lawson laughed and quickly began backtracking.
"Oh, shout-out to Gonzaga," he said with a smile. "Gonzaga is a pretty good team, as well. So I guess I'll leave that to the professionals."
Still hot
After making 15 of his last 20 3-pointers over the past two games, KU senior Lagerald Vick opened Wednesday night by making three in a row from behind the arc.
While that 78.3 percent clip eventually had to come down — and did — Self said he had no problem with Vick continuing to look for his shot from distance as Wednesday's game wore on.
"I thought he forced a couple of shots that he probably shouldn't have taken," Self said. "But he's been on such a roll, how can you get on a guy that's doing what he's doing?"
Vick finished Wednesday's game 3-of-5 from 3-point range and scored 16 points on 6-of-12 shooting overall. In doing so, he reminded his head coach that he remains one of the team's most reliable offensive weapons at this point in the season.
"To me, we've got three go-to guys offensively," Self said. "One deep in the post (Udoka Azubuike, who tallied six point in 15, foul-plagued minutes Wednesday), one mid-range (Lawson, 26 points and 12 rebounds) and Lagerald behind the arc."
This and that...
Kansas now leads the all-time series with Marquette, 7-1, with the only loss coming in a national semifinal game in 1974. The Jayhawks have now won four straight over the Golden Eagles... KU's victory pushed the Jayhawks to 4-0 for the second season in a row and eighth time in Self's 16 seasons in charge... Kansas is now 19-3 all-time in the NIT Season Tip-Off and will be playing in the NIT title game for the fifth time in six appearances.