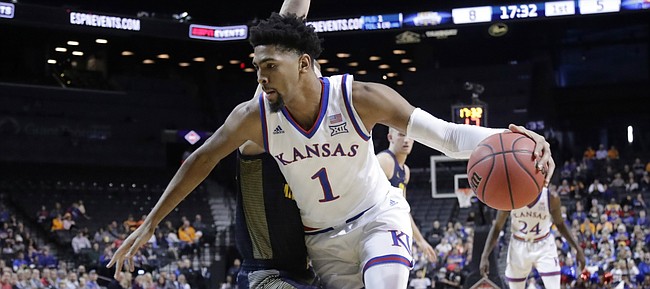 Brooklyn, N.Y. — With the cameras rolling and the college basketball world watching — not to mention his parents and KU administrators — Kansas junior Dedric Lawson chose not to use the actual word that KU coach Bill Self used at halftime of the Jayhawks' 77-68 victory over Marquette that got things turned around Wednesday night at Barclays Center.
"Coach just got on us about being tough," Lawson explained after dropping in 26 points and 12 rebounds to help No. 2 Kansas survive a nine-point halftime deficit. "I'm not going to say the word he used, but he got on us about going out there and defending. We made a couple of adjustments the second half and I think it helped us a lot."
That's putting it mildly.
After scoring the final basket of the first half at the buzzer, the Jayhawks added 22 consecutive unanswered points to start the second, turning what was a nine-point Marquette lead at the break into a 13-point Kansas advantage nine minutes into the second half.
"I would say we responded (to) his halftime message," junior forward Mitch Lightfoot said. "Coach Self is always pretty inspirational with his halftime talks."
Marquette, which was red hot from 3-point range to open the game, missed its first 10 shots of the second half and did not score until 10:45 remained on the game clock. By that point, everything that followed was merely about pride.
Kansas (4-0) never led by less than eight the rest of the way and Marquette (3-2), which made 11-of-21 from 3-point range in the first half made just three of 10 in the second. Beyond that, the Golden Eagles' overall field goal percentage dipped from 54.5 percent at the break to 41.7 percent by game's end, thanks to a 25.9 percent clip in the second half.
Credit the Kansas defense for nearly all of that.
"It started with Devon," Lawson said of KU point guard Devon Dotson, who finished with 10 points, four assists and three steals and sparked the second-half resurgence on the defensive end. "He took (Marquette guard) Markus Howard out of the game and sped him up and cut the head off the snake and we started to roll."
Dotson's numbers only told half the story. He finished with 10 points on 4-of-7 shooting and added four assists and three steals. But every bucket was big and so many of them helped loosen things up for guys like Lawson and Udoka Azubuike down low.
"I don't have time to get across the floor yet," marveled Lawson when asked about Dotson pushing the pace. "Man, he's so fast and athletic and we see it so much at practice. In the games we want him to keep doing that and attacking downhill. He's just got to keep being him."
That's on both ends of the court.
While Dotson's offensive numbers helped Kansas eventually break through, it was his second-half defense on Howard that most guys in the Kansas locker room credited for KU's victory.
"I thought Devon was great," Self said after the game. "I thought Devon was fabulous. He was efficient offensively and he was terrific defensively and he certainly responded to the challenge."
Asked what he admired most about the freshman's I'm-tougher-than-you performance, Lightfoot talked about Dotson's defensive mindset on Howard in the decisive second half, which KU won, 39-21 after trailing 47-38 at the break.
"He stayed in his hip pocket, didn't let him get any separation off of screens," Lightfoot praised. "That just shows how tough Devon is. Those are hard screens. They were setting good screens. But Devon did a great job."
Lawson also factored into this game perhaps better than at any point this season.
After putting up good numbers in ugly fashion in the season opener against Michigan State, the junior transfer struggled to find his flow in KU's next two victories. Bad breaks, sloppy play and a frustrated mind hurt Lawson's performance.
It looked, early, like the rough patch would continue on Wednesday night, but then Lawson snapped out of it, right around the same time his team did.
"I was just aggressive," he said. "I made six free throws (in the first half) and I finally got (a shot) to go in at the end of the shot clock (in the second half). It's just all about seeing one go in. I think I was more locked in defensively than I was any other game this year. I guess that played a big part in it, just worrying about the right things."
Unlike his ability to pick and choose the right words earlier in his postgame session, Lawson stumbled on the wrong one during this explanation. See, there was nothing about his game that appeared to come from worry on Wednesday night and the junior forward who shot 9-of-16 from the floor and 7-of-7 from the line, admitted as much moments later.
"I was definitely freer in my mind," Lawson said. "Just going out there not worrying about what happens."
That and increased intensity in the second half worked for the Jayhawks in this one and pushed No. 2 Kansas into Friday's NIT Season Tip-Off title game against No. 5 Tennessee.
The Jayhawks will have a little less than 48 hours to come up with a game plan for the Volunteers, but it was clear after this one that the Kansas coaches and players already knew enough about Tennessee to know what they were in for.
"Big, strong and aggressive team," Lightfoot said.
Added Self: "I think it's a great game for our guys to kind of see where we're out, without question."
Tip-off is slated for roughly 8 p.m. on Friday.
Before that, the Jayhawks will spend most of Thanksgiving with their second family.
In addition to watching film and going over the scouting report for Friday's game with Vols, the Jayhawks will do their best to stay off their feet and rest their bodies in order to be able to play two games in three days.
The team has a 6 p.m. Thanksgiving dinner planned for the coaches, players and families who made the trip to the Big Apple at the team hotel in Brooklyn.