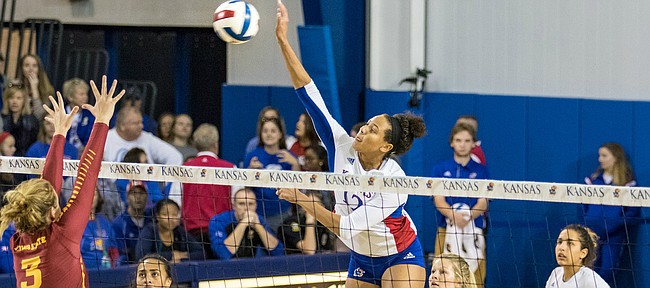 Despite a productive first set by Ashley Smith, the University of Kansas volleyball team suffered a sweep at Iowa State Wednesday evening.
Smith logged 10 kills in the first set and made the Iowa State (15-13, 8-7 Big 12) defense look uncomfortable when the junior outside hitter would strike. Her efforts pushed the first set to extras, but Iowa State captured the set by a 27-25 margin.
In the second set, Iowa State and Kansas (15-11, 8-7 Big 12) had four lead changes and six ties. ISU and KU finished with 13 kills each, but the Cyclones tallied only four errors, winning the second set by a score of 25-18. ISU pushed its lead in the third set to 23-18, before Kansas rallied and narrowed the lead to 23-22. Iowa State closed out the set and the match, winning the final two points.
Kansas plays host to Oklahoma at 1 p.m. Saturday.