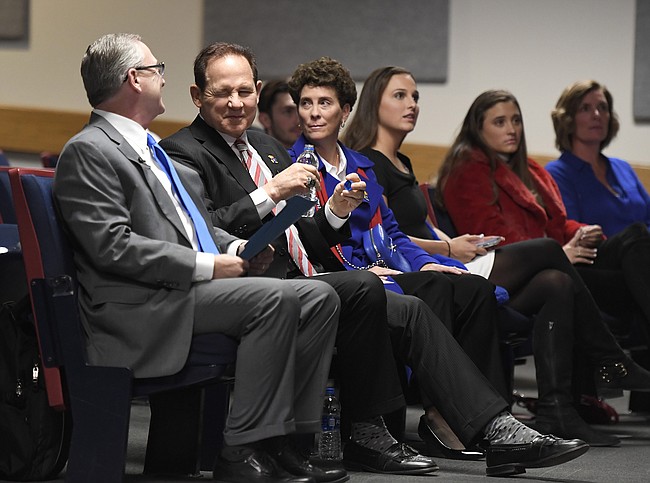 There was something different about the way Les Miles approached this college football season.
Kathryn Miles (nickname "Smacker"), a former swimmer at Texas and currently a TV sports personality, had become accustomed to seeing the version of her dad when he wasn't coaching football. Les Miles had been linked to multiple coaching positions since getting fired by LSU midway through the 2016, though none eventually panned out.
During the 2018 season, though, Smacker Miles could sense things had changed.
"At the beginning of this football season, I could feel that he was different about football," Smacker Miles said. "He was more interested in watching random games. He was more energized about it. The fire left in him was very blatant."
Photo Gallery
KU football introduces Les Miles as next head coach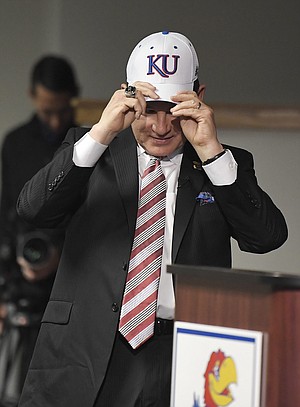 Les Miles was introduced as the next KU football coach Sunday afternoon.
Les Miles, 65, was introduced as Kansas' 40th head football coach in program history Sunday afternoon. The announcement came two weeks after Kansas Athletic Director Jeff Long revealed that he would not be retaining head coach David Beaty at the conclusion of the 2018 season.
Miles brings to Lawrence 142 victories, a BCS national championship and two SEC titles in 15-plus seasons as a head coach, the most career wins of anyone who has coached football at Kansas in the modern era.
"He wanted to work with an athletic director that was going to be supportive and have a similar vision for one he has," Smacker Miles said. "The idea that him and Jeff agreed on so many things was exactly what he was looking for. In that sense, yes, Kansas was the perfect place."
Prior to Kansas, Les Miles was at LSU from 2005-2016, and previously coached at Oklahoma State from 2001-04. His career record is 142-55 and he led the Tigers to winning the BCS national championship at the end of the 2007 season.
Because of his time with OSU, Smacker Miles believes her father will be able to make a seamless transition in his return to the Big 12 conference.
"I think he's a great Big 12 coach," Smacker Miles said. "I think he did unbelievable things at Oklahoma State that I didn't even understand at the time. I think he's as good of an underdog coach as anything else."
Les Miles has taken other jobs before, though Smacker Miles admitted she didn't fully comprehend what the situation was like.
This time around, Smacker Miles was heavily involved with the process that led to Les Miles taking the KU job. She said it was "eye-opening" to be a part of, as she experienced being on the inside of a coaching search.
"He appreciated my advice, because he knows I understand the media world," Smacker Miles said. "I really am flattered by how much he appreciates my input and my approval of things."
Document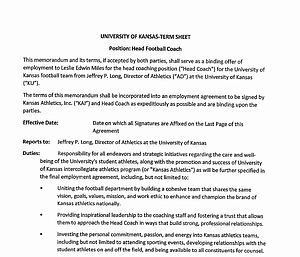 Smackers Miles has hosted a podcast with Les Miles, which is called "Les Is More," to talk about the biggest storylines of the college football landscape on a weekly basis.
Given Les' latest employment status, it would make doing a podcast difficult in the future.
However, Smacker Miles said they plan to record one this week.
"We are going to do one this week," Smacker Miles said. "But I don't know the state of that. We have no idea."