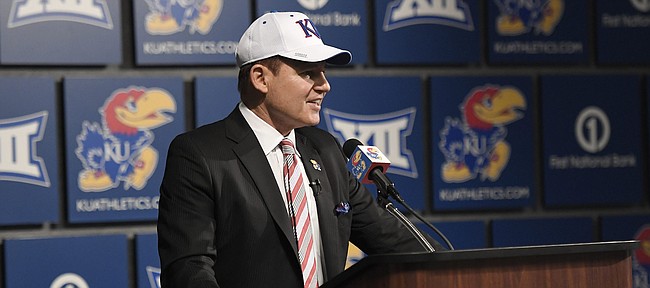 Two weeks after Jeff Long first stood in Hadl Auditorium and detailed what he hoped to accomplish in his Kansas football coaching search, the first-year athletic director returned Sunday night with an old colleague in tow.
Just as the buzz throughout the past several days indicated he would, Long introduced Les Miles as KU's 39th football coach, presenting his new high-profile employee with one of Miles' signature white baseball caps — except this one came with a KU logo instead of LSU.
Photo Gallery
KU football introduces Les Miles as next head coach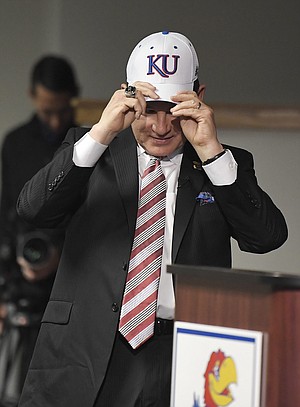 Les Miles was introduced as the next KU football coach Sunday afternoon.
After thanking Long and KU's chancellor, Douglas Girod, in his first public appearance as the Jayhawks' head coach, Miles, who had been out of the industry since LSU fired him four games into the 2016 season, spoke of a brief five-minute introduction he made to KU's players earlier in the afternoon and how that made it a "wonderful" day for him professionally.
"When I walked in, I saw that familiar smile, the enjoyment that they are having in college football," Miles shared. "They're buddies, looking at each other like, 'Who is this guy?'" he joked. "I enjoyed it greatly."
At the press conference, Long, the man who sought out Miles and lured him to Lawrence with a five-year deal that will pay him $2.775 million a year, said turning the program over to Miles (142-55 in 15-plus seasons at LSU and Oklahoma State) "immediately and dramatically" improved the football program's national profile.
"But more importantly, behind all this national recognition there's a leader that loves the game of football, believes in what the game does to build character in our young men, and has prepared men for life after football," Long said of Miles, whom he first worked alongside at the University of Michigan in the 1980s. "His record of success on the field is only matched by his love for the student-athletes that play the game for him. The combination of a leader of young men, a detailed and driven football coach, a man with an infectious personality who cares deeply about the young men he coaches, will be a combination that will surely lead to breaking the cycle and bringing football success to the University of Kansas."
Podcast episode
Moments after Kansas introduced Les Miles as the program's 40th head coach in team history, the KU Sports staff did an emergency podcast at Allen Fieldhouse. KU football reporter Benton Smith is joined by Matt Tait and Shane Jackson to discuss Miles' introductory press conference and where the Jayhawks go ...
Miles left LSU as the school's second-winningest coach, going 114-34 overall, with a 7-4 record in bowl games. The Tigers averaged 10 wins a year and won more games from 2005 to 2015 than any other SEC program during that span. Following a 13-0 regular season in 2011, Miles was named National Coach of the Year by the Associated Press and others.
Prior to his time in Baton Rouge, La., Miles worked in Big 12 country, as the head coach at Oklahoma State, from 2001 to 2004. During his time there, the Cowboys went 28-21 and reached three bowl games, going 1-2.
A two-time conference title-winning coach in the SEC and a national champion during his 11-plus seasons at LSU, Miles left behind semi-retirement, and is now charged with reviving a staggering program that has failed to win more than three games in a season since 2009.
"I can tell you that I will promise to give you my sincerest efforts," Miles asserted in front of an auditorium filled with reporters, television cameras, KU donors and various athletic department administrators, as well as his family — wife Kathy and daughters Smacker and Macy. Neither of Miles' sons, Manny and Ben, were able to attend, as they were with their respective football teams. Manny is a backup quarterback at North Carolina and Ben plays fullback at Texas A&M.;
On the day he arrived in Lawrence, Miles, who has led two far more prominent programs, insisted his newest job is a "great" one.
"I think the fan base has reached out in any number of ways to make it clear that this is a special place," Miles said, "and I would like to finish a career with championships. The guy sitting to my left (Long), that's who he is and that's who I am. So we would like that opportunity to continue and to play championship-style football."
Whether KU will be able to attain that level of success remains to be seen. As of now, Miles is on board through the 2023 season.
Per his five-year deal, If another school were to lure Miles away from Kansas before his contract expires, or if Miles decided to terminate his employment with KU for another reason, the coach (or the hypothetical school that wants to sign him) would owe KU the remaining sum of the contract.
Should KU decide to fire Miles and terminate the contract without just cause, the university would owe the coach the sum of his money left on the deal.
Miles signed the contract on Friday.
Document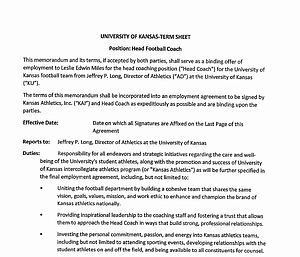 KU's new coach first visited Lawrence when he worked as an assistant at Colorado from 1982 to 1986, and came through as an assistant (1995-1997) and head coach (2001-2004) at Oklahoma State.
"We drove down into the stadium and I looked around and I said, 'Man, it's beautiful.' I said, 'It's green, it is a spectacular place.' I said, 'Why aren't they more successful?' And I promise you," Miles added, "I looked at that and carried that thought with me as we went. I can tell you that as I researched this opportunity, I wanted to represent a school that had a great academic background. In other words, that they would offer to a student a great curriculum and an opportunity to graduate with a credential that would power their career."
As incoming coach, Miles replaces outgoing fourth-year coach David Beaty, who will coach his final game on Friday, against Texas (11 a.m. kickoff).
Incentive payments in Les Miles' contract:
• National championship game appearance - $1,000,000
• CFP game participant - $350,000
• New Year's 6 game participant - $100,000
• Other Bowl game - $75,000
• Big 12 Championship game appearance - $100,000
• Win 6 games in a season - one-year, one-time rollover extension
• Coach of the Year (AP, USA Today, Sporting News, Home Depot, AFCA) - $50,000
• Big 12 Coach of the Year - $50,000
• Broyles Award for Assistant Coach - $15,000
• Team GPA 2.65 or higher - $25,000
• Team GPA 2.75 or higher - $50,000