Friday, November 16, 2018
With 9:18 to play in the first half and his team trailing Louisiana by 10, Kansas coach Bill Self walked onto the floor during a timeout and quickly was whistled for a technical foul.
The reason?
Moments earlier, Kansas, which used a strong second half to hold off the Ragin' Cajuns, 89-76, lost possession of the ball near midcourt when a Louisiana player dove into Lagerald Vick and forced the ball out of bounds.
"We weren't playing very well so, obviously, I was frustrated," Self began. "But I deserved what I got. But it wasn't for saying anything the second time. It was for walking too far out on the court. I could walk out there, but once you get into the paint area it's considered too far even on a timeout. But he wanted to give it to me because he probably could've done it earlier."
Photo Gallery
Kansas vs. Louisiana at Lafayette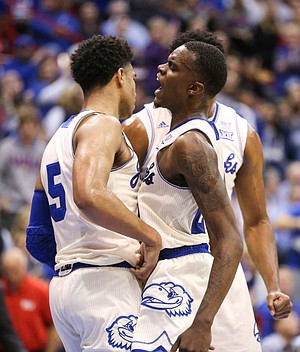 View a gallery of images from Friday night's game between the Jayhawks and Ragin' Cajuns at Allen Fieldhouse.
Asked if he was more concerned about the missed foul or Vick's safety, Self answered without hesitation.
"We were down like eight," he said. "I was worried about the foul, not the safety aspect."
Flagrant foul explained
KU junior Mitch Lightfoot also received an extracurricular foul called against him on Friday night, this one a flagrant foul after being whistled for an over-the-back call on an attempted rebound.
Lightfoot, who sat on the bench when the flagrant foul was called, immediately reacted with a confused look on his face.
Self believed the foul was the right call but did not hear anything more about it from the officials.
"He locked him in his arm," Self said. "And the official told me he's got to call it just because that's the rule. And it is the rule so you have to call it. But he didn't say there was anything flagrant about it."
Those two minutes were the only Lightfoot played all night and Self said some of that was bad mojo from the foul call.
"It seems like, to me, those things always happen to a reserve," he said. "I remember when (Chris) Piper played here, Danny (Manning) could commit six fouls and they'd call one and Piper commits zero and they call three. I kind of feel that way for Mitch sometimes, too."
Football talk
Although there was no official word from KU on Friday night, reports that Kansas was close to hiring former LSU coach Les Miles as its next football coach ran rampant throughout the day Friday and, in so many words, reached Self's postgame meeting with the media Friday night.
Asked in general terms about the benefits of having a strong football program at Kansas, Self reiterated something he has said over and over throughout his time at KU, which is set to move on to its sixth head coach in Self's 16 years in charge of Kansas basketball.
"I've always said this," Self began. "I'm proud of our sport and what we've accomplished and the energy that we can bring to a campus. But there's still nothing like a fall Saturday to bring energy and excitement to your school. I think there's an opportunity to do that here because we've seen it firsthand."
Self, of course, was talking about the Mark Mangino/Todd Reesing years, calling them "lightning in a bottle," before adding, "But, still, I think it can be done here."
He added, "I'm selfish because I know football being competitive and putting people in the seats makes my job and all the other head coaches in the department's jobs much easier, too. So, yeah, it's very important."
This and that ...
KU now leads the all-time series with Louisiana, 2-1, and has won back-to-back games to take the edge. KU lost the opening game of the series in 1983 but won in 2004 under Self ... The Jayhawks are now 3-0 for the second season in a row and eighth time under Self ... Kansas now has won 41 consecutive November games in Allen Fieldhouse, a streak that dates back to 2006.
https://www.youtube.com/watch?v=LVE-CVVx8TU
https://www.youtube.com/watch?v=rE_aw7-Jn3s
https://www.youtube.com/watch?v=WhazrsH3qQY
https://www.youtube.com/watch?v=dG6b47q0Tps