It was not quite the same red-hot, lightning-fast start that he had on Monday night against Vermont, but Lagerald Vick sure ended up in the same place.
Good thing, too.
On a night when 22-point favorite Kansas trailed visiting Louisiana by a dozen in the first half, the Jayhawks needed everything Vick could give them to hold off a scrappy Ragin' Cajuns team, 89-76, at Allen Fieldhouse.
Fire and free throws. Attitude and assists. Theatrics and 3-pointers. Oh, and a second consecutive game that ended with a new career high.
"I don't think we've ever had anybody have a week like this, and we needed him," KU coach Bill Self said after Vick's 33-point outburst that followed his 32-point night against Vermont on Monday. "He's playing at a ridiculously high level right now."
Photo Gallery
Kansas vs. Louisiana at Lafayette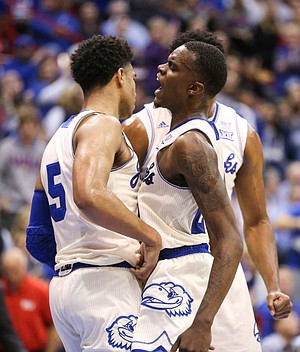 View a gallery of images from Friday night's game between the Jayhawks and Ragin' Cajuns at Allen Fieldhouse.
It wasn't there in the opener and it might not last all season, but Vick's personality is spilling over right now and this Kansas team is benefitting from it on almost every possession.
Consider a sequence during Friday's second half as evidence of where Vick's mind is and how comfortable he is in his senior skin. After missing a 3-pointer from the corner by the Kansas bench, the senior got the ball back off of an offensive rebound and assist from Udoka Azubuike (17 points, eight rebounds, four blocks) and buried the encore effort from the very same spot.
After squatting low to see the ball through the net, Vick flashed his tongue and a smile at the cameras and then raced back on defense.
On the very next offensive possession, Garrett found Vick above and behind the defense for an easy alley-oop to push the Kansas lead to 58-49 and send the Jayhawks on their way.
Vick's not quite Superman these days, but if there were a meteor flying toward Allen Fieldhouse, he's probably the guy Kansas would ask to stop it.
"Yeah. It's crazy," Vick said after the win. "Extreme confidence."
Added junior forward Dedric Lawson, who kind of, sort of broke out of his funk, at least on the stat sheet to the tune of 19 points in 27 minutes: "Like coach said, keep feeding the hot hand until he runs out. Lagerald's our go-to guy from here on forward."
Asked if becoming KU's go-to scorer was something that was important to him this offseason, Vick said simply, "Yeah. Why not?"
Vick became the first player to record back-to-back games of 32 points or more since Devonte' Graham scored 35 points in back-to-back games against Toledo and Syracuse last season. And not many had done it before that. No Kansas player, until Vick, had ever hit seven 3-pointers in back-to-back games. He shot 8-of-8 from 3-point range on Monday night. He now has made 15 of his last 20 3-point attempts after an 0-for-4 showing in KU's opener.
It's not just that the ball is going in the basket, either. Vick is playing harder than he ever has and appears to have taken complete ownership of this team.
Twice on Friday, he followed up his own miss by grabbing the rebound and scoring almost before anybody else could get off the ground after the first miss.
Louisiana coach Bob Marlin called that second-chance bucket "one of the most impressive plays he made all night."
Self called it a mindset.
"When you have energy and your thoughts are positive and it looks like you're playing faster and maybe it looks like you're playing harder," Self began. "He's so enthusiastic now, almost to a fault, but I'm not going to stop him from being that way. I like the direction it's moving."
It's not just fire after his own plays, either. With nine minutes to play and Louisiana hanging around, Azubuike switched onto UL guard Marcus Stroman on the perimeter and blocked his shot, forcing the shot clock to expire.
Yelling at the top of his lungs, as if he had saved the Fieldhouse from that meteor, Vick let out a "Yeah boy" roar in praise of Azubuike's big defensive play.
Although the second half was where Kansas finished the job, it was Louisiana, and not the home team, that benefited from a couple of big first-half runs.
A 7-0 run early in the half tied the game at 15, and a 17-3 spurt by the Ragin' Cajuns midway through the first half opened up a 32-20 Louisiana lead, buoyed by a pair of technical foul free throws that came after Self was T'd up by an official during a timeout.
Included in the 17-3 run was a 12-0 stretch that ended when Quentin Grimes hit a 3-pointer to pull Kansas within 9 at 32-23.
Funny thing about Grimes and runs. His driving layup and free throw that followed put Kansas back in front, 37-35, capping a 17-3 run for the Jayhawks. How many times have you seen teams hit each other with dueling 17-3 spurts over the years?
While the second-ranked Jayhawks (3-0) continue to try to put all of these new pieces together, their two most experienced players are pulling them through.
After a surprisingly strong first half from freshman forward David McCormack (six rebounds — four offensive — in 10 minutes) helped Kansas out to a 44-41 halftime lead, Self said Azubuike won the game for Kansas in the second half and Vick won the Jayhawks the game overall.
Louisiana's coach wholeheartedly agreed.
"We had no answer for Vick," Marlin said. "He's a really good player. He made a couple of tough 3s and if Vick hadn't had the big 3-point shooting night (7 of 12), they're 1 for 10. So I guess they're glad he stayed."
KU heads to New York next week to face Marquette in the opening game of the NIT Season Tip-Off at Barclays Center in Brooklyn. The Jayhawks leave Tuesday and will play at 6 p.m. Wednesday.
https://www.youtube.com/watch?v=LVE-CVVx8TU
https://www.youtube.com/watch?v=rE_aw7-Jn3s
https://www.youtube.com/watch?v=WhazrsH3qQY
https://www.youtube.com/watch?v=dG6b47q0Tps