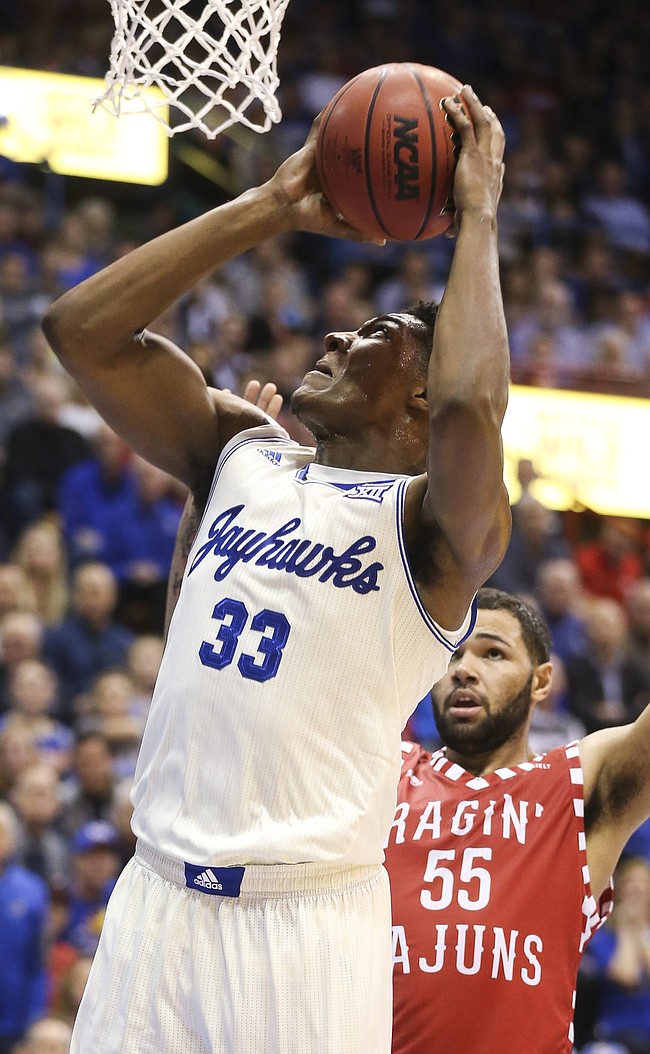 After watching the entirety of the previous game from the bench, Kansas big man David McCormack didn't know for certain if Friday night's matchup with Louisiana at Allen Fieldhouse would play out any differently for him.
When Bill Self called upon McCormack midway through the first half with KU trailing by seven, though, what followed just might make it impossible for the 6-foot-10 freshman to ever experience another DNP this season.
The Ragin' Cajuns led by as many as 12 in the final 10 minutes of the first half, but McCormack's relentless energy powered a Kansas rally and proved to be a pivotal stretch in an 89-76 victory.
Photo Gallery
Kansas vs. Louisiana at Lafayette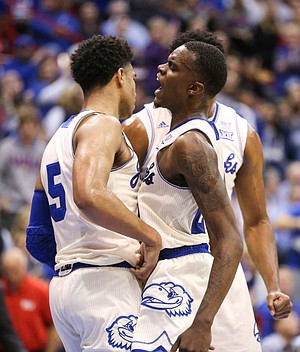 View a gallery of images from Friday night's game between the Jayhawks and Ragin' Cajuns at Allen Fieldhouse.
"I'll be honest, David won the game for us the first half," Self said afterward, adding that junior center Udoka Azubuike took on that burden in the second, while senior guard Lagerald Vick played at another level completely throughout.
McCormack got his opportunity when Azubuike and Dedric Lawson each picked up two first-half fouls and a couple of quick mistakes inspired Self to yank Mitch Lightfoot off the floor.
Once the freshman subbed in, No. 2 Kansas outscored Louisiana 24-14 to close the first half.
To Lawson, it was clear that swing wouldn't have happened without "Big Dave."
"He came out with a lot of energy, got a lot of offensive boards," Lawson said of McCormack's work on the glass, adding the stretch leading up to halftime served as a nice reminder of how "really deep" the Jayhawks can be. "That's something that we need to see."
After matchups with Vermont's frontcourt on Monday played a significant factor in Self deciding not to play McCormack, the coach almost sounded apologetic at times in explaining the situation this week.
None of that bothered McCormack, a McDonald's All-American from Oak Hill Academy (Va.).
"Regardless if it was two minutes against Vermont or a minute here or however many minutes I play, I'm going to play the same way," he said.
His stat line read: 2 points, 1-for-4 shooting, six rebounds (four offensive) and one block in 10 minutes. However, McCormack drew rave reviews from his teammates because his unselfish approach made the win possible.
"I always come out with everything I have," McCormack said, when told Azubuike called him the most energetic player on the roster. "My motto's not to get outworked. In order to do that I have to have a lot of energy."
Although Self joked McCormack recorded some "Dennis Rodman rebounds" by missing some bunnies inside and gathering his own misfires, the coach also called him KU's best big in the first half.
"You know he's nervous as all get out just because he didn't play last game and all that stuff. But I thought he did well," Self said. "The problem is, when we play a team like that, how do you play he and Dok together and play man-to-man? If Dok's not in foul trouble and he's playing well, there's really not a huge reason to sub him out."
After McCormack turbocharged the Jayhawks out of their first-half lull, Self won't have many reasons to keep McCormack on the bench in the future.