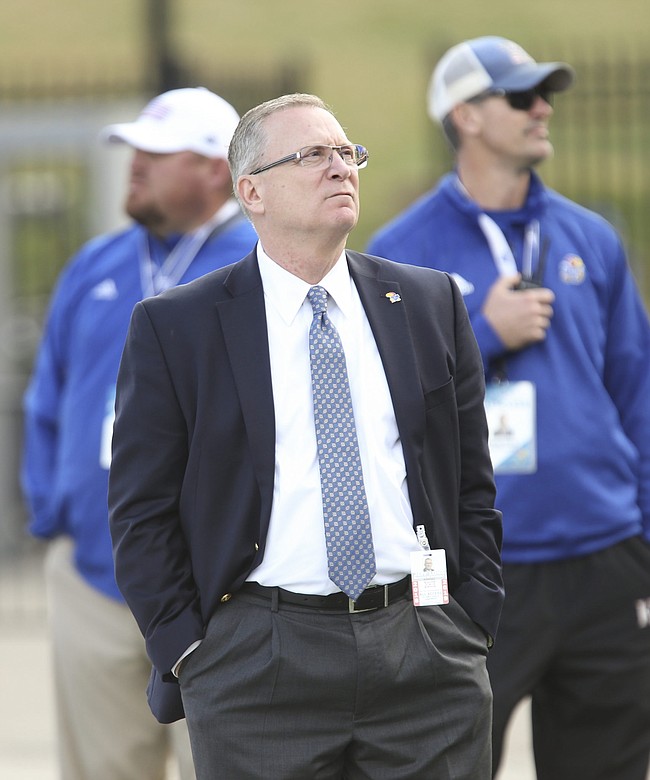 Manhattan — Rumors of University of Kansas Athletic Director Jeff Long speaking with recently fired Maryland football coach D.J. Durkin were shot down quickly Saturday afternoon.
Not long after news of the alleged conversation between Long, who is searching for KU football's next head coach, and Durkin started circulating on social media, Long took to Twitter to squash any such notion.
"KU fans," Long tweeted not long after the football team fell, 21-17, at Kansas State, "you don't know me very well if you believe the (latest) speculation. I attempt to run a very confidential search and I am doing so now. The search is ongoing."
Photo Gallery
KU football vs. Kansas State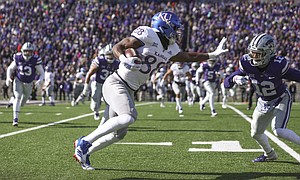 KU football falls to Kansas State in Manhattan Saturday afternoon.
Maryland fired Durkin less than two weeks ago, following investigations into how he ran the football program there, after an offensive lineman, Jordan McNair, suffered heat illness during a workout and later died. Reports alleging abuse and bullying by Maryland football staff members also surfaced this year.
According to Jayhawk Slant, Durkin contacted KU about its vacancy and is not a candidate.
Beaty's approach
Six days after acting head coach David Beaty and his players learned from Long that Beaty won't be retained at the season's conclusion, the Jayhawks reflected on how the short-term coach handled the situation.
"He really approached this week like he did any other week," redshirt senior linebacker Joe Dineen said. "Honestly, when I walked in on Monday, I thought it was going to be a little off, but it really wasn't at all. That's a credit to him, just finishing it out for us. He easily could've hung it up and said, 'I'm done with it.'"
A senior receiver, Steven Sims Jr. agreed.
"Yeah, he was definitely the same, just coaching us hard," Sims offered, "getting us ready to go, and he did what he could and we've got to execute better."
After his record dropped to 6-40 overall and 2-32 versus the Big 12 as KU's head coach, Beaty said he and his staff didn't want players to be distracted by the regime change, and reiterated he thought the players followed their instruction.
"Great, great men," Beaty said. "Proud to be a part of them."
Big 12 road woes continue
The next time KU football wins a Big 12 game in an opponent's stadium, it will mark the first time it has done so since Oct. 4, 2008, at Iowa State.
The drought didn't end Saturday in Manhattan, where the Jayhawks dropped their 44th true conference road game in a row.
This and that…
• Sims finished the loss at K-State with 113 receiving yards, marking his eighth career 100-yard game and first this season.
• Senior KU receiver Jeremiah Booker caught his fourth touchdown pass of the year on a nine-yard reception in the third quarter, taking the team lead in TD receptions.
• K-State coach Bill Snyder improved to 23-4 all-time versus KU. Three of the four losses came within Snyder's first four years in Manhattan. The 23 wins by Snyder over Kansas are the most by any active head coach over one opponent — one more than Snyder's 22 wins over Iowa State. It was also Snyder's 125th career Big 8/12 victory. Only former Nebraska coach Tom Osborne (153) owns more.
• Junior KU safety Mike Lee recorded 10 tackles in the loss. It was Lee's first double-digit tackle performance of 2018.