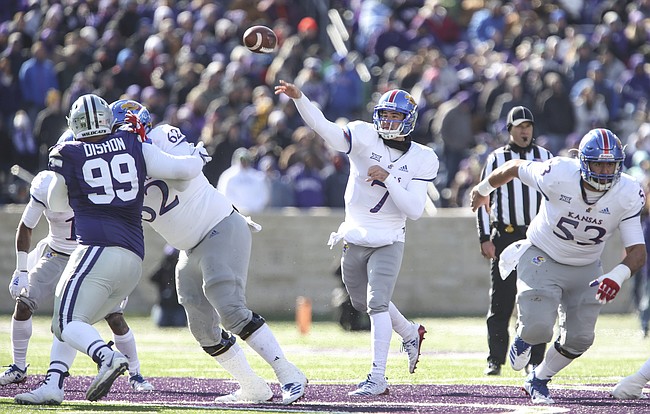 Manhattan — A victory in the first stage of David Beaty's last stand as football coach at the University of Kansas remained in play as late as the final minute of an in-state rivalry game Saturday afternoon at Bill Snyder Family Stadium.
Trailing Kansas State by four points just 32 yards from the end zone, senior KU quarterback Peyton Bender took the snap and dropped back to pass when any hope of a victory disappeared.
On a play designed to get the ball to freshman Pooka Williams with a screen pass, Bender lost his handle on the ball as he brought his right arm back to throw. Before the QB could gather his bearings and try to salvage the possession, K-State defensive end Bronson Massie recovered the fumble, sealing a 21-17 Wildcats victory with fewer than 30 seconds remaining.
"It just slipped out of my hand," said Bender, who had battled the flu all week and was unable to practice on Thursday.
"It hurts," added the QB, visibly upset after the loss.
Photo Gallery
KU football vs. Kansas State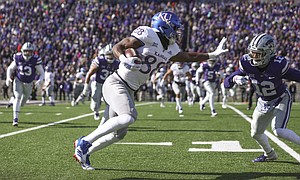 KU football falls to Kansas State in Manhattan Saturday afternoon.
The untimely miscue came after the Jayhawks (3-7 overall, 1-6 Big 12) had converted one third down and one fourth on a drive that began on their 25-yard line.
"All game we felt like they couldn't stop us," senior KU receiver Steven Sims Jr. said after KU outgained K-State 347-301 in total yardage. "It was just us handling our jobs and executing our offense and that was pretty much all it was, just making routine plays. Throw and catch, getting five, a tough five, things like that. It felt good. But we came up short."
KU's final possession wasn't the only reason K-State (4-6, 2-5) was able to extend its win streak in the Sunflower Showdown to 10 games. A Jayhawks drive that began with 8:29 remaining featured an unfathomable four penalties on their first three snaps.
Holding on left guard Malik Clark negated a 74-yard Khalil Herbert run. Then came a false start on Clark. Next, Williams took off for 60 yards, but center Alex Fontana was flagged for holding. At the end of the Williams run, tight end Mavin Saunders tried to hide the flag, which, well, drew another flag.
"None of us are happy when that happens," Beaty said of the penalty-heavy debacle of a series, which officially went seven yards in the wrong direction by the time of its conclusion.
"When you go back and look at the tape, typically when there's smoke there's fire. But it is what it is. You've got to execute within the rules and obviously we didn't do that," said Beaty, who also claimed the players didn't let the flags bother them.
"I'm proud of our men. I'm proud of them. I'm sad that they're hurt, because there are a lot of tears in (the locker room) right now, because this Governor's Cup is important to so many people in this state," Beaty added, "and it was certainly important to those guys to be able to grab that thing today. And we were obviously within reach and we weren't able to get it done."
The various fourth quarter mistakes, according to Sims (five receptions, 113 yards, one touchdown), fueled the players' frustrations and disbelief in the final minutes of what proved to be a winnable game.
"It's tough. We were fighting hard and those guys were giving it their all," Sims said. "I honestly don't think either one of those plays were holding penalties and that's just what the refs called — we left it in their hands."
Believe it or not, the Jayhawks couldn't have dreamed up a better start to the final quarter. Trailing by four, it only took one deep Bender pass, two strong hands from Sims and 14 seconds for KU to regain the lead on a 65-yard touchdown pass.
Minutes later in the fourth, the Jayhawks, up 17-14, looked poised to seize momentum with a monster defensive stop. After Joe Dineen tackled QB Alex Delton for a minimal gain on 3rd and 2 near midfield, the Wildcats decided to go for it on 4th and 1. KU's defense then got off the field as Brian Lipscomb stuffed Delton on a keeper roughly an inch shy of 1st down yardage.
However, the offense did KU no favors on the ensuing possession. Following a 6-yard Khalil Herbert rush, back-to-back pass calls and Bender incompletions meant a three-and-out on a series that lasted all of 51 seconds.
The Wildcats didn't immediately make the visitors pay. But after KU's penalty-riddled possession, K-State delivered a 60-yard TD drive in 2:16.
Running back Alex Barnes (117 rushing yards, two touchdowns on 22 attempts) delivered the breaking point on fourth-and-2 at K-State's 48-yard line. The junior bounced a run out to the right and though KU junior safety Mike Lee met him in the air as both rivals leapt toward a collision, Barnes gained 3 yards to keep the drive alive.
"He doesn't ever fall backward," KU redshirt senior linebacker Joe Dineen said. "He always finds a way to fall forward. And just a good player making a big-time play."
On the very next snap, K-State QB Delton delivered one of his 11 completions on the afternoon, slinging a pass to Delton Schoen for 28 yards. Delton added to the impact of that chunk play by rushing 21 yards for the decisive touchdown, with 2:46 to go.
"I mean, it's a team game obviously," said Dineen, who finished with nine total tackles and a sack. "Our offense scored and our offense made some big-time plays. It's just timing. We didn't get a stop when we really needed one and the offense didn't score when we really needed them to. Just stuff like that. Complementary football — we didn't have very much of it today."
An abnormal (by design) kickoff and a good-luck bounce to open the third quarter didn't actually bring any fortune KU's way. When Liam Jones' arching, 36-yard kickoff dropped from the sky near K-State's 30-yard line, the Wildcats were not ready to field the ball nor return it. KU capitalized as fullback Caperton Humphrey possessed the up-for-grabs kick.
Gifted field position at K-State's 29-yard line, though, KU's offense provided no padding for its 3-0 lead. A 2-yard Williams carry and two Bender incompletions brought up fourth-and-8 at the K-State 27. Although Beaty opted to go for it, with the wind blowing into his Jayhawks' faces, K-State forced Bender out of the pocket and Chase Johnston sacked him for a 9-yard loss and a turnover on downs.
Stymying KU provided K-State timely momentum, as the Wildcats gave the stop even more weight by scoring the game's first touchdown and taking their first lead, 7-3, on a 24-yard Barnes run.
That at least seemed to stir something within the Jayhawks, who answered with a 75-yard drive, one bolstered by third-down conversion passes from Bender (21 of 34 passing, 232 yards, two touchdowns, sacked twice) to Daylon Charlot (three receptions, 32 yards) and Jeremiah Booker (four catches, 35 yards, TD). It concluded with KU taking a 10-7 lead at the 7:48 mark when a play-fake to Herbert (10 rushes, 53 yards) set up a nine-yard TD pass to Booker.
However, K-State came through with an 11-play, 75-yard TD drive to answer and take the lead right back. And Pooka Williams fumbled the kickoff return that followed.
Kansas completely controlled the bulk of the second quarter, but by the end of it, the underdog visitors only had a 3-0 lead to show for their efforts.
On a drive that began on their own 2-yard line with seconds left in the first quarter, the Jayhawks looked like the first team to feel comfortable in the freezing-cold air (windchill was 13 degrees at kickoff).
Bender completed passes that picked up first downs to Booker, Sims, Humphrey and Charlot to reach K-State territory.
An 11-yard Pooka Williams rush had Kansas closing in on the red zone, but the drive eventually closed inside the 10 with a 21-yard Gabriel Rui field goal.
A roughing the kicker penalty earlier in the series gave KU an extra crack at crossing the goal line, but K-State shut down a Herbert carry on third-and-1 and Beaty elected to kick on fourth-and-1 at the 4-yard line.
"Not too much between the players and the coaches," Bender said of any conversations of going for it instead. "Their mind was made up that they were going to kick it."
The QB said it was on the players to finish that and other drives with a TD.
Late in the second, KU possessed the ball headed toward halftime, just past midfield, with no timeouts left. After a 10-yard run by Pooka Williams (14 rushes, 59 yards), the Jayhawks faced fourth-and-17. With the clock running there would have been enough time to get one more play off had KU got right to business. Instead, time expired without KU snapping the ball.
"We weren't going to kick that long of a field goal," Beaty said of a potential 57-yarder with the wind at Rui's back. "We just felt like it was too rushed and if we did get that thing blocked it could've turned into points for them. And just knowing that we didn't want to turn the football over there. It was a close game."
Earlier in the quarter, one possession yielded two should-have-been TDs for KU. A 26-yard completion from Bender to Sims could have gone all the way down the left sideline for a score had Bender put the ball in front of the receiver. On the same series, Kwamie Lassiter II dropped a well-placed pass to the end zone.
All that transpired left Bender, typically even keeled in postgame interviews, regardless of how he played or the outcome, emotionally shook.
"It's a huge rivalry game. The game means a lot to a lot of people in the state of Kansas," Bender said. "And I thought we played good enough to win. Just extremely disappointed in the way it ended."
KU plays at No. 6 Oklahoma next week.
SCORING SUMMARY
SECOND QUARTER
5:38 — Gabriel Rui 21 field goal. Eighteen-play drive for 94 yards, in 9:40. (KU 3, KSU 0.)
THIRD QUARTER
11:59 — Alex Barnes 24 run. Blake Lynch kick. Five-play drive for 64 yards, in 2:04. (KSU 7, KU 3.)
7:48 — Jeremiah Booker 9 pass from Peyton Bender. Rui kick. Nine-play drive for 75 yards, in 4:11. (KU 10, KSU 7.)
2:57 — Barnes 2 run. Lynch kick. Eleven-play drive for 75 yards, in 4:54. (KSU 14, KU 10.)
FOURTH QUARTER
14:46 — Steven Sims 65 pass from Bender. Rui kick. Two-play drive for 71 yards, in 0:21. (KU 17, KSU 14.)
2:46 — Alex Delton 21 run. Lynch kick. Six-play drive for 60 yards, in 2:16. (KSU 21, KU 17.)