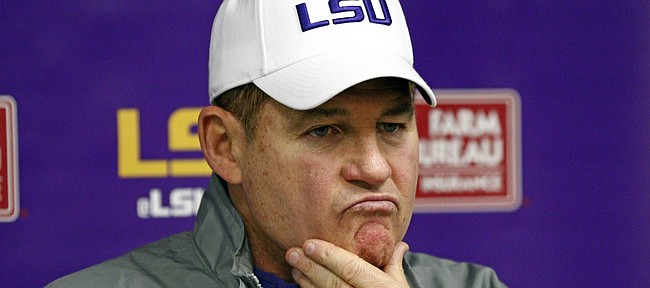 More smoke emerged Thursday from the Les Miles to Kansas hype train.
According to a report from Dennis Dodd of CBS Sports, the former LSU and Oklahoma State head coach has spoken with unnamed officials at KU about the football program's head coach opening. Plus, "there seems to be mutual interest between the parties."
From the day KU Athletic Director Jeff Long announced he won't retain current head coach David Beaty past the end of this season, Miles has been considered one of the top candidates for Long, who has known Miles approximately three decades, dating back to when both men worked at the University of Michigan.
Podcast episode
As the Kansas football program moves on from head coach David Beaty, and athletic director Jeff Long zeroes in on the team's next leader, KU football reporter Benton Smith is joined by Matt Tait and Shane Jackson to discuss the timing of the move, coaching candidates and much more.
Miles hasn't coached a game since LSU fired him four games into the 2016 season. But he owns a 142-55 career coaching record and led LSU to a national championship following the 2007 season.
When Long answered questions about the coaching change on Sunday, the AD said he heard from parties reaching out to express interest in the job mere hours after announcing the move.
But the KU AD also stated he didn't have a "frontrunner" in mind at that point, while he planned to seek out an experienced head coach capable of building a program.
Miles' reported $9.6 million buyout from LSU in 2016 included a stipulation that he must seek another college coaching job.
Not speaking of Miles' situation, but of gauging candidates' interest in general, Long said Sunday, "You know, the challenge there is reading through who is trying to leverage their current position and those who are truly interested in the KU program. That's a challenge that I have before me, trying to wade through those people who express interest and whether that interest is real."
As Long alluded in his press conference earlier this week, Dodd reported sources indicated to CBS Sports that KU plans to "pay a commensurate salary for the right candidate," as well as to improve the staffing of the entire football program.