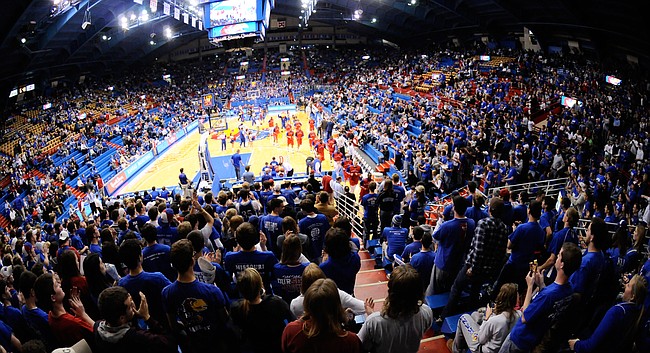 A top official with the Kansas Board of Regents said he expects to receive an explanation about what a KU basketball coach meant when he was recorded on a phone call discussing a recruit and money.
Shane Bangerter, vice chair of the Board of Regents, said he's been in communication with University of Kansas Chancellor Douglas Girod about KU issues related to the recent federal trial involving corruption in college basketball recruiting.
Bangerter, though, said he still has some questions. The Journal-World specifically asked about a wiretapped phone conversation between KU assistant basketball coach Kurtis Townsend and Merl Code, a defendant who was found guilty of fraud charges related to the corruption case.
In that recording, Code told Townsend that in order to get prized recruit Zion Williamson to attend KU, it likely would require money and other inducements that are illegal under NCAA recruiting rules. According to a transcript of the call read as part of the trial proceedings, Townsend responded by saying: "I've just got to work and try to figure out a way because if that is what it takes to get him here for 10 months, we're going to have to do it some way."
The full transcript of the call hasn't been released, and the Department of Justice recently denied a Journal-World Freedom of Information Act request seeking any phone recordings involving Townsend.
Bangerter said he understood why members of the public would have questions about what Townsend meant.
"Certainly as a regent, I have the same questions and certainly would like answers and will be in full communication with the chancellor in that regard," Bangerter said after Wednesday's Board of Regents meeting in Emporia.
The Journal-World asked Bangerter — who as vice chair was the highest ranking regent official at the meeting since the board's chair was absent — about the college basketball corruption case.
KU has provided no public explanation about Townsend's comments, but the assistant coach remains active with the team. Last week, KU Athletic Director Jeff Long declined to comment on whether he had sought an explanation from Townsend. A spokesman for the chancellor's office has not responded to an Oct. 29 email from the Journal-World seeking information about the matter. The spokesman also has not returned phone messages left with him over the last several days.
Bangerter said issues surrounding basketball recruiting allegations could have a negative impact on the university's reputation, but he expressed confidence that KU leaders would address any issues appropriately.
"Obviously, the university's image and KU Athletics' image is extremely important to the university and the state as a whole," said Bangerter, a Dodge City regent who graduated from KU's law school. "Those entities, basketball in particular, have great people in place and procedures in place.
"That is not to to say that you can't make mistakes and people can do things that aren't appropriate. The thing is to do what we can do to have the protections in place to protect the university and protect the program. I have full faith that those measures are in place and are being followed."
Bangerter said he has also had conversations about whether the oversight of college athletic departments at the state's regent universities should be modified. That discussion hasn't reached the full board yet, and Bangerter said it is one he's still contemplating.
"As an individual regent, I have had some conversations myself in regards to board oversight of athletics in general at our six regent universities and whether the level we currently have is appropriate," Bangerter said. "Largely the CEOs (presidents and chancellors) handle that responsibility and report to the board. I think that has worked well over the years, but I also want to make sure that I feel comfortable with that model."
Bangerter said he did not expect the Board of Regents to become involved in the decision of whether KU should extend its multimillion-dollar sponsorship agreement with Adidas, who has now had three employees or consultants convicted in the case. Bangerter, though, said any agreement would be expected to comply with the Board of Regents' policy regarding contracts that universities may enter into.
"We do have a policy in regards to contracts and the approval process," Bangerter said. "It is pretty detailed in regards to how all that should work. A lot of the responsibility falls on the chancellor, and then, obviously, we hold the chancellor accountable."