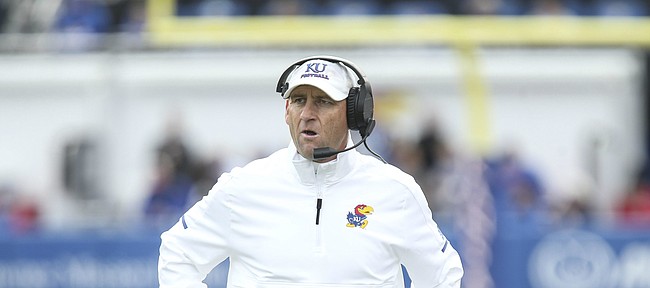 Soon-departing Kansas football coach David Beaty first heard rumors that his days on the job were numbered on Saturday evening. But it wasn't until Sunday, when athletic director Jeff Long called him mid-morning and scheduled a noon meeting, that the speculation became reality.
Beaty detailed that and other aspects of Long's decision to not retain him past the end of the season while answering questions Monday morning on the Big 12 coaches media teleconference.
According to Long, he wanted to sleep on the decision before making it official. Beaty described their Sunday conversation that followed as "very businesslike."
When asked whether there was any hesitation on Beaty's part in coaching the final three games before KU officially fired him, the fourth-year coach replied, "absolutely not," characterizing it as a "very, very easy" decision.
Photo Gallery
KU football vs. Iowa State
Photos from KU's 27-3 loss to Iowa State Saturday afternoon.
"I'm grateful to Jeff that it wasn't even a conversation," Beaty said. "The term that was used was basically that I was not going to be retained at the end of the season. There was no question that I was going to finish this season with this team and with our players, with our seniors. And I take my hat off to Jeff for recognizing and understanding that's what he believes and knows our team would want. It's really served as less of a distraction than these situations can typically be. Our guys, we saw them yesterday, they're in a really good place. They know, from the beginning, this has never been about me. It's always been about them and the great University of Kansas. So we never let that change. We basically verbalized it from week to week. It will never ever be about me, including themselves or us. It's about the shoulders of giants we stand on and the great university and the people who came before us."
After KU fell to 3-6 on the season and 6-39 in his three-plus years as head coach, Beaty expressed his disappointment in losing to Iowa State, saying the execution was lacking after the Jayhawks felt good about their game plan.
In the hours that followed, the coach began hearing the buzz that a change was on the horizon.

"After the game, I'm not a big social media guy in terms of reading things or listening to things, but started getting calls from our guys that night," Beaty related. "I think it was tougher on my players and my family more than it was me. We as coaches are conditioned to understand the way of the world when it comes to our games."
Kansas already has won three games for the first time since 2014, the season before Beaty's arrival. The Jayhawks also broke the program's nearly decade-old road losing streak and won two games in a row for the first time since 2011.
Seeing KU make strides and then learning his time was up proved disappointing for Beaty.
"When you love something and you believe in it and the progress that you've made, that you know has been made that maybe not everybody can possibly see, but that you know the progress has been made — we haven't won enough games. And at the end of the day, it's a production business with wins and losses. That's a measuring tool that you can't escape. You've got to be able to win games. And I get it. And we certainly get it, as well," Beaty added of his assistants.
"But we're grateful, because we still have bowl eligibility in front of us," KU's current coach went on. "We've got three opportunities and we understand we'll be underdogs in every one of those games. And we are as excited as all get-out to play every single one of them, one game at a time, starting this weekend with K-State."
Now officially less than three weeks away from his final day as KU's head coach, Beaty said it won't be difficult for him to go about his business and prepare the Jayhawks for their final three games — at Kansas State on Saturday (11 a.m. kickoff), at Oklahoma Nov. 17 and the finale versus Texas on Black Friday.
The outgoing coach pointed to his players as a primary source of inspiration.
"Knowing that we have some goals in front of us — number one, beating our rival, K-State, this week is obviously a big goal. And being able to get that done for our seniors will be huge. And, obviously, we have bowl eligibility still in front of us. It's one game at a time, so we understand that," Beaty said.
"But from a personal level, am I upset that we won't be with these guys and this great university? Absolutely," he added. "But that's the way of the world. We get it and we understand it. I'm just going to enjoy every minute of the next three weeks."