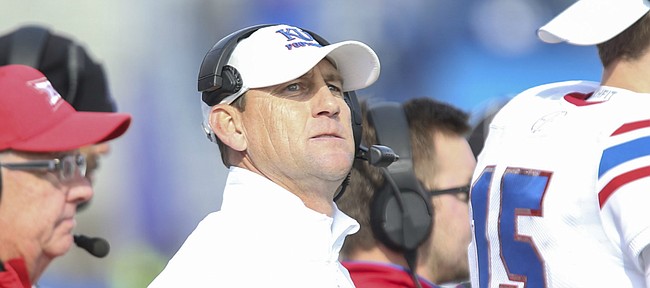 Since the day of Jeff Long's introductory press conference at the University of Kansas in July, the school's athletic director made it clear his evaluation of the football program and fourth-year head coach David Beaty would truly begin once the season kicked off, on Sept. 1.
After nine games, that assessment is now complete.
Long announced Sunday, the day after KU's touchdown-less, 27-3 home loss to Iowa State, Beaty will not be retained as head coach at the conclusion of the season.
"After a thorough evaluation of the program, I believe that new leadership is necessary for our football team to move forward and compete at the highest level of the Big 12 Conference," Long stated in a KU release. "I know that Coach Beaty cares deeply about his players, and I respect that. The student-athletes on this team have continued to play hard - and I am confident they will do that for the rest of the season."
Long informed Beaty of his decision Sunday and met with the football team directly afterward. "The search for a new head coach will begin immediately," he said.
Beaty's contract calls for him to be paid $3 million (payable in six equal payments) in the event of termination without cause; Long said Kansas will fulfill the terms of that contract.
Photo Gallery
KU football vs. Iowa State
Photos from KU's 27-3 loss to Iowa State Saturday afternoon.
Just a week before the coach's most recent loss with the Jayhawks, Kansas reached its highest season win total under Beaty — three — by defeating TCU 27-26 at David Booth Kansas Memorial Stadium. On that Saturday, KU's offense looked functional for the first time in conference play this season, a little more than two weeks after Beaty fired former offensive coordinator and quarterbacks coach Doug Meacham and placed himself in those vacated roles.
But a regression was evident against a surging Iowa State team this weekend, as KU's offense went 12 possessions and 83 plays without putting the ball across the goal line, a failure Beaty owned during his postgame press conference.
In that question-and-answer setting, though, while discussing his latest defeat as KU's coach, Beaty (6-39 overall, 2-31 Big 12) exuded neither anger nor the look of a man worried that his job would soon be lost.
That calm wouldn't last. In the hours following a loss in which Iowa State's fans appeared to outnumber KU's among the announced crowd of 15,543, rumors of Beaty's imminent departure began swirling.
Through a spokesman, KU maintained Long's evaluation of Beaty remained "ongoing" Saturday night, after Soren Petro of Sports Radio 810 WHB, in Kansas City, Mo., tweeted out he was "hearing" Beaty was out as head coach, and an announcement on the matter would follow over the course of the next day.
Sources reached by the Journal-World within the football program and athletic department had not been informed of any such move as late as Saturday night.
But by Sunday, it was official.
Not expected to turn the downtrodden KU football program around overnight when former AD Sheahon Zenger hired Beaty in December of 2014, the former Texas A & M receivers coach and recruiting coordinator never could manage to get the Jayhawks to turn a corner.
KU went winless in 2015, his first season in charge of a college football program. Year 2 brought his first victory, a rout over overmatched FCS opponent Rhode Island in the 2016 opener, and, after a nine-game losing streak, Beaty's first Big 12 victory, in overtime against Texas.
Even though KU went 2-10 and Beaty entered the offseason 2-22 as the program's head coach, those merits proved enough for Zenger to raise Beaty's annual salary — starting at $1.6 million per year in 2017 — and extend his contract through 2021.
That show of faith didn't help produce any on-the-field results, though. KU followed its 2017 season-opening win over Southeast Missouri State by losing its final 11 games. Eight of its nine conference matchups were lost by 22 or more points.
Still, at 3-33 through three seasons, with a single conference victory, Zenger retained Beaty.
By May of 2018, though, KU chancellor Douglas Girod fired Zenger, igniting speculation that a new AD at Kansas would mean a football coaching change if Beaty didn't show drastic progress in Year 4.
After three seasons marred by staff turnover, an inability to recruit or develop a truly impactful quarterback and a routinely flat Air Raid offense, small on-field gains over the past couple of months neither saved Beaty's job nor helped him on the recruiting front. With December's early signing period getting closer by the day, KU's 2019 recruiting class currently includes just one verbal commitment, from two-star Wentzville, Mo., running back Cole Mueller.
Embattled for much of this season and last, Beaty survived an overtime home loss to Nicholls State on the day Long had stated he would begin more thoroughly evaluating the head coach and his program. To the Jayhawks' credit, they responded to their 2018-opening defeat at the hands of an FCS foe with back-to-back victories over Central Michigan and Rutgers. By beating CMU on the road, KU even put an end to the program's 46-game road losing streak. The consecutive victories were KU's first since 2011.
But reality hit hard once Big 12 play commenced. Four consecutive conference defeats followed the 2-1 nonconference start to this season. And a victory over TCU proved more of a respite from the norm than a launching point for a successful run to close the season.
So Kansas, with three games left on the season, will play out its schedule under Beaty, beginning with Saturday's trip to Kansas State for the Sunflower Showdown.
After KU informed donors of the move and made the news official with a press release, Long tweeted out some of the details of what led to his decision.
According to Long, he met with Beaty Sunday to inform the fourth-year coach he wanted to take KU football in a "new direction."
The first-year KU AD stated he and Beaty agreed it would be in the best interest of the current KU players, "especially our seniors," to let Beaty complete the 2018 season as head coach.
Long said he met with KU's players after informing Beaty and explained the "head coach qualities that would be the foundation of our search, the vision of our future and reinforced the commitment to breaking the cycle."
Long added KU's coaching search officially starts now.
"Our search will find an experienced head coach. A head coach that is a proven program builder and strong recruiter. A head coach that is an established leader of men, both on and off the field. A head coach who is committed to breaking the cycle for KU football," Long tweeted, adding a Rock Chalk hashtag in conclusion.
On Sunday evening, KU issued a statement from its fourth-year head coach. Beaty thanked Long for giving him the chance to finish the season, as well as Girod for the chancellor's support, and said he was "saddened" to not be a part of the program's future, but respected the decision.
"I am looking forward to every minute of these next three weeks with the finest young men in the country, at a university I truly love," Beaty stated, before adding he was inspired by his players and he was proud of senior captains Jeremiah Booker, Joe Dineen Jr. and Daniel Wise.
KU football records under David Beaty
2015: 0-12 overall, 0-9 Big 12
2016: 2-10, 1-8
2017: 1-11, 0-9
2018: 3-6, 1-5
Total: 6-39 overall, 2-31 Big 12