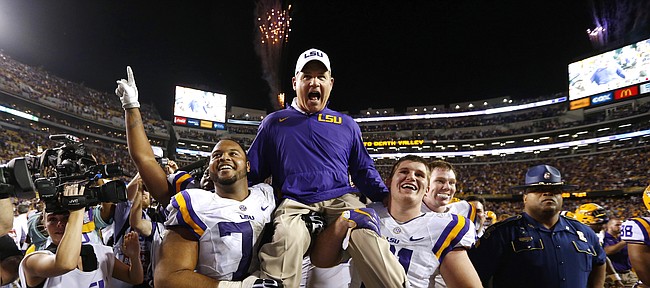 Once everyone officially learned Sunday afternoon that Kansas athletic director Jeff Long was searching for a new head football coach to replace David Beaty, Long used the power of social media to divulge some details about what he's looking for in a candidate.
Throwing out on Twitter phrases such as "experienced head coach" and "proven program builder" while describing his ideal hire, Long let KU football's long-suffering fan base know he wants to find someone who is "committed to breaking the cycle" of a historically losing program. KU, of course, hasn't won more than three games in a season since Mark Mangino's final season in charge, in 2009.
With that in mind, here is a speculative list of potential candidates for Long to consider and/or pursue.
- Les Miles, former LSU and Oklahoma State head coach
The most attractive free agent in college football, Miles' 2007 LSU team won a national championship.
He went 114-34 with the Tigers in 11-plus seasons, before being fired four games into the 2016 season. LSU was 7-4 in bowl games with Miles at the helm.
Miles first made a name for himself as a head coach in the Big 12, leading Oklahoma State to a 28-21 mark and three bowl appearances in four seasons.
He owns a .721 winning percentage as a head coach and would carry more clout than just about anyone who would consider coaching at KU.
But it's unclear at this point whether a coach of Miles' stature would actually want to take on the significant chore of overhauling the Kansas football program.
- Dave Doeren, North Carolina State head coach
Currently in his sixth season at N.C. State, Doeren is 40-32 at the ACC program.
Getting Doeren, a Kansas native and former KU assistant, back to Lawrence would cost some money, too, in the form of a $6 million buyout to get him out of his contract with the Wolfpack.
Doeren went 23-4 at Northern Illinois in his first head coaching job and now possesses a 4-1 record in bowl games, with N.C. State already bowl-eligible for this coming postseason.
- Jason Candle, Toledo head coach
In his third full season at Toledo, where he replaced now-Iowa State head coach Matt Campbell, Candle became a quick success story.
Toledo is 26-11 since Candle took over, including an 11-3 mark in 2017.
The Rockers currently stand at 5-4 this season.
- Lane Kiffin, Florida Atlantic head coach
It didn't work out for Kiffin at Tennessee, where he was fired after one season, or USC, which got rid of him five games into Year 4.
While that may take some of the luster off a Kiffin hire for most Power Five programs, KU isn't like most major conference teams.
Plus, Kiffin found instant success at Florida Atlantic in 2017, going 11-3 and leading the team to a win in the Boca Raton Bowl.
The Owls are currently 4-5 this season.
- Seth Littrell, North Texas head coach
A graduate assistant for Mark Mangino at Kansas once upon a time, in 2002-04, Littrell has found success at North Texas, going 9-5 in his second season, in 2017. This year, he's currently 7-2.
Littrell is 21-15 in his third season as a head coach.
- Jeff Tedford, Fresno State head coach
Currently 18-5 at Fresno State in his second year with the Mountain West team, Tedford inherited a program that went 1-11 in 2016.
Tedford went 82-57 previously, in 11 years at Cal, and owns a 6-3 bowl record.
- Willie Fritz, Tulane head coach
A Johnson County native who played defensive back at Pittsburg State, Fritz has developed recruiting contacts in Kansas, Missouri, Texas and Louisiana during a coaching career that started in junior college, advanced to NCAA Division II, then FCS and now FBS.
But in his third season at Tulane, Fritz currently holds a 13-20 record.
Previously, he went 18-7 in two seasons at Georgia Southern.
- Jim Leavitt, Oregon defensive coordinator
Though currently employed as Oregon's defensive coordinator, Leavitt spent 10 seasons at South Florida, building the program up from scratch.
By the time he left following the 2009 season, Leavitt had a 75-44 record and took USF to five consecutive bowls, going 3-2 in the postseason.
Before taking over at USF, Leavitt worked for Bill Snyder as an assistant at Kansas State.
- Jeff Monken, Army head coach
After enduring losing seasons in his first two years on the job, Army's fifth-year coach already has assured himself of a third straight year with at least seven wins.
Monken went 8-5 in Year 3, 10-3 in Year 4 and currently has Army at 7-2.
Earlier this season, with the help of a methodical triple option offense, Monken nearly directed his team to an upset victory at Oklahoma, before the Sooners prevailed, 28-21, in overtime.
He's 2-0 in bowl games, as well.
- Troy Calhoun, Air Force head coach
In charge of Air Force football since 2007, could it be difficult to pry Calhoun away from a program he has taken to nine bowl games, going 4-5?
Calhoun, 3-6 this season, is currently 85-66 utilizing a triple option offense.
- Bret Bielema, former Arkansas and Wisconsin head coach
Working for the New England Patriots as a consultant for Bill Belichick, it seems unlikely Long would hire Bielema, because he already did so at Arkansas.
Long was fired shortly before Bielema's tenure with the Razorbacks concluded in 2017, however.
Bielema went 29-34 in five seasons at Arkansas, reaching three bowl games and going 2-1 in the postseason.
His past with Long makes a reunion seem implausible. Still, Bielema is likely available. And before he was a head coach in the SEC, he went 68-24 (.739 winning percentage) in seven seasons at Wisconsin. The Badgers played in six bowl games in that span, going 2-4.