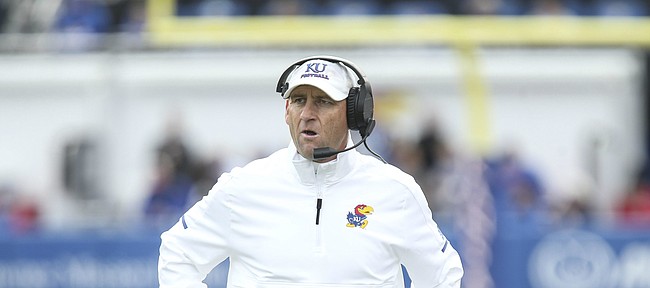 The corner of Twitter that keeps up with the Kansas football program caught fire with speculation in the hours following the Jayhawks' 27-3 home loss to Iowa State on Saturday.
It all began when Soren Petro, of Sports Radio 810 WHB, in Kansas City, Mo., tweeted that he was "hearing" David Beaty was out as KU's head coach and that the athletic department would announce as much in the next 24 hours.
Reached by the Journal-World and other media outlets for a response on the matter from athletic director Jeff Long, KU spokesperson Jim Marchiony stated Saturday night, "As Jeff has said, the evaluation of the football program began September 1 and is ongoing."
Petro also posted to Twitter that he expected Beaty — now 3-6 on the season and 6-39 in his three-plus years at KU — would "finish the season on the sideline."
The 810 host went on in a separate post to double down on his initial tweet, adding he had "more confirmation," and that KU would make an announcement Sunday "around" noon.
The Journal-World reached out to sources within the football program and athletic department, none of whom could confirm knowledge of any pending announcement.