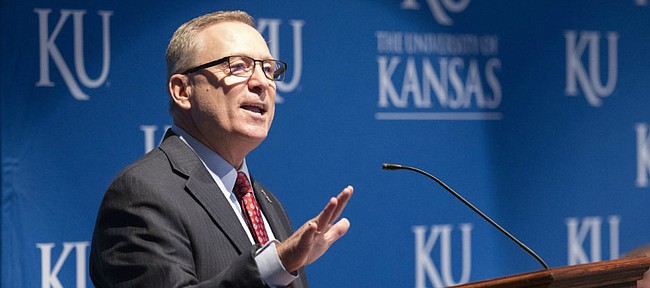 University of Kansas Athletic Director Jeff Long said Thursday that a wiretapped phone conversation where a KU coach and an Adidas representative discussed the possibility of paying a recruit may be part of a future "inquiry" with the NCAA.
But Long left unclear whether he has done anything to already ascertain what the intentions were of KU assistant basketball coach Kurtis Townsend when he was caught on tape with Adidas representative Merl Code discussing inducements that might have to be given to attract a top recruit.
In a federal fraud trial in New York last month, a defense attorney for Code read from a transcript of a recorded phone conversation between Code and Townsend. According to the transcript, after Code told Townsend that top recruit Zion Williamson was seeking inducements of money, housing for family members and other items prohibited by NCAA rules, Townsend said: "I've got to just try to work and figure out a way. Because if that's what it takes to get him for 10 months, we're going to have to do it some way."
On Thursday, Long noted the actual recording wasn't played in court but rather the only information has been from a transcript. When asked whether KU ever would provide the public with an explanation about what Townsend meant by that response, Long said: "It was read from a document. I have not seen that document. I don't know the validity of that document. We hope we'll be able to see that information and use it in our inquiry with the NCAA."
When asked whether he had asked Townsend what he meant by the comments, Long said, "I can't say any more than what I just said."
Townsend continues to coach for the Jayhawks, and head coach Bill Self previously has said that none of Townsend's recruiting duties have been curtailed after the information surfaced at trial.
Long was asked whether he was concerned that absent an explanation, Townsend's comments would be broadly interpreted by the public as a sign that KU had a coach who was willing to break a fundamental NCAA rule prohibiting the payment of players.
"That might be your view, but that is not mine, and I can't comment any further," Long said.
Long also declined to comment on whether he thought an independent investigation of KU's basketball recruiting practices was warranted.
The Journal-World questioned Long after he spoke at a University Senate meeting, where he discussed the athletic department's role in the larger university. In his comments to the group, Long said there is work yet to do with the NCAA on compliance issues. But he also said the timing of that work was uncertain. Two more federal trials related to college basketball corruption issues are set for early next year, and those federal prosecutions may impact the speed at which the NCAA would undertake any investigations into compliance issues.
"We are continuing to wait for the Department of Justice to clear us to pursue some things from an NCAA compliance standard," Long said. "We are standing by waiting for the go-ahead. We will pursue that. We will work with the NCAA. We will work very hard to get to the bottom of it. Should we find things that are inappropriate, we will act upon them in a way that you would expect us to."
Long also briefly touched on the decision to withhold sophomore Silvio De Sousa from competition until certain questions can be resolved. Testimony in the trial included an admission by an Adidas representative that De Sousa's guardian had been paid $2,500 for online courses for De Sousa, and allegations that the guardian accepted a larger payment from a University of Maryland booster.
Long said he decided holding De Sousa out of competition would be the "prudent" action. He said KU hopes to work with the NCAA to resolve any eligibility questions, but said the NCAA has not begun to work on the matter.
"We are working with the NCAA when they let us know they are ready to work on it," Long said. "We have not heard from them. We are waiting to hear from them."