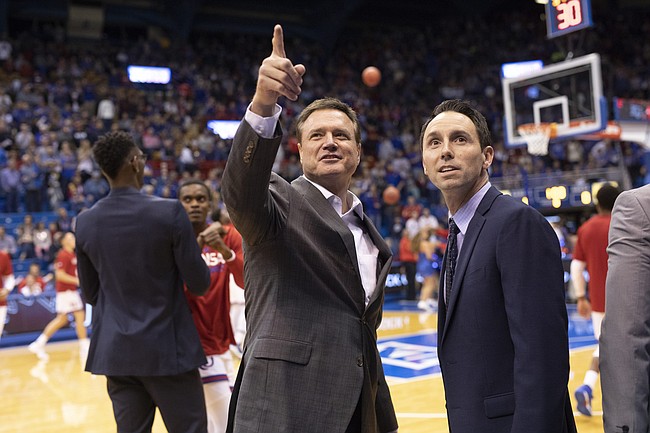 Ahead of Thursday's 79-52 loss to top-ranked Kansas at Allen Fieldhouse, Washburn coach and former KU walk-on Brett Ballard was asked a few dozen times how he felt about returning to his old stomping ground.
But Ballard, who also worked on KU coach Bill Self's staff for seven years after graduating in 2003, said his plan all along was to wait until after the game was over to decide how he felt.
"It did feel good," Ballard said following Thursday night's game. "To get to coach a game in this building, I know I'm biased, but this is the best venue in sports."
Ballard, who also spent a few years on Danny Manning's staff at Wake Forest back in the day, has experience in games at Duke, North Carolina, Kentucky and Michigan State. And even though he said he'd like the local media to erase the words that came next if he one day is hired by Duke, Ballard said simply, "It doesn't compare. It doesn't compare."
Before the game, Ballard received a loud ovation from the home crowd when he was introduced as the Washburn coach.
And throughout the night, whether during pregame warmups, in the hall between the locker room and the court, and even on his way out of the media room, where he stopped and talked with some familiar faces from the KU side, Ballard kept seeing people and places he recognized.
The biggest one, of course, was Kansas coach Bill Self.
"I didn't see him until right before tipoff," Self said of his former director of basketball operations. "But it was great to see Brett and I thought it was good that the video group found a clip of him — obviously, it wasn't a playing clip — but getting a clip of the net (during the pregame intro video)."
Starting five
Two of KU's three backcourt jobs still appear to be up in the air, as sophomores Charlie Moore and Marcus Garrett started Thursday's victory in place of freshmen Devon Dotson and Quentin Grimes, who started last week's opener.
Self on Wednesday said he anticipated switching up who started in the backcourt, but what comes next is anybody's guess.
Garrett and Moore started strong and certainly looked the part in this one, finishing the first half with five assists and just one turnover between them. By game's end, Garrett and Moore had combined for four points, nine assists and just two turnovers, while drawing praise from Self, who noted that KU's starters were much better than the Kansas bench in this one.
"It didn't mean much," Garrett said of earning the start. "I just felt like coach wanted to try different lineups just to see how different guys played together."
Exhibition History
Thursday's victory moved the Jayhawks to 88-10 all-time in exhibition contests and 61-5 in exhibition games played at Allen Fieldhouse.
Kansas has now won 29 consecutive exhibition games, dating back to Oct. 30, 2012, and 50 in a row at home.
The Jayhawks' last loss in an exhibition game came in August of 2012, when KU dropped back-to-back games to a French Club team in Paris during a four-game overseas tour ahead of the 2012-13 season.
Those are the only two exhibition losses for KU coach Bill Self during his time at Kansas, as Self is now 56-2 in tuneups with the Jayhawks.
Under-the-radar homecoming
While Thursday's contest marked a true homecoming for Ballard, the Ichabods also had someone else on their bench making his coaching return to Lawrence.
Former Lawrence High girls basketball coach Nick Wood, a 1996 LHS graduate and former all-Sunflower League player for the Lions, is in his first year with Ballard's program after spending the past four years teaching and coaching overseas in Muscat, Oman.
Wood, a lifelong Kansas State fan, said the experience of helping lead the Ichabods into famed Allen Fieldhouse in his hometown was something to remember.
"Growing up in Lawrence, I've always recognized what a special place this is," Wood said of Allen Fieldhouse. "And to be able to coach a game in here is really cool, and I just tried to enjoy it and embrace every aspect of it."
Like Ballard's crew, several of Wood's friends and family members were in attendance.
What's Next?
With exhibition play out of the way, the Jayhawks can turn their full attention to the regular season opener Tuesday against Michigan State at the Champions Classic in Indianapolis.
Truth be told, the Jayhawks have spent at least portions of the past couple of weeks preparing for Tom Izzo's team, but Self said because the game is the first of the season for both squads, neither will have a great look at the other team just yet.
"We've got tapes from them playing last year, toward the end of the year, and I'll watch at least the last two games that we've played against them, and then we have an exhibition game that they played (Tuesday) night," Self said. "We won't have a good book on them, but we'll have a lot more than we had on Emporia or Washburn."
The KU-Michigan State matchup that precedes Kentucky vs. Duke in the late game will pit two Top 10 teams against each other and the Jayhawks and Spartans will be meeting for the 14th time in history.
MSU leads the series 7-6, but the Jayhawks have won two of the last three meetings, including a 90-70 victory in the second round of the 2017 NCAA Tournament in Tulsa.