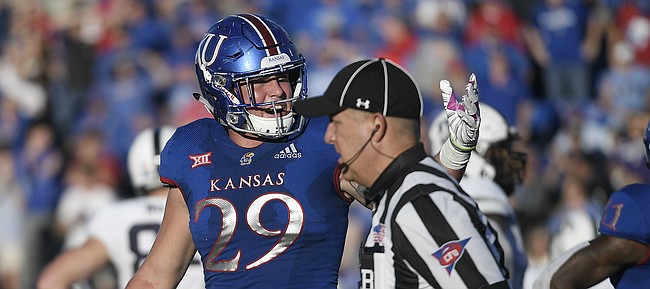 In a 2017 season filled with low points, no stretch felt quite as cavernous for the Kansas football team as a pair of back-to-back shutout blowouts on the road.
The Jayhawks no-showed at Iowa State, gaining only 106 yards in a 45-0 defeat, and somehow bottomed out even deeper at TCU, face-planting their way to a 21-yard showing and a 43-0 vanquishment.
By chance, the Big 12 scheduled KU to face those same two opponents in consecutive weeks again this season, with the order flipped.
Redshirt senior linebacker Joe Dineen Jr., even after Kansas exorcised some of those old demons by beating TCU 27-26 this past week in Lawrence, said some players don't want the lowest moments of 2017 creeping into their minds as they prepare.
"We try to, honestly, completely separate it. And not worry about what happened in years past," Dineen shared, ahead of KU's Saturday home game against Iowa State. "Obviously, we want to have a better showing, and against TCU, we did have a better showing. So, hopefully, against Iowa State, we can do the same thing."
Another KU defensive captain, redshirt senior lineman Daniel Wise, admitted he hadn't thought about the similarity of taking on the Horned Frogs and Cyclones in back-to-back weeks again. Wise, though, figured some Jayhawks may use those painful memories and try and redirect them for the good of KU.
"It adds a little more extra incentives to it. It's not bad thinking about that," Wise said. "Hopefully, that pushes some guys, thinking about that, they may play a little harder. But, yeah, we are looking forward to obviously pulling one off this weekend — we plan to win each and every week."
KU's defense has clearly been the team's strength this season, by feasting on takeaways, with 13 interceptions and 10 fumble recoveries.
In order to beat Iowa State (4-3 overall, 3-2 Big 12), though, and complete a redemption sweep, Dineen said defenders will need to get off the field on 3rd downs, too. The Jayhawks have allowed opponents to convert 45.9 percent of their 3rd downs (112th in FBS) this season.
"And, obviously, that's easier said than done," Dineen added of making 3rd down stops. "But our offense will put up points, and I think that they're finding their groove. So it should be a good game."
If Kansas (3-5, 1-4) has done one thing well offensively this season, it's avoiding turnovers. Opponents have only picked off starting quarterback Peyton Bender twice on his 184 pass attempts. The offense as a whole has lost the ball just seven times.
After KU went four for four in its red zone trips against TCU and Bender completed a season-best 65.5 percent of his passes on his way to 249 passing yards (another personal top mark for the season) and two touchdowns, confidence seems to be growing on both sides of the ball.
"I just think they're really finding out what works," Dineen said of his counterparts on offense. "Obviously, getting Pooka (Williams, who made seven receptions for 102 yards and two touchdowns versus TCU) out and having him catch some passes. With how dynamic of a player he is, changing what he can do and not just handing him the ball and stuff like that. And then our O-line is playing really well. (Bender) stepped up and had a big-time game. Receivers came up with some big-time catches on third down. Just, plays were made — timely plays were made. And that's something we need to keep up."