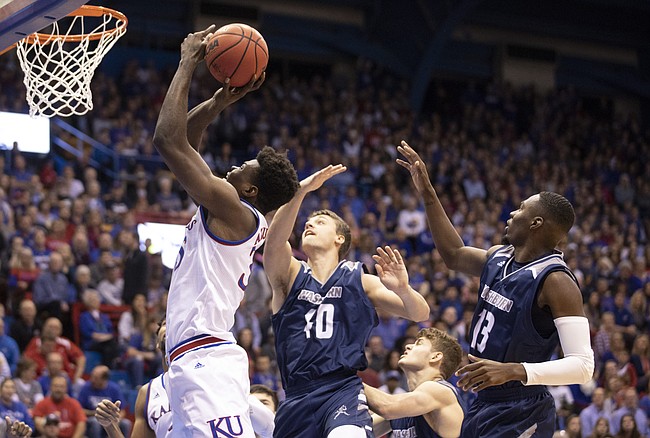 Kansas center Udoka Azubuike gets dozens of text messages every day, but it was one that came late last week that had a major impact on his bounce-back performance during Thursday's 79-52 Kansas victory over Washburn in the exhibition finale.
The text came from KU junior Dedric Lawson, who, a week ago, had just exploded onto the scene with a 31-point, 15-rebound debut, while Azubuike limped his way to two points and six turnovers in an easy win over Emporia State.
Rather than saving the spotlight for himself and basking in the love being thrown his way, Lawson put his thumbs to work and tried to lift the KU center's spirits.
"After last game, I text him, I was like, 'Bruh, don't worry about that. It's an exhibition game. These stats don't even count. We're out here just to have fun,'" recalled Lawson on Thursday night after scoring 18 points in 23 minutes to help lead Kansas to victory.
As it turned out, Azubuike took the message — and others like it from Kansas coach Bill Self and other teammates — to heart.
"I can't have games like (against Emporia State) all the time," Azubuike said Thursday. "So it was really important to bounce back. My focus was on playing right from the get-go. I just had to get myself together. It was really important."
After laying an egg against ESU, Azubuike showed everyone that all of that encouragement, and the self-reflection that followed it, made a difference.
In just 18 minutes against Washburn, the KU big man, who saw swarms of Washburn players fly to him every time Kansas threw him the ball, put his head down, kept his eyes up and would not be denied, finishing with 17 points, six rebounds and three assists.
"Udoka, he wants to play so well for us and contribute so much," Lawson said. "So I know where his heart is at and I just wanted to give him my words of encouragement to stay with it."
Self was as pleased with Azubuike's bounce back this week as he was discouraged a week ago.
"It wasn't that he wasn't very good (last week)," Self explained. "He let how a team played him totally take him out of his game. So that's not very mature. We've talked a lot about that. But, you know, that's going to happen again. He's got to figure out a way to impact a game positively for us as opposed to letting (an opponent) totally take out one of our best players."
Self explained all of that to Azubuike during practices leading up to Thursday night, perhaps more than once and perhaps with a slightly different tone.
"(He has) his own way of kind of talking to me," Azubuike said of Self. "Trying to push me to do better and all that. Coach has always been on me. He was on me last year and I know he's going to definitely be on me even more this year."
Photo Gallery
No. 1 KU vs. Washburn University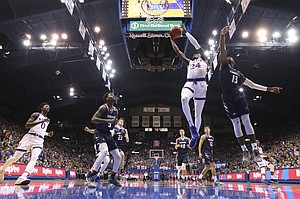 No. 1 KU takes down Washburn University with a 79-52 win in the final exhibition contest.
Azubuike's resurgence on Thursday night — and Lawson's second straight solid game — represented merely 40 percent of what Self believed was a pretty solid showing by KU's starting five.
Nobody played more than Lawson's 23 minutes and senior wing Lagerald Vick joined the KU big men in reaching double digits, scoring 16 points on 6-of-10 shooting, 4 of 7 from 3-point range.
"I actually thought if we hadn't have subbed, we would've played really well tonight," Self said. "I thought our starters played really well tonight. It was good to see us get on a little bit of a roll there in the second half."
It took the Jayhawks nearly 30 minutes to gain complete and comfortable separation from Washburn on Thursday. And, in many ways, the Jayhawks had to go backwards before they got there.
But after the Ichabods trimmed KU's 14-point halftime lead to just seven a couple of minutes into the second half, the Jayhawks responded with an unrelenting 31-5 run over the next eight minutes that put the Bods at bay for good.
The knockout run had a little bit of everything, from crisp, clean ball movement for open 3-pointers to brutalizing dunks and even a couple of free throws from Azubuike, who made five in a row at the free-throw line after missing his first attempt of the night.
"That really boosted my confidence," Azubuike said of the positive performance at the charity stripe. "I've been working on it a lot. My whole form has totally changed and I was glad to see my free throws go in. You can see now my form is natural. It's just me taking my time, holding the ball the right way and just following through."
Added Self: "You guys saw tonight, he took his time and they were a lot softer. … I thought he played great."
With two exhibitions now behind them, and a different starting lineup used in each game, the Jayhawks will look to turn it up a notch in preparation for next week's regular-season opener against No. 10 Michigan State at the Champions Classic in Indianapolis.
As Self continues to tighten up his rotation — the plan now is to redshirt walk-on Elijah Elliott, with others potentially joining him — and tinker with different lineups, the main focus is as much about how the team plays as it is about who's playing.
A week after coughing up 22 turnovers against Emporia State, KU finished with 20 against Washburn. While on paper, that represents progress, coaches on both benches Thursday night saw clearly that this KU team was still a work in progress.
"They've got, obviously, a great team," WU coach and former KU player and assistant coach Brett Ballard said after the game. "Coach Self has an unbelievable team. They're going to be terrific this year and they're still figuring some things out. I've been in that locker room, and you're trying to get those guys motivated to play these games. It's hard. But they know who they're playing next Tuesday."