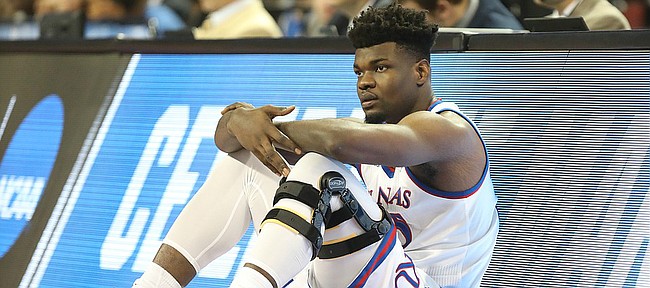 Soon, the story of Michael Jordan getting cut from his high school basketball team will grow to the point that the coach not only cut him, but broke his legs with a baseball bat, prompting doctors to tell Jordan he never again would walk.
The truth: As a freshman, Jordan was cut from the varsity. That was enough to fuel one of the most competitive athletes in the history of sports to work even harder. You know the rest of the story.
Not to liken Udoka Azubuike to Jordan, but he is a proud young athlete and the feedback he received from NBA talent experts was akin to not making the cut. They told him to go back to college. So, back to college he went, to the benefit of himself, the Kansas basketball team and its loyal followers.
He returns with the extra motivation of trying to make those who told him that his game wasn't yet worthy of NBA dollars regret they didn't guarantee him a spot in the first round.
Other than the dunk, his favorite shot, Azubuike's offensive arsenal sounds more like that of a boxer than a basketball player. He has a left hook and a right hook. That's not a jab at him, just an honest assessment of his scoring options at the age of 18. He doesn't turn 19 until Sept. 17.
He also needs work defensively, because most NBA big men have shooting range beyond 20 feet. Villanova's big men exposed his defensive deficiencies by firing at will from 3-point range.
For what it's worth, he tested poorly in some agility drills, even for an athlete his size, particularly in the "reactive shuttle run," in which players start in the middle of the key and run to each side. His 3.65 was the worst time tested and power forward Kostas Anteokounmpo had the second-worst (3.48). They also had the worst lane agility times (12.97, 12.48 for Anteokounmpo).
Conversely, Udoka's 31-inch standing vertical leap was excellent for such a large man.
He measured just 6-foot-10 without shoes, but had the second-longest wingspan (7-7, 3 inches shorter than Mohamed Bamba, of Texas) and extremely low body fat (7.95 percent).
So, what do all those numbers mean for KU? Nothing that wasn't already known, which is that the Jayhawks will be a lot better with him than they would have been without him.
Azubuike can be far more aggressive defensively this coming season because of all the front-court depth, and when he's tired, he can recharge his battery on the bench.
He made a smart decision for his future and for KU's.