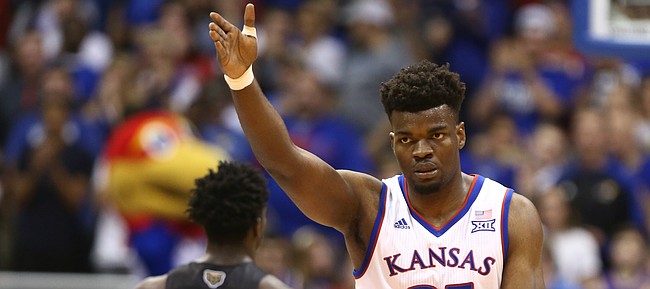 The Kansas Jayhawks officially have their big man back.
Sophomore center Udoka Azubuike, who spent the past month or so testing his status with the NBA, decided today that he would return to Kansas for his junior season.
Kansas coach Bill Self confirmed the news to the Journal-World shortly before 12:30 p.m.
Azubuike's decision to spend another year in college keeps KU coach Bill Self from having to replace all five starters from last season's Final Four team and, perhaps more importantly, gives the Jayhawks, on paper at least, the look of a team that can be absolutely lethal down low.
In 36 games as a sophomore, Azubuike led the nation in field goal percentage, making 211 of 274 attempts for a 77 percent mark. More than 100 of those 211 field goals were dunks and Azubuike made a name for himself — and also earned third-team all-Big 12 honors — by becoming an offensive force near the rim.
Of Azubuike's decision to return, Self told the Journal-World that the 7-foot Nigerian's announcement marked the start of what could be a monster season.
"He prepared as hard as anybody we've had in the combine and went and helped himself," Self said of Azubuike's week in Chicago in mid-May. "But he probably didn't help himself to the point where he would be a guaranteed first-round draft pick. … But I think he'll be more motivated now. And I think he'll be more prepared. And certainly he's going to be much better. Moving forward, with him being the most experienced player on the Kansas team, I think there'll be a lot of additional responsibility on him and I think he's really looking forward to that."
Instead of being the focal point of a thin front court as has been the case during the past two seasons for the Jayhawks, Azubuike figures to be the top dog in a big man rotation that includes both serious talent and tons of depth.
Consider this for an indication of just how healthy KU's front court will be during the 2018-19 season: Mitch Lightfoot, he player who was most relied upon throughout the 2017-18 season whenever Azubuike was in foul trouble, needed a breather or was injured, will go from being crucial to KU's chances at success to the fifth biggest body on the Kansas roster.
The 7-foot, 274-pound Azubuike, will be joined up front by Memphis transfer Dedric Lawson (6-9, 230), returning sophomore Silvio De Sousa (6-9, 245) and incoming freshman David McCormack (6-10, 260), giving Self the luxury of returning to his more familiar style of playing with two big men instead of four guards.
As for Lightfoot, who played at 6-8, 210-215 most of last season, he KU's list of bruisers should allow him to return to his more natural 4 position.
Excited to have his dunk machine back for another season, Self said he viewed Azubuike's decision as a win-win for the KU basketball program.
"It's great (he's back)," Self told the Journal-World. "But it would've been great news if he was guaranteed to be a first-rounder, too. I think Udoka handled this the way it was intended to be handled. He declared not knowing what his intention would be but he knew he had to get certain feedback in order to stay in the draft. So the positive is, he knows the experience, he'll be more prepared, he knows what people are telling him he needs to improve on and he's still only 18 years old so even next year he'll be one of the youngest players in the draft."