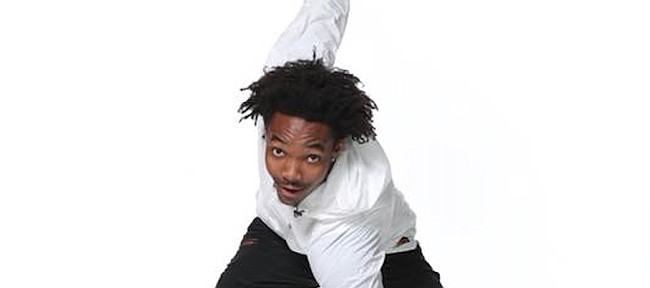 The NBA combine taking place this week in Chicago is all about drills, testing, scrimmages and interviews designed to give all 30 NBA franchises an even better picture of the players they might draft during the June 21 NBA Draft in Brooklyn, N.Y.
But just as technology continues to advance the way people communicate, study and assess the game and build and design just about everything that goes into it, so too does the technology involved with the combine.
Former KU point guard Devonte' Graham got a first-hand look at exactly what that meant earlier this week. And Graham came away from the experience awfully impressed with the virtual advancements the game has made in recent years.
"See, I'm a good guy so they didn't have too much dirt on me so they didn't ask me too many tricky questions," Graham joked during an interview with ESPN, a reference to some of the subtle and strange questions draft prospects have been asked in the past. "But I did do a virtual reality thing and it was pretty cool, making plays like I was on the court, as a defender and stuff like that. I had to make the right reads. That was pretty neat."
Asked by ESPN analyst Jay Bilas just how realistic the simulator was, Graham's eyes popped open as he said: "It was definitely realistic. It was like I was on the court."
Clearly, wearing a futuristic mask and making mock plays on a screen is no substitute for the real thing. But with scrimmage time limited because of the need to get all of the 69 players in attendance on the court for live action, getting an opportunity to impress team executives and scouts in another way is merely a bonus.
Heading into the combine, Graham believed that aspect of his resume would benefit him just as much as anything he could do on the court.
"I've heard they ask you crazy questions," Graham said. "But I feel like my personality and all the media training we did (at KU) will help me out."
Of course, his ability as a basketball player — and, in this setting, a true point guard — also has some impact on how NBA franchises view him. And Graham's performance on Friday was a step up from his first impression on Thursday.
In 27 minutes during Friday's scrimmage, Graham scored 16 points on 6-of-9 shooting, hit 4 of 6 3-pointers and added four assists, three rebounds and a steal.
The reason Graham has had such a solid showing this week in Chicago is his simple approach.
"Just to play my game," he told Bilas and the ESPN crew. "They (scouts) watched me for four years so (there) ain't too much that I can show them that they don't already know. Just trying to play my game, do the little things as a point guard, making plays and playing defense, really."
As is the case with every prospect at the combine, there are, of course, things Graham can do better. ESPN draft analyst Mike Schmitz outlined one of those areas while sitting next to Graham during the ESPN interview.
"I love your ability to create space and be on balance, too," Schmitz told Graham. "I think that's a really impressive skill that guards your size need to have at the NBA level. But I think you can improve as a finisher in the paint, especially off of one foot, adding floaters, adding different touch shots. I think you have a tendency sometimes to try to load (jump) off of two feet and get into the body, but when you face some of these elite-level shot blockers, maybe that's going to be an area where you need to transition your game a little bit."
Taking every word to heart, Graham barely blinked when hearing Schmitz's assessment of his game.
"That's exactly what I've been telling the teams that I need to work on," he said.
According to Graham's mother, Dewanna King, the former KU All-American this week met with Detroit, Memphis, Atlanta, Dallas, Charlotte and Indiana. He said before the combine began that he expects to attend 12-15 team workouts in the couple of weeks following the combine.
Family affair
After missing the first couple of days of the combine because of his obligations with the NCAA oversight committee, a role that will end in June, KU coach Bill Self caught the end of Friday's scrimmage between Udoka Azubuike and Svi Mykhailiuk.
There next to him for much of that scrimmage — and also in attendance for the rest of the week's action — was Self's son, Tyler, who was in attendance as part of his role with the San Antonio Spurs.
With Saturday and Sunday at the combine being mostly meetings and medical exams, most of the college coaches and even some of the prospects will leave Chicago, with the combine participants moving on to their individual and team workouts over the next couple of weeks.

Svi stays hot
After pouring in a game-high 20 points on the strength of six 3-pointers during Thursday's scrimmage, former Jayhawk Svi Mykhailiuk continued to show off his deadly stroke from 3-point range on Friday, this time in an individual 3-point shooting exercise.
In a drill designed to test a player's accuracy from different spots behind the arc, Mykhailiuk placed in the top three from all five spots, knocking in 60 percent from the left corner (tied for third), 80 percent from the left wing (tied for second), 80 percent from the top of the key (tied for first), 80 percent from the right wing (tied for second) and 80 percent from the right corner (tied for first).
Asked about his former teammate during his interview with ESPN — in which Bilas bragged about being able to score Mykhailiuk correctly on the first try — Graham pointed to Mykhailiuk's confidence as the biggest reason he had such a strong senior season and was enjoying a good showing at the combine.
"He's grown tremendously, as a person, as a player, getting his body right, maturing, learning English," Graham said. "Overall, he's just growing and getting better every day."
As for his thoughts on Bilas' spelling bee skills, Graham said, simply: "I've been with him for four years and I can't spell (Mykhailiuk)."
Udoka Part II
Day 2 of full action at the combine produced more of the same for KU center Udoka Azubuike, who remains eligible to return to Kansas for his junior season because he has not yet hired an agent.
During Friday's scrimmage, when he squared off against Mykhailiuk, Azubuike again did most of his work in close to the basket, making himself available at all times for big dunks and easy buckets.
His work on the glass and as a defender left a little to be desired — 10 rebounds and zero blocks in two games — and some Twitter reports have indicated that his conditioning is something that is being monitored closely.
Said Bilas of Azubuike as an NBA prospect: "He's got such a big body and is another guy with a tremendous wing span. I don't know whether he's going to stay in the draft or go back to Kansas. He can certainly take up space, but his offensive game is not really there right now."
Newman, Preston sit again
After sitting out the scrimmages on Thursday, former KU players Malik Newman and Billy Preston sat out of five-on-five action again on Friday.
Despite not scrimmaging either day, both players did run through individual drills and testing and met with several team representatives throughout the week.