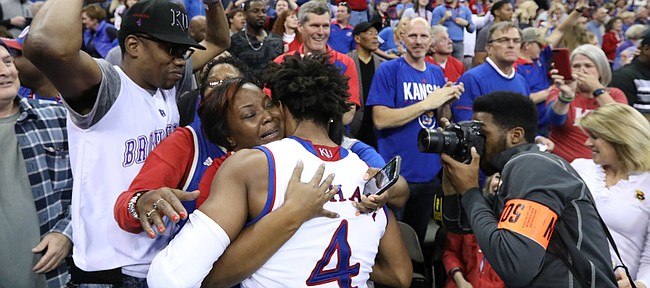 As far as weekends go, they don't make them much bigger than the one KU senior Devonte' Graham and his family will experience during the next couple of days.
From his mother, Dewanna King's birthday today, to two separate graduation ceremonies and Mother's Day on Sunday, Graham and his family will have a lot to celebrate during what will be his final official weekend as a KU student.
Oh, and then there's also Graham's four book signings at various Kansas Sampler locations on Saturday — including the one on Mass Street in Lawrence, from 5 to 7 p.m. — and at Johnny's in Prairie Village on Friday night.
"This is my first time doing something like this and it's not a bad way to start, with this book," said Graham, who will be signing copies of Jason King's "Beyond the Streak" book, which chronicles KU's unprecedented run of consecutive Big 12 titles. "Jason's a good guy and Coach Self, after the season, told me that he wanted me to do it and I said, 'Of course.' Get to interact with the fans, they get to see me, get to do a couple signings around here. It's going to be great."
Once the book signings are done, Graham's attention will shift solely to graduation day, a milestone that he and his family have been waiting a long time for and one that Graham believes will bring all kinds of emotions.
By emotions, we're not talking the same kind of sobbing that the KU point guard put on display at Senior Night back in March. But Graham said he expected there to be tears, smiles, laughs and moments where the whole thing feels just a bit surreal.
"I'm very excited," said Graham, who will join teammates Svi Mykhailiuk and Clay Young in walking down Campanile Hill on Sunday. "My mom and them just landed. Grandma, moms, granddad, everybody's on their way here right now and it's just a special moment."
"I don't think I'm going to cry. I think my mom and them will. It's a big weekend, and I'm graduating, which they always wanted me to do. But I probably won't cry. It'll be good. … Really, I'm doing it for them. At the same time myself, but more for them. And that's a great birthday and Mother's Day present, I feel like."
In return, Graham's mother has plans to help her son keep his cap on his signature hair style in order to walk down the hill in full cap and gown attire.
"I've seen a little YouTube tutorial," Graham joked when asked how he might pull that off. "My mom said she's going to put bobby pins on it so we can just put it on top of my head, but we're going to figure something out."
In many ways, that last part is a mantra for Graham's immediate future.
Expected to be drafted sometime in the June NBA Draft, Graham has spent the past few weeks working out to get in even better shape than he was in to begin with so he can handle the wild ride that awaits.
It will begin next week in Chicago, where he and four of his KU teammates will be five of the 70 or so athletes who participate in the annual predraft combine Wednesday through Sunday. And Graham will stay in Chicago for his first team workout on May 20, with the Chicago Bulls.
That will be the first of what Graham estimates will be 12-15 individual workouts for NBA franchises in the next few weeks.
Before that, though, they'll celebrate. And Graham, a communications major, and his family will get one final opportunity to bask in everything they have loved about Lawrence and KU during the past four years.
"I'll miss everything about campus," said Graham, shortly after hearing someone yell "Devonte'!" from their car window as they drove down Naismith Boulevard during Graham's Friday morning interview. "The dorms, going to class, the fans, everybody, the autographs, pictures, you don't get that everywhere you go. And, most importantly, the Fieldhouse."
Added Graham's mother, shortly after arriving back in Kansas on Friday: "It's exciting, but we're going to miss being a part of everything KU."
Here's a quick look at the schedule for Graham's book signings this weekend:
Friday, May 11
---
Johnny's Tavern
8262 Mission Rd.
Prairie Village, KS
Time: 7 to 9 p.m.
Saturday, May 12
---
Kansas Sampler
9750 Quivira Rd.
Overland Park, KS
Time: 10 a.m. to noon
---
Kansas Sampler
5918 SW 21st St.
Topeka, KS
Time: 2 to 4 p.m.
---
Kansas Sampler
921 Massachusetts St.
Lawrence, KS
Time: 5 to 7 p.m.