San Antonio — College basketball's blue bloods might have to make room for a new contemporary.
Although programs such as Kansas, Duke, North Carolina and Kentucky tend to be the first cited among the sport's elite, over the past five seasons few teams have matched the consistent success of Villanova.
Since the beginning of the 2013-14 season, the Wildcats are 163-21 with a national championship and, now, a second Final Four appearance.
Villanova's Saturday night opponent at the Alamodome, Kansas, can't claim as much prosperity during that time frame. The Jayhawks are 147-36 and, of course, haven't reached the final and grandest stage of the NCAA Tournament since 2012.
So it should come as no surprise that coach Bill Self, over the course of the past several days, has praised Villanova and his counterpart Jay Wright for the upward trajectory of the Big East's marquee program.
"Well, I think that Jay's always been a terrific coach. I mean, there's no doubt about that. But in the last five years they've lost 21 games. That's 4.2 a year. I mean, think about that. And think about the league they play in and think about the nonconference schedule," Self marveled. "So certainly not only have they recruited well, that also means they have depth. That also means that the culture is great."
Photo Gallery
Kansas and Villanova Final Four practices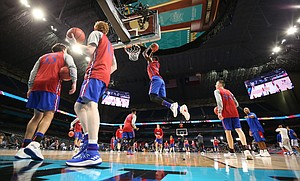 View a gallery from Friday's practices at the Alamodome in San Antonio.
As Self pointed out, the Wildcats (34-4 this season) find ways to win games they shouldn't, and/or close games. "And Jay and his staff have figured out how to do that."
With standout juniors Jalen Brunson and Mikal Bridges making their second trip to the Final Four in three seasons, they have been on the ground floor of taking an already-renowned program — six Final Four appearances and two national titles — to powerhouse status.
"It's been fun," said Brunson, the AP Player of the Year and Oscar Robertson Trophy winner. "I think the outside gets the perception that we're just so machined and we're so robotic and we don't have any emotion. This is fun. This is really fun to be a part of. I love playing with my teammates. I love being a part of this program."
Bridges hesitated to give Brunson and himself too much credit for propelling Villanova to this level.
"It started a while ago. It started with the players that came before us," Bridges began, before rattling off the names of various standouts from Wright's 17 seasons, and even earlier — Scottie Reynolds, Randy Foye, Kyle Lowry and Kerry Kittles.
Bridges' historical Villanova shoutouts weren't complete without a nod to the famous 1985 national champions and head coach Rollie Massimino, who spent time around the current team's upperclassmen before he died in 2017.
"All of them guys built this," Bridges said. "We're just blessed to be in this position, and we play for them."
Ask Villanova redshirt freshman Omari Spellman if he and his teammates are forcing the rest of the college basketball universe to recognize the Wildcats as royalty, along with KU, Duke, UNC and UK, and he will smirk.
"I'll leave that for you guys to decide. To us it's all about competing and trying to be the best us we can be. I wouldn't say we lack national attention," Spellman said. "But I can see how you would say those other schools get more. But we just try to compete. We don't let that affect us at all."
Wright's recruiting and coaching, Bridges offered, helped Villanova make a noticeable leap these past few seasons.
"I feel like we're contenders every year and we should be up there, by just how great the program is," Bridges said.
With consistency comes useful firsthand experience for Villanova's leaders. Although Brunson and Bridges were freshman role-players when the Wildcats beat Kansas in the Elite Eight and UNC in the national title game, in 2016, their presence this year, as well as that of junior guard Phil Booth, has tied the two differently comprised rosters together.
"To get this far," Wright said, "all the teams that are here, you have a laser focus, you have an ability to prepare for different opponents. If you don't, someone's going to catch you along the way. And it really has to be at a high level. And we've had some really good teams and sometimes you just can't get to that level at this time of year. And this group reminds me of our group in '16 in that way. And I feel like we're getting better as the season goes on, even at this time of year. And that's something that's similar to our team in '16."
FINAL FOUR TEAMS — PAST 5 YEARS
2014: Connecticut (champion), Florida, Wisconsin, Kentucky
2015: Duke (champion), Wisconsin, Kentucky, Michigan State
2016: Villanova (champion), North Carolina, Oklahoma, Syracuse
2017: North Carolina (champion), Gonzaga, Oregon, South Carolina
2018: Villanova, Kansas, Michigan, Loyola-Chicago
VILLANOVA LEADING SCORERS
• Jalen Brunson, jr., G — 19.2 points, 41.4 percent on 3-pointers
• Mikal Bridges, jr., G/F — 17.8 points, 43.6 percent on 3-pointers
• Donte DiVincenzo, soph., G — 12.9 points, 38.5 percent on 3-pointers
• Omari Spellman, R-fr., F — 10.9 points, 44.6 percent on 3-pointers
• Eric Paschall, jr., F — 10.3 points, 33.3 percent on 3-pointers
• Phil Booth, jr., G — 10.3 points, 39 percent on 3-pointers
https://www.youtube.com/watch?v=unvZghs8VCM
https://www.youtube.com/watch?v=mOZYSjjM1uI
https://www.youtube.com/watch?v=4DfzSwmPsMQ
https://www.youtube.com/watch?v=aVo6x2jnX24
https://www.youtube.com/watch?v=dX3Vdc_MmG8
https://www.youtube.com/watch?v=gX5Coulg47k