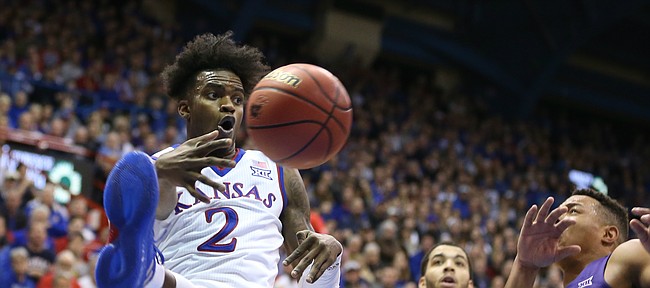 San Antonio — This Final Four, devoid of one-and-done players and featuring 13 out of 20 starters who are juniors and seniors, has a throwback feel to it. Work hard and your turn will come.
One matchup in the Kansas-Villanova national semifinal captures that theme as well as any.
Kansas junior Lagerald Vick and Villanova redshirt junior Mikal Bridges combined for 91 minutes of playing time in their first year on scholarship, all 91 played by Vick.
Bridges is a basketball rarity, going from redshirt in his first year to projected lottery pick in his fourth.
Photo Gallery
Kansas and Villanova press conferences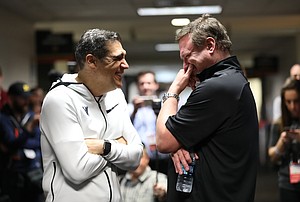 View a gallery of images from the Jayhawks' and Wildcats' press conferences and interviews with media members on Thursday, March 29, 2018 at the Alamodome in San Antonio, Texas.
A 6-foot-7 native of Philadelphia, Bridges blends a 7-foot wingspan, quick feet, explosive leaping ability and a soft shooting touch.
He ranks second on the Wildcats in scoring (17.8), rebounding (5.4), blocked shots (1.1) and 3-point percentage (.436) and leads the team with 1.5 steals per game.
Bridges played 26 minutes off the bench and had a big hand in Villanova's 64-59 elimination of Kansas in the Elite Eight two years ago in Louisville. He totaled six points, three rebounds and a season-high five steals, including a huge one late in the game.
"When I was young, I just came in and ran around, just diving everywhere, being that energy guy," Bridges said. "Now I have a role where I have to be aggressive, but I have to be solid on both ends and try to make the right play on both ends, rebound even better."
Stardom hasn't dulled Bridges' desire to do the dirty work, according to Vick.
"He's good on defense," Vick said of Bridges. "He tries to get his hands on loose balls, 50-50 balls, doing the smart things."
Vick, who did not get off the bench in the Elite Eight game two years ago, added that Bridges is, "kind of long, plays inside-out, always looking to score. He's aggressive. He does a lot of different things. He's very skilled."
Bridges' lack of shooting skill and thin frame were factors in him redshirting his first season at Villanova. The coaching staff retooled his shot and he has put on 25 pounds, expanding to 210. Some draft analysts project him to be a lottery pick, quite an achievement for a former redshirt.
How did he do it?
"A lot of hard work with my coaches, a lot of being mentally tough," Bridges said. "It was very tough, but I had my friends, my teammates, my parents, my coaches would always be on my side. My coaches helped me out, especially in the spring and the summer, a lot of offensive work and our strength and conditioning coach helped me get a lot stronger."
Asked for his impressions of Vick, Bridges said he saw in the Memphis native a similar improvement to his own.
"He kept getting better and better," Bridges said. "You could tell he worked a lot on his shot and became a knock-down shooter. He does everything: catch and shoot, score off penetration, back cuts really well, moves without the ball, defends. He should be talked about more. He's a real good player."
Donte' DiVincenzo plays 29 minutes per game off the bench and could be matched up against Vick at times.
"Great player," DiVincenzo said of Vick. "He's an amazing player, freak athlete, and he does all the little things. They have a lot of guards who get a lot of publicity, a lot of media attention, but he's one of those guys who holds them together. If you don't have a guy like that, a guy willing to take that role, it's kind of hard to get to this point. They have that guy and they can lean on him for that."
In the four tournament games, Vick is averaging 13.5 points and has shot .476 on 3-pointers.
Vick said he considers himself a better defensive than offensive player and said he considers denying his man the ball to be what he does best.
Marcus Garrett, one of the team's better perimeter defenders, weighed in on Vick's defense.
"When he's active and alert he's one of our best," Garrett said. "And he's been that way ever since the start of the tournament."
Three years ago, Vick was a junior in high school, working toward graduating a year early. Bridges was learning how to shoot and get stronger in the weight room.
Two years ago, Vick was a bench-warmer. Neither player let impatience bring him down.
"I always had that fight in me, never giving up," Vick said. "I learned it from my family. Coach T (Kurtis Townsend) helped me out a lot, coach Rob (Norm Roberts), coach (Jerrance) Howard, even Frank (Mason). A lot of people pushed me to stick with it, wait my turn. It was important for me not to be one of those guys who just gives up, so I stayed with it, kept a positive attitude."
Now he'll hear his name called as a starter with 70,000 in attendance for a Final Four game in the Alamodome, as will Bridges.
---
More Kansas vs. Villanova matchups