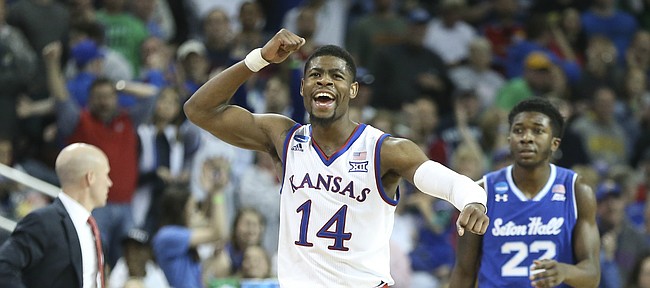 San Antonio — Malik Newman's childhood basketball court was nothing like the one he'll see on Saturday.
It was some dirt, a tree and the remnants of a bicycle.
"I had a bike tire. I broke the little spurs or whatever it's called," Newman said. "I broke that off and I put it on a tree."
Well, that wasn't the only option in Newman's neighborhood.
There was a court around the corner, and a rambunctious Newman was more than ready to get serious about basketball.
"But the big kids never let me play with them," Newman said. "I used to go home crying and stuff."
Undeterred, Newman took his ball and shot in his dirt backyard. If it rained, he recalled, he couldn't play for a few days. Then something else happened, making it a little trickier for him to put up shots.
"I used to climb up the tree and dunk," Newman said. "So I broke the rim and (my dad) ended up buying me a real goal."
No such purchases will need to be made on Saturday.
Photo Gallery
Kansas and Villanova press conferences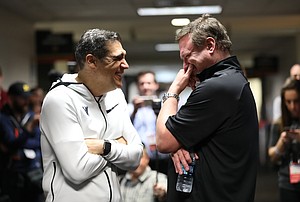 View a gallery of images from the Jayhawks' and Wildcats' press conferences and interviews with media members on Thursday, March 29, 2018 at the Alamodome in San Antonio, Texas.
Newman is no longer the child lighting up his backyard hoop. If there was a schoolyard-style draft of the NCAA tournament, it'd be hard to imagine anyone being picked higher.
In the last three rounds of the tournament, Newman is averaging 25.7 points and 5.7 rebounds while knocking down 13 3-pointers. The redshirt sophomore has raised his game to a new level since the beginning of postseason play, scoring 20 points in five of seven games and even hitting the 30-point threshold twice.
"I think Newman is the final piece now," said Villanova coach Jay Wright. "He's become arguably as scary as (Devonte') Graham."
While Newman enters the Final Four as perhaps the hottest offensive player in the country, on the other side will sit one of the most battle-tested perimeter defenders, at least when it comes to Big 12 point guards.
Villanova's Phil Booth spent his Sweet 16 chasing around West Virginia's Jevon Carter. In the Elite Eight, he was matched up with Texas Tech's Keenan Evans.
He didn't guard the two for the entire game, but both fell well short of their usual offensive marks.
Carter, averaging 17.3 points on 42.2 percent shooting this season, was held to a postseason-low 12 points on 5 for 16 shooting (31.3 percent). Evans, averaging 17.6 points on 47.1 percent shooting, shot just 3 for 14 (21.4 percent) and finished with 12 points.
"We're playing the best of the best," Booth said, before being asked about Newman. "He's as hot as it gets."
Earlier in the year, though, both teams suffered their bumps and bruises.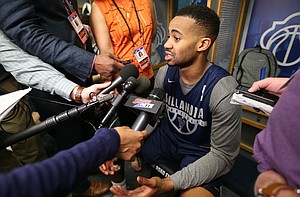 Aside from the Jayhawks' early season struggles, Booth, who scored 20 points in Villanova's national championship win over North Carolina, fractured a bone in his right hand during a January 23 game against Providence.
An already tight Villanova rotation got a little tighter. Booth, averaging 30 minutes per game, missed the next seven contests. Villanova went 5-2, dropping games to St. John's (79th according to kenpom.com) and at Providence (64th), which ended up proving crucial as they missed out on a share of the Big East championship by a single game.
Booth's numbers don't jump off the page, but his return added another element to the Wildcats, especially defensively.
"My man Boothie, in his career he's been through so much, so many injuries," said Kris Jenkins, who drilled the national-championship-winning 3-pointer for the Wildcats back in 2016. "And for him to have the mental toughness and the focus and the attitude to always bounce back and come back tougher, stronger, mentally stronger, I think it's just a testament to him and his family."
It remains to be seen if Booth will attempt to check Newman on Saturday or if the Villanova guard will end up chasing around Devonte' Graham.
As of Thursday afternoon, the Wildcats had yet to assign individual matchups, while various players, including recently-named AP national player of the year Jalen Brunson, were tasked with mirroring a variety of KU guards in practice.
One way or another, though, Saturday's game will see the two share the court. The only thing up in the air is whether or not they'll accept the praise bestowed upon them.
Sitting at his locker in the Villanova locker room, Booth shooed away a question about his defensive talent, saying the Wildcats are simply a strong defensive team. As for Newman, he was asked about becoming the NCAA tournament's biggest star.
"Who me?" Newman responded, flashing a look of surprise. "Nah, I wouldn't say I'm the star of the tournament. But I'll say it's coach (Bill) Self."
---
More Kansas vs. Villanova matchups