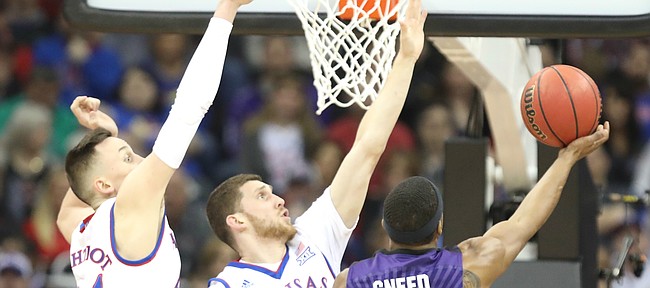 San Antonio — Whenever Bill Self and his assistants sit down with Kansas players to put a preliminary game plan in place for the next opponent, there is a running joke about the matchups.
Devonte' Graham, KU's point guard, will defend the other team's point guard. Malik Newman, the Jayhawks' shooting guard, will check his counterpart. And so on, down the line.
"And then our power guy, Svi," Self will banter with Mykhailiuk, a senior guard from Ukraine, "you're going to guard their power guy."
The assignment isn't just a wisecrack, of course. All season, Kansas (31-7) has relied on its four-guard lineup, winning the Big 12 regular and postseason titles and reaching the Final Four as a result, with Mykhailiuk defending opposing big men along the way.
"I've been doing this for a whole year," Mykhailiuk said Thursday, inside KU's Alamodome locker room, "so I just got used to it."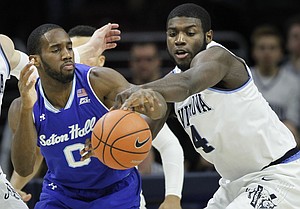 A few days ago, Mykhailiuk, a 6-foot-8 guard listed at 205 pounds, helped the Jayhawks get out of the Elite Eight while sticking with Duke's 6-11 NBA lottery pick-to-be, Marvin Bagley III.
While the senior from Ukraine's assignment against Villanova on Saturday night doesn't look as daunting on the surface, it could provide its own unique challenges, with the Wildcats (34-4) playing a more perimeter-oriented offense than the Blue Devils.
Mykhailiuk likely will spend much of the national semifinal defending Eric Paschall, a 6-9, 250-pound junior who can play forward or guard and score in the paint or from beyond the arc (10.3 points per game, 31-for-93 on 3-pointers).
"He's really strong and a really good driver, and he can shoot the ball. He's a two-way player," Mykhailiuk said of Paschall, who has only led Villanova in scoring twice this season, but has delivered 22 double-figure scoring games.
KU's starting "power guy" will have to defend Paschall as a driver, shooter and post player.
Conversely, keeping Mykhailiuk (14.7 points per game, 44.7-percent 3-point shooter) in check won't be easy for Paschall.
Photo Gallery
Kansas and Villanova press conferences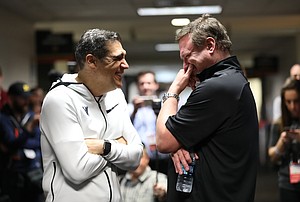 View a gallery of images from the Jayhawks' and Wildcats' press conferences and interviews with media members on Thursday, March 29, 2018 at the Alamodome in San Antonio, Texas.
Asked whether he had matched up with such a proficient shooter this season, the Villanova junior took a long pause before comparing Mykhailiuk to two of the best players in the Big East, 6-7 Butler forward Kelan Martin and 6-6 Xavier wing Trevon Bluiett.
"He's definitely that caliber of a player," Paschall said of Mykhailiuk. "He's very good. He gets them going. He's very solid. He can shoot the heck out of the ball."
The AP Player of the Year, junior Villanova point guard Jalen Brunson, said the Wildcats trust their inside-outside fourth perimeter defender to do his part against Mykhailiuk or any other Kansas guard he ends up guarding after switches.
"I trust him with all my heart," Brunson said. "Eric can defend anybody. He does a great job of holding it down and really being able to make it difficult for whoever he's guarding. Even on the help-side."
Paschall's help positioning could be critical against the Jayhawks. The junior said he can't really afford to key in on Mykhailiuk, because Graham, Newman and Lagerald Vick all can knock down 3-pointers, too.
Similarly, Mykhailiuk and his teammates know each of Villanova's top seven players can shoot from outside. But most can and will post up, as well.
"They use a lot of different lineups. Sometimes I'm going to guard a big man, sometimes I'm going to guard a guard," Mykhailiuk said, "so it's going to be a little bit different."
---
More Kansas vs. Villanova matchups