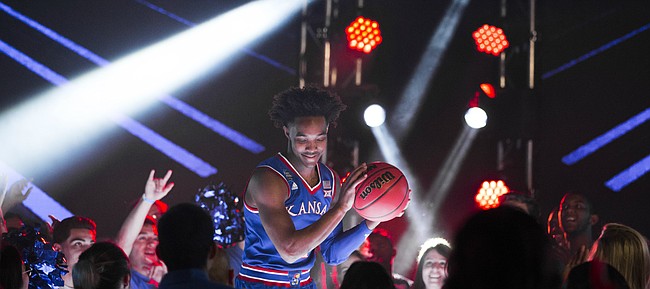 San Antonio — The way Kansas basketball coach Bill Self sees it, KU point guard Devonte' Graham has prepared for Saturday's Final Four showdown with Villanova point guard Jalen Brunson about 10 times already this season and nearly two dozen times before.
Sure, Graham's first steps onto the Alamodome floor on Saturday night will be the first such steps of his storied KU career. But the 7:49 p.m. tipoff will be far from the first time Graham takes the court with an elite point guard staring him down on the opposing bench.
"I think if you look at our league as a whole, 40 percent of our teams had a point guard that was an All-American," Self said on Thursday, referencing fellow Big 12 standouts Trae Young, Jevon Carter, and Keenan Evans. "So, obviously, he's as prepared as anybody could be, playing nine or 10 games (against elite talent), plus (Duke's Trevon) Duval last week. So he's played against the best. But he hasn't played against the national player of the year."
Photo Gallery
Kansas and Villanova press conferences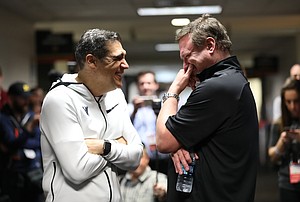 View a gallery of images from the Jayhawks' and Wildcats' press conferences and interviews with media members on Thursday, March 29, 2018 at the Alamodome in San Antonio, Texas.
Graham will get that chance on Saturday night, when he battles Brunson, who, on Thursday, was named The Associated Press player of the year at a brief ceremony at the Alamodome.
Both Self and Graham said they believed Brunson deserved the award — and others like it — and added that finding a way to frustrate the Villanova point guard would both present Graham with a tremendous challenge and be a huge key on Saturday night.
Here's the thing about this matchup, though. It's not exactly a ready-made, tale-of-the-tape sort of clash.
For one, Graham (6-foot-2, 185 pounds) and Brunson (6-3, 190) are viewed as almost completely different players. For two, neither player cares much about how he fares against the other. Each only cares about whether his team will prevail.
Graham has a quick first step and is deadly from long range, and Brunson is physical all over the floor and a problem in the post. The two All-Americans have five times as many differences as they have similarities. That includes the way they've been preparing for this weekend's monster matchup.
When the top-seeded Jayhawks (31-7) first sent their defense onto the floor to face their red team, which was running Villanova's offense, Graham found himself in unfamiliar territory.
Used to stalking opposing guards around the perimeter and battling to keep them from getting by him into the paint, Graham's first possession against the mock Villanova offense began near the basket, where Brunson does some of his best and most damaging work.
"Little Charlie, he's been posting me up," said Graham of KU transfer Charlie Moore, who, in addition to being generously listed at 5-foot-11 in the KU media guide, has been emulating Brunson in practice this week. "His post game, it's not like Jalen's. It's not comparable. But he's been trying."
Villanova coach Jay Wright said Brunson, the son of former Temple star and NBA player Rick Brunson, arrived on campus as complete a player as he had ever signed. And part of the reason for that was his wise-beyond-his-years post game.
"The footwork he has in the post, he brought with him," Wright said. "He really did. I think what we did was try to utilize his post game a little more."
For all of the Buddy Hields, Monte Morrises, Jawun Evanses, Jevon Carters and Trae Youngs that Graham has checked, not one of them has taken Graham into the post. Brunson will. And Graham knows it.
"We get individual clips of everybody," he said of the KU scouting report. "So you watch them and you get to see the moves that he likes to do and, when he posts up, what he likes to do. So I'll definitely look at that a little bit more."
Holding his spot will be far harder for Graham against Brunson than it has been against Moore, but the KU transfer said he thought Graham had shown some savvy down low in defending everything Moore has thrown at him.
"With Jalen, that's what he does in the game," Moore explained. "So I was posting, trying to get the guys in the right spots like Jalen does, and Devonte's done pretty good so far. I thought he held his own. It's going to be a great matchup. He's been on the biggest stage in college basketball since he's been in college. So he's built for it and ready."
Graham agreed and said he had not yet sought much advice on how to play post defense, other than what had come from the coaches during practice and in the scouting report.
"I'm going to just have to fight it out, man," Graham said. "I'm going to have to battle. It ain't too much more than that."
In the other locker room, the Wildcats have taken a much different approach to preparing for Graham. And, at times, it has even included Brunson operating as the All-American he'll face on Saturday night.
"We've all switched off on it," Brunson said. "Even I had to do it. Collin (Gillespie), Donte (DiVincenzo), myself, Phil (Booth). Devonte's a really difficult player to emulate. He's a great decision maker. He's really hard to emulate and he's such a complete player, he does a lot for their team."
Former Villanova guard Mike Nardi, now a member of Jay Wright's coaching staff, explained the reason for using Brunson on the scout team during 'Nova's practices. And it had everything to do with maximizing reps.
"You can only have so much time on the floor," Nardi said. "And if you have a guy sitting out, they're not as involved. (This way), they're learning it on both sides. But we can't make this about their one-on-one battle because Kansas is a ridiculously good team. And people would say the same about us. It starts with those guys, obviously, and the point guard spot, but, as a whole, both teams are well balanced and can have other teams go off and those guys not go off and still win."
That approach is the one both All-Americans would prefer to take heading into this one. Asked over and over on Thursday about the matchup and to break down each other's styles, the two point guards actually started to sound a lot alike.
"He's a great player," Graham said of Brunson. "He's unbelievably poised and he knows how to get his own shot and get shots for others."
Added Brunson on Graham: "He's a great player, he's a great shooter, he gets his teammates involved. We both want the same things; for us to lead our teams to be successful."
Some have compared Brunson's game to that of former 18-year NBA point guard Andre Miller. Graham, a fan of the game for as long as he could remember, said that was a fair comparison.
"I think he does have a little throw-back game to him," Graham said. "He's real poised. He's not going to out-quick you and stuff like that. His IQ is just real high and he plays off of that."
Brunson had similar praise for Graham's game and said he felt as if the two were almost kindred spirits in that they have always put the team's needs over any of their own.
"He deserves everything (he's received) and more," Brunson said of Graham. "His career over the past four years has been great. You have to respect guys that just do a lot for their program."
Said Wright of Graham: "I think Devonte' clearly is the best combination of scorer and distributor of probably any point guard. I think he and Jalen are the two best in the country. They both have the ability to take over a game scoring, and they both have the ability to set up their teammate and distribute to win a game. Great leaders. And you can tell their teammates really respect them."
That fact has been true with Graham throughout his KU career. Even as far back as his freshman season, when he played just 18 minutes a game, Graham was looked to as a top-notch teammate and future leader of the KU program.
Those traits, which served him incredibly well during the 141 games of his Kansas career that brought him to this point, have played a huge role in helping Kansas get back to the Final Four. And sophomore guard and Graham running mate Malik Newman said the Jayhawks always have taken a great deal of pride in following their fearless leader into battle, no matter who he was lined up against.
"I think he takes those matchups very personally," Newman said of Graham's previous battles with bona fide stars. "And I think Saturday will be the same thing but, at the same time, he's not going to try to do too much."
Added Kansas forward Mitch Lightfoot: "As a college basketball fan, you have to be excited for this matchup. Two of the best of the best playing against each other."
---
More Kansas vs. Villanova matchups
— A previous version of this story identified Brunson as a senior. The Villanova guard is a junior.