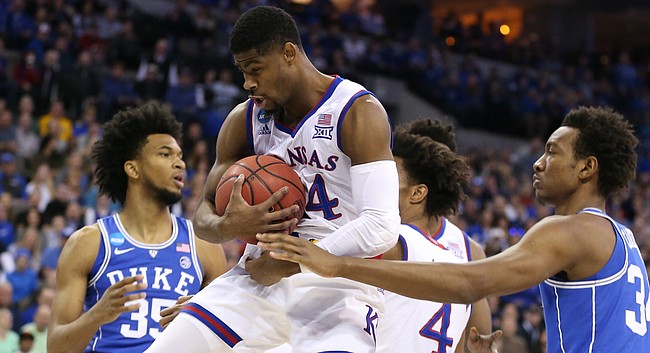 Omaha, Neb. — Playing on the familiar March stage known as the Elite Eight, Kansas finally kicked down the door in its third straight regional final appearance.
In what could have been their college finales, KU seniors Devonte' Graham and Svi Mykhailiuk instead helped take the program achieve its first Final Four berth since 2012.
Kansas eked past fellow blue blood Duke, 85-81, in overtime, Sunday at CenturyLink Center, in the eighth Elite Eight appearance for head coach Bill Self at Kansas.
The Jayhawks, the Big 12's regular-season and postseason champions, reached the program's 15th Final Four, on the strength of 50-percent shooting after halftime. The surge was essential after Duke limited Kansas to 37-percent shooting in the first half, when the Jayhawks made 4 of 14 3-pointers and 9 of 22 inside the arc.
Photo Gallery
Kansas basketball v. Duke (Elite Eight)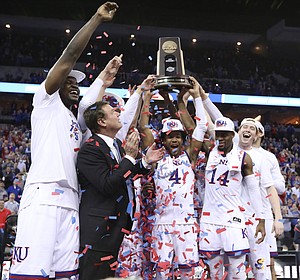 View a gallery of images from Sunday's Elite Eight game between the Jayhawks and Blue Devils in Omaha.
Here's a quick look back at some of the action:
• The game turned when: Let's not pretend that it did.
In a matchup worthy of a national championship game, Kansas and Duke delivered this tournament's most intense and entertaining show to date.
With 18 lead changes and 11 ties, it took overtime to decide the final spot in this March's Final Four.
Eventually, time ran out on Duke.
And Malik Newman made it happen.
The sophomore transfer scored all 13 points for Kansas in overtime, finishing with a Midwest final-best and career-high 32 points.
Newman tied the game at 78 with 2:18 left in the extra period, ran back on defense, picked up a steal on a Trevon Duval miscue, and proceeded to give Kansas an 81-78 lead with a left-corner 3-pointer, his fourth from that spot after halftime.
With 28.1 seconds remaining in OT, Newman returned to the foul line for a one-and-one and buried both for an 83-78 lead.

• Offensive highlight: Svi Mykhailiuk (11 points) helped close a masterful individual first-half performance with a play most of his teammates struggled to find the angles to pull off earlier.
Kansas had played more than 19 minutes and only had three layups and one dunk versus Duke's half-court zone.
With Wendell Carter Jr. out of the game due to his three fouls, Mykhailiuk got the ball in the middle of the zone and gave Duke backup big Marques Bolden the idea he might be headed his direction off the bounce.
Instead, the savvy senior used the opportunity to put Bolden off balance and throw a lob up for freshman Silvio De Sousa.
The backup big man delivered a jam to beat Duke's zone, a rarity in the first half, when KU was out-scored 24-16 in the paint.
Mykhailiuk did most of his work behind the arc (2 of 4) and on the glass (seven rebounds) before intermission. But his lone assist gave KU a nice reminder that Duke's zone wasn't unsolvable.
Much later, he delivered the most clutch shot of KU's season so far, a game-tying 3-pointer with 0:26 left in the second half — trumping every KU offensive possession before it.

• Defensive highlight: With Kansas already off to a positive start to the second half offensively, De Sousa — in early with Udoka Azubuike having already committed his third foul — gave the Jayhawks an extra boost on the other end.
KU had built a two-point lead after trailing by three at the break.
When Gary Trent Jr. (17 points) tried to tie the game and quiet down the pro-Kansas crowd a little, De Sousa wouldn't let it happen.
The KU freshman smacked the layup out of the air, giving Kansas its first of three blocked shots.

• Key stat: Rebounds. The Jayhawks held their own on the boards against a larger Duke team.
KU out-rebounded the Blue Devils 24-18 in the first half and limited Duke's second chances (seven offensive boards, six resulting points). KU even did a better job turning misses into offense, with 10 offensive boards and eight second-chance points in the first 20 minutes.
Kansas finished with a 47-32 advantage on the glass en route to the Final Four.
• Up next: The Jayhawks head to San Antonio, Texas, to take on another No. 1 seed, Villanova, in the national semifinals.
---
More news and notes from Kansas vs. Duke
---