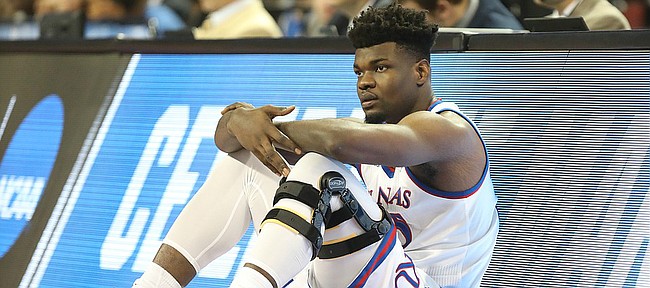 Omaha, Neb. — The Kansas Jayhawks are ready to tip it off in the Elite Eight for the eighth time under Bill Self at 4:05 p.m. Sunday in large part because of the strong play of KU sophomore Udoka Azubuike.
But there was a time, just 19 days ago, when not even Kansas coach Bill Self was convinced that his team would be playing Duke for the right to go to the Final Four.
In the hours that followed a Grade 1 MCL sprain suffered by Azubuike during a fluke play in a KU practice on March 6, Self's words carried with them a strong sense of optimism and positivity. They had to, both for the team and for Azubuike.
But on Saturday, in a back hallway at CenturyLink Center, walking from one media session to the next, Self reflected back on his initial thoughts and emotions when he first heard the diagnosis of Azubuike's injury.
"I thought our season was potentially over," Self said.
What transpired over the next two weeks, which allowed Azubuike not only to return to the floor but also to lead top-seeded Kansas into its Elite Eight showdown with the Blue Devils, was a never-ending grind of hard work fueled by equal parts determination and growth that allowed Azubuike's coaches and teammates to see him in a whole different light.
Azubuike's mindset and positive attitude have received most of the credit for his quick return.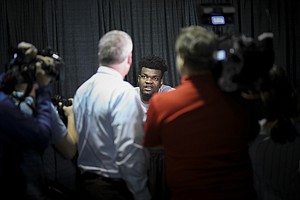 KU director of student-athlete development Fred Quartlebaum called it "a maturation," and said watching Azubuike begin to understand everything that goes into fully embracing the idea of team basketball was a beautiful sight.
During this stretch, Quartlebaum said the rest of the KU coaches started referring to Azubuike as "The Big Man Coach," paying homage to the way he conducted himself on the bench while sitting out.
"If you reflect back to when he was not playing, he was on the bench cheering, he's pointing, he's telling Silvio (De Sousa) where he needs to be, 'Hey, rotation here.' 'Hey, make sure you short close-out here, rebound with two hands.' He could've easily pouted and felt sorry for himself, but instead he gave up himself," Quartlebaum recalled. "And I'm not surprised by what he's doing because he was willing to do that."
Surprised or not, the KU coaches did not always believe it was a guarantee that Azubuike would return, even after doctors told them there was a chance.
"Oh, no. We had that conversation. There's no doubt," said KU assistant Norm Roberts of discussions about how the Jayhawks would play without him. "You have to think about the kid's future and all that stuff."
While getting him back — and staying positive day in and day out — always was the goal, there was so much more to Azubuike's ability to get back on the court than mindset. And his teammates were all keenly aware of it.
"I mean, every time I walked in the training room, he was in there," said freshman guard Marcus Garrett. "And every time before a game, he was riding the bike. He was trying to walk without a limp so quick it was just crazy."
Garrett, who admitted Saturday that the thought of playing without Azubuike was, "scary," said he and most of his teammates shared Self's concerns when they first heard the news about Azubuike's injured MCL.
"Nobody really knew what was wrong," Garrett recalled. "When coach told us, we just kind of thought it was over, that we'd have to play without him. But once he told us we could get him back, that's when we realized we had to do whatever we could to get him back out there with us."
With that, the Jayhawks and Azubuike embarked upon a joint endeavor to make sure their center did not miss the end of his sophomore season the way he missed the end of his freshman season because of an injured wrist.
It had no official name — something like "Operation: Get Dok Back" surely would've seemed superfluous — but it was a shared objective.
For Azubuike, it entailed waking up as early as 5 or 6 a.m. so he could maximize the amount of treatment he could receive in a given day.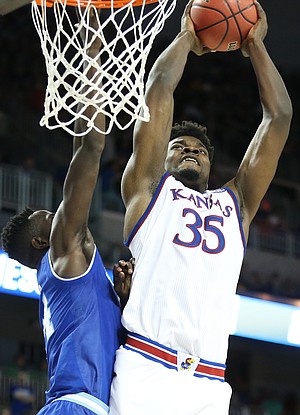 Strength exercises, stimulus treatments, physical therapy and, of course, whatever basketball action he could cope with, all were a part of the process.
"They told him what the injury was and what he was going to have to do and he said, 'I can do it,'" recalled Roberts. "And he did a great job. And, obviously, Bill Cowgill (KU's associate director for sports medicine) has done a great job with him, as well."
Added KU sophomore Mitch Lightfoot, who rooms with Azubuike on the road: "I don't know anything about the medical part. I'm a finance major. I just think seeing him wake up early to go get treatment four or five times a day, he just put countless hours in. He's a tough kid."
For Azubuike's teammates, who were powerless to push any sort of healing powers directly onto Azubuike's left knee, the objective was even more clear — just keep playing.
While that was important in the Big 12 tournament, which KU won — three games in three days without their biggest and most dominant player — it became even more of a rallying cry once the do-or-die NCAA Tournament arrived.
"He was not really focused on his knee," said walk-on Chris Teahan. "He was just focused on his mindset of wanting to come back. And I think that really inspired all of us to play harder in the first two rounds so he could come back."
Added Garrett: "We didn't know exactly when we would have him back, but we just wanted to advance as far as we could so he could get a chance to play in the tournament."
Perhaps one of the most overlooked aspects of Azubuike's full return was the role of good news on a daily basis.
Sure, Azubuike and his teammates tried to remain positive as soon as they realized his return was a possibility. But the fact that the 7-foot Nigerian used his faith in his future to produce actual, measurable results provided a huge lift for Kansas.
"I knew that he wanted it," Cunliffe said. "I didn't know how bad he did, but he definitely showed us, without saying much, that he really cares about us and this team."
The final chapter in Azubuike's two-week choose-your-own-adventure novel involved the player most of his teammates affectionately refer to as, "the big fella," actually proving — to himself and his team — that he was well enough not only to play but to make an impact.
That portion of this process might have been the most intense.
Senior point guard Devonte' Graham said he knew Azubuike was good to go during a practice the day before the Seton Hall victory last week in Wichita, when he threw up a lob without even thinking and Azubuike exploded toward the rim to go get it.
"Coach was like, 'Chill,'" Graham recalled Saturday. "But he was like, "I'm good, Coach.' He probably wasn't even loose and he went up and dunked it. I just knew right then and there that he was going to be back."
Teahan remembered a similar moment during the same practice.
"He did test it," Teahan explained. "We were running a half-court set and he caught the ball at the free-throw line, took one step, jumped off two (feet), dunked it. He was testing it there and he was like, 'Hey, I got it.' He brought the hammer on that one, too. He jumped so high, looked around and you could see that he knew he was going to be OK."
That moment, and the warm and fuzzy feeling of confidence that accompanied it, was a far cry from the emotions Azubuike experienced when he first injured the knee.
"I didn't really know what was on my mind back then," said Azubuike of the 24-hour stretch that began March 6 and went into March 7. "I just had different thoughts in my mind. I really wasn't thinking straight. I didn't even know where I was going to be or what was going to be the news. I'm just glad I'm with my team right now and I'm feeling good."
He's not the only one.
Not only are the Jayhawks glad to have him back. They all believe they would not have advanced this far without him.
"He's the reason we're still playing," Self said.
---
More news and notes from Kansas vs. Duke