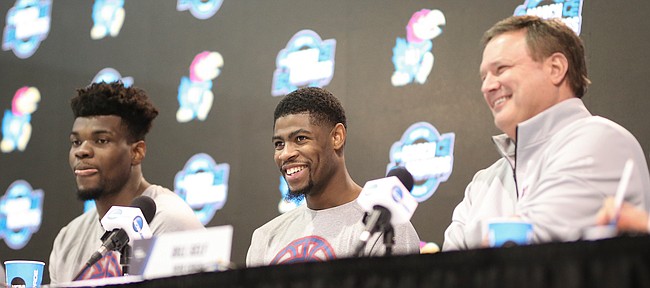 No. 1 Kansas Jayhawks (30-7) vs. No. 2 Duke Blue Devils (29-7)
Time: 4:05 p.m. | Location: CenturyLink Center, Omaha, Nebraska
TV: CBS | Radio: IMG Jayhawk Radio Network
Log on to KUsports.com for our live game blog coverage and follow the KUsports.com staff on Twitter: @KUSports @mctait @TomKeeganLJW @bentonasmith @nightengalejr @chasenscott & @nickkrug
Keys for Kansas
1. 'Let it fly'
Not 30 minutes after putting the finishing touches on Friday's victory over Clemson in the Sweet 16, Kansas coach Bill Self began to set the tone for the Jayhawks' Elite Eight matchup with Duke.
That tone, according to Self's words and those from many of his players, is all about having a free mind and playing as loose as possible.
Whether the Jayhawks, who are playing in their third consecutive Elite Eight with losses in each of the past two years, actually can do that or not remains to be seen. But that approach definitely seems like KU's best chance in this one.
At face value, "let it fly," means running free, playing loose and jacking up 3-pointers in an attempt to try to outscore the bigger Blue Devils.
"They've got to play like there's no what-ifs," KU coach Bill Self said Saturday. "Just let it go. Let it go. If you play to try to protect something, we'll go home sad. We've got to try to take it and I think those guys understand that."
There's more to the mantra than just on-the-court execution.
Let it fly also applies to Self and his coaching staff. Rather than playing it straight and forcing the action to go through big man Udoka Azubuike all night, Self and company are going to have to be comfortable letting their players go.
Beyond that, Self, who said Friday that KU has to get to the Final Four in order for this season to be considered special, may even look at letting it fly by changing up what he calls from time to time.
Maybe he counters Duke's size by trying to confuse the Blue Devils with some kind of zone. Maybe he tries to compete with it by putting Azubuike and Silvio De Sousa on the floor together a couple of different times.
Who knows what it will be? But you can bet it will be something because not only will KU need to play its best game to get by Duke, the Jayhawks also will need to do some things that catch the Blue Devils off guard. Even if that's for only a couple of possessions or a few minutes over the course of the 40-minute game, that could make a major difference.
2. Big game, Graham
KU's senior point guard was built for games like these and he's going to have to bring his absolute best to help the Jayhawks get past Duke.
Graham knows that and his teammates do, as well. Their goal will be to elevate their play to the point where Graham merely has to do what he always does — score when it's there and set up others when he can while leading everything the Jayhawks do.
Graham's goal, of course, will be to improve on the below-average shooting he's put up so far during this NCAA Tournament. Graham enters his third Elite Eight game shooting 33 percent from the floor and 29 percent from 3-point range. Both numbers will likely have to be better no matter how well his teammates play in order for Graham to lead Kansas into the Final Four.
That, of course, has been his goal since ending the 2016-17 season with his worst performance of the year in an Elite Eight loss to Oregon a year ago, and a huge part of Graham's decision to return to KU for his senior season was with this game in mind.
Graham's not one to press or try to do things out of character. But don't be surprised if he looks to be just a little more aggressive as a scorer in this game.
3. No letdowns
Whether you're talking about the end of the game, where KU struggled mightily to close the game against Clemson, or the start or any stretch in between, Kansas cannot afford to have even a couple of off minutes in this matchup.
Does that mean they have to be perfect? No. But they can't have those moments when they pull their foot off the gas and allow Duke to either come back or pull away.
The Jayhawks talked a ton about this after Friday's victory, admitting that human nature was at least partly responsible for them letting up after building a 20-point lead on Clemson. But they all emerged from that sluggish final eight minutes with the idea that such a performance on Sunday would be dangerous.
"There's a lot of things we can do better," said KU junior Lagerald Vick.
Added sophomore guard Malik Newman: "I think we kind of relaxed, and, down the stretch, we were playing not to lose instead of playing to win. … We've got to be better Sunday."
Mega Matchup
Kansas guards vs. Duke's size
The Blue Devils are outrebounding their opponents by an average of nearly nine a game. And that number sits at six a game when looking at the matchup between Duke and Kansas.
Duke's 41.4 boards a game may only be six more than KU's 35.4 per game average, but it's the Blue Devils' size and number of big bodies that are a cause for concern for Kansas.
Duke averages 13.5 offensive rebounds per game and got 16 against Syracuse in Friday's Sweet 16 victory, 10 of them coming from Wendell Carter Jr. and Marvin Bagley III.
Boxing out on every shot and sending all five players to the boards will be a must for Kansas on every Duke shot. And if they're unable to execute, even just some of the time, Duke's propensity to struggle shooting from the outside could not matter.
Consider the numbers from Friday. Duke shot just five of 26 from 3-point range against Syracuse but got nearly half of those 21 misses back.
Kansas, meanwhile, gave up 14 offensive rebounds to a Clemson team that ranked 273rd in the country in offensive rebounding.
6-foot-8 KU senior Svi Mykhailiuk did not grab a single rebound against Clemson. He'll have to do more in this one and Graham, Malik Newman and Lagerald Vick will all have to help him out, both going after misses and blocking out to try to saddle the Duke big men with bad fouls.
Jayhawk Pulse
It's the NCAA Tournament. From this point on, if you still have a pulse, you're doing well.
Probable Starters
No. 1 Kansas
G – Devonte' Graham, 6-2, 185, Sr.
G – Malik Newman, 6-3, 190, Soph.
G – Svi Mykhailiuk, 6-8, 205, Sr.
G – Lagerald Vick, 6-5, 175, Jr.
C – Udoka Azubuike, 7-0, 280, Soph.
No. 2 Duke
G – Trevon Duval, 6-3, 186, Fr.
G – Gary Trent Jr., 6-6, 209, Fr.
G – Grayson Allen, 6-5, 205, Sr.
F – Marvin Bagley III, 6-11, 234, Fr.
F – Wendell Carter Jr., 6-10, 259, Fr.
---
More news and notes from Kansas vs. Duke