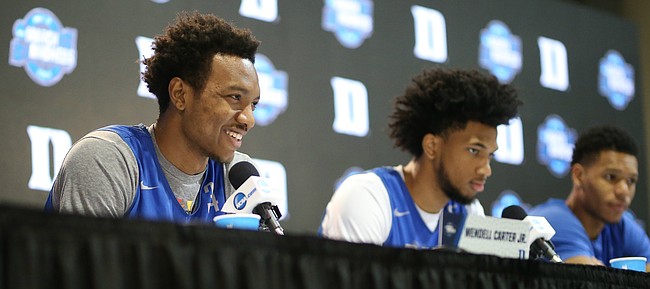 Omaha, Neb. — A couple months before the Madness of March overtook most of his waking hours, Duke freshman guard Trevon Duval stumbled across a Kansas game on television, while flipping through the channels.
Stopping to check in on another elite program didn't qualify as uncommon, but when he saw KU freshman Silvio De Sousa, Duval nearly did a double-take.
"I was like, 'Wow. That's crazy,'" the Blue Devils' freshman point guard related.
Once teammates with De Sousa at IMG Academy (Fla.), Duval hadn't realized the big man he used to feed passes to had graduated from high school early and joined the college ranks, he explained Saturday at CenturyLink Center, the day before competing against De Sousa and KU in the Elite Eight.
Photo Gallery
Kansas and Duke press conferences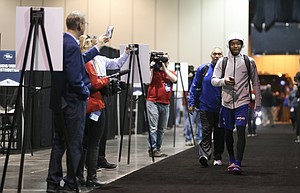 View a gallery of images from the Jayhawks' and Blue Devils' press conferences and open locker rooms on Saturday in Omaha.
Duval (10.0 points per game, 5.6 assists), while surprised DeSousa joined Kansas months ahead of schedule, wasn't nearly as stunned to see him become a productive sub for top-seeded Kansas (30-7).
"I always knew he was really capable of doing it," Duval said of De Sousa, the day after the 6-foot-9 KU forward provided nine points and six rebounds in a Sweet 16 win over Clemson. "He's a really good player. He pretty much dominated in high school. I'm happy for him. He's playing really well right now and he's made it to the Elite Eight early."
Duval isn't the only Devil who can call one of his Sunday opponents a former teammate. A 6-10 freshman, Wendell Carter Jr. and Kansas center Udoka Azubuike teamed with the Georgia Stars to win the EYBL Peach Jam, in 2015, defeating a Jayson Tatum-led team from St. Louis in the title game.
Now foes playing on a much larger stage, Carter and Azubuike will spend significantly more time battling each other than Duval and De Sousa. Like his point guard, Carter caught the Jayhawks on TV this season, long before the NCAA Tournament brackets were unveiled.
"By default we've actually watched a lot of film," said Carter, who averages 13.6 points, 9.3 rebounds and 2.1 blocks.
Of course, Carter's eyes paid close attention to Azubuike (13.2 points, 7.0 rebounds, 1.7 blocks), because of their history.
"I just like to see him succeed. I like when I hear good things about him, when he makes great plays on the offensive or defensive end," Carter said, before laughing while providing an amendment to his statement. "You know, tomorrow I'm gonna try to shut all of that down."
Azubuike described the Duke freshman he is likely to spend much of the Midwest regional final defending as "really good," and a big who can stretch the floor (19 of 43 on 3-pointers).
"It's going to be fun," Azubuike added of facing Carter with a spot in the Final Four up for grabs. "We're going to compete against each other, match up against each other. I know he's looking forward to it and I'm also looking forward to the competition."
Carter, too, knows Azubuike's offensive game well, although KU's 7-footer now looks far more polished with the ball in his hands.
"He was pretty raw," Carter said of the prep version of Azubuike, who didn't start playing basketball competitively until his freshman year of high school. "Not so much a bad player at all, but just new to the game. He's definitely worked on his game since then and he's definitely become a great player."
Even back then, Carter said Azubuike loved his right hook and dunking on people. Still, the Duke big realizes the Nigeria native now can score over either shoulder.
De Sousa (11 games for KU) isn't close to a finished product, having just enrolled ahead of the spring semester. But Duval saw enough out of him in their one season together at IMG to trust the 6-9 forward will make his presence felt sooner or later.
"He was super-athletic. He ran the floor well. He caught a lot of lobs, made me look really good," Duval shared. "And he has really good touch. Not a lot of people probably know that about him, that he can really shoot the ball pretty well. He's a really all-around good player. When I was playing with him in high school I saw a lot of really good things from him and I always thought of him as being a future pro."
De Sousa loved playing with Duval, as well.
"I just think he's a great point guard. I love to see him play, and I'll love to be on the court with him, just knowing that once we were teammates and now we're playing against each other," De Sousa said. "It's just such a great experience, and I'm ready to see it."
Duke Leading Scorers
Marvin Bagley III, fr., F — 21.2 points, 11.1 rebounds, 61.5% FGs
Grayson Allen, sr., G — 15.6 points, 4.7 assists, 100 of 267 3-pointers (37.5%)
Gary Trent Jr., fr., G — 14.4 points, 4.3 rebounds, 95 of 231 3-pointers (41.1%)
Wendell Carter Jr., fr., F — 13.6 points, 9.3 rebounds, 56.8% FGs
Trevon Duval, fr., PG — 10.0 points, 5.6 assists
---
More news and notes from Kansas vs. Duke