Omaha, Neb. — Attempting to reach the Final Four for the first time since 2012, the Kansas basketball team will have to confront one of its biggest weaknesses Sunday against one of the top players in the country.
Securing defensive rebounds has been an issue for the Jayhawks throughout the season. They ranked second-to-last in the Big 12 in defensive rebounding percentage. Enter Duke star freshman Marvin Bagley III and the top offensive rebounding team in the country.
Few players can match Bagley's ability to crash the offensive glass with his lighting-quick second jump. He can jump higher and faster than every other player on the court. According to hoop-math.com, he's converted 67 putbacks this season. No player on Kansas has more than 20.
"I've never seen anybody as athletic as him," Duke junior forward Antonio Vrankovic said. "His second jump — you don't see that twice in your lifetime."
Photo Gallery
Kansas and Duke press conferences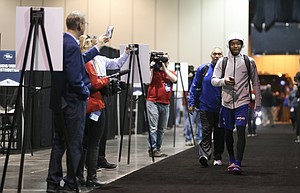 View a gallery of images from the Jayhawks' and Blue Devils' press conferences and open locker rooms on Saturday in Omaha.
The 6-foot-11, 234-pound Bagley ranks seventh in the nation with 4.0 offensive rebounds per game, one spot behind Seton Hall forward Angel Delgado. In the second round of the NCAA Tournament, Delgado recorded 24 points and 23 rebounds (nine offensive). Bagley, the ACC player of the year, has recorded 21 double-doubles.
In each of his first three NCAA Tournament games, Bagley has scored 22 points. He's grabbed at least four offensive boards in 19 games this season, including the last six. Vrankovic compared Bagley's rebounding to Amile Jefferson, who ranked third in program history in offensive rebounds, with an instinct to always know where the ball will land.
Combine Bagley with Wendell Carter Jr., listed at 6-foot-10, 259 pounds, and the Blue Devils have a fearsome duo that punishes opponents with 15.8 second-chance points per game.
When KU coach Bill Self was asked how the Jayhawks would matchup with Bagley, he said with a laugh, "Have you not seen how big Svi (Mykhailiuk) is?"
"Marvin's second jump is just ridiculously quick," Duke sophomore Javin DeLaurier said. "I've never seen someone who is able to get as high, as quickly, as Marvin. As soon as he hits the floor, it almost seems like he's going right back up and dunking. That really allows him to be an amazing offensive rebounder."
In high school, Bagley spent some time in skill workouts with former Oregon standout Jordan Bell — yes, the same guy who nearly had a triple-double in the Elite Eight against Kansas last year. On Tuesdays and Thursdays, a younger version of Bagley did his best to keep up with the future Golden State Warrior, learning about the work ethic required to play at a high level.
"He was doing a lot of stuff that I haven't seen," Bagley said. "I kind of wanted to put that work in and get to that point."
The result of Bagley's improved work ethic, mixed with his incredible athleticism, is that he turned into one of the best players in college basketball. He will likely be a Top 10 pick in this summer's NBA Draft.
At Duke for an official visit last summer, before he committed and reclassified, Bagley stunned some of his future teammates with his performance in an open gym practice. Several rim-rocking dunks. He swished 3s. He showcased his 40-inch vertical.
"I've never seen anything like it," freshman guard Gary Trent Jr. said.
When Self recruited Bagley — the Jayhawks landed in his final six schools — he was impressed with his never-ending motor.
"I've always thought that he played as hard as anybody, anytime I've ever watched him play," Self said. "And then when you're more talented and do that, then obviously that's going to mean great things."
Bagley added: "It just comes down to heart and trying to get the ball back, trying to score, get rebounds, put-backs."
Whether the top-seeded Jayhawks try to defend Bagley with a smaller guard like Mykhailiuk or Lagerald Vick, or play in other defensive schemes, the key to limiting his impact is winning battles on the defensive glass.
For players who have seen Bagley on the court all season, they know that's easier said than done.
"He's such a mobile athlete and he's obviously huge," DeLaurier said. "For big guys it's hard to stay in front of someone with his athleticism. For guys that are smaller than him, he's 6-11 and has a 40-inch vertical so he's a problem."
---
More news and notes from Kansas vs. Duke