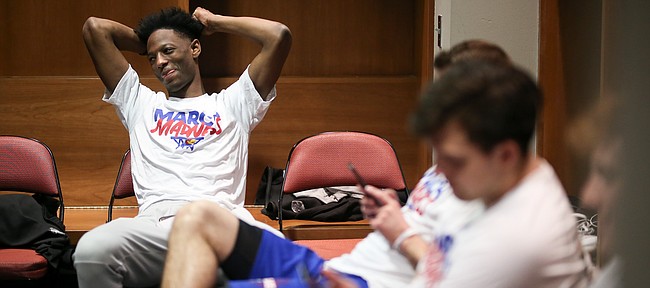 When you're a freshman playing in the first NCAA Tournament of your college career, just about every experience is new.
So, you can imagine the crazy things that went through Marcus Garrett's head on Saturday night in Wichita when he saw KU's leader and top point guard laying on his back on the Intrust Bank Arena floor after colliding with KU big man Udoka Azubuike on a simple ball screen that went awry.
All season, the Jayhawks (29-7) have talked about how valuable Graham has been to this team because he is the only true point guard on the roster. And even that is somewhat new given the fact that Graham was more of a combo guard a season ago and only this season has made the transition to full-time point guard.
So for 45 seconds at the end of the first half in a tight and hotly contested second round tournament game with Seton Hall, the Jayhawks were without their point guard and turned to Garrett to run the show.
With Graham sitting on the end of the bench being checked out by trainers after blacking out momentarily following the collision, Garrett dribbled the ball just on the other side of midcourt and looked to follow his coach's instructions.
"Umm, get to the hole," recalled Garrett when asked what was discussed when Graham came out of the game. "We were going to run a high ball screen, just like we would if Devonte' was in, but at the last minute, like 10 seconds, I saw them switch to zone. And I was about to drive right but his man just helped and left Malik wide open so I just passed it to him."
Newman found enough room on the right wing to get off a 23-foot 3-point shot that found the bottom of the net and sent the Jayhawks into the locker room leading by five instead of just two. In a game that was decided by just four points when the final horn sounded — 83-79, Kansas — such a shot, and play, registered as a bigger deal than it might have on any other night.
That was the way Graham saw it from his seat.
"He did great," Graham said of Garrett's poise in that pressure situation. "He's got a good feel for the game. He just knows where to be and how to make the easy play. He did a good job coming off and finding Malik right there and Malik hit a big shot."
Garrett said his initial thought when he saw Graham go down was that he might have to play the point guard position for longer than 45 seconds. Admittedly, that thought came and went almost as quickly as that final Kansas possession of the half, but it was there nonetheless.
Photo Gallery
Kansas basketball v. Seton Hall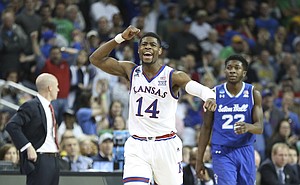 View a gallery of images from Saturday's second-round game between the Jayhawks and the Pirates in Wichita.
"Yeah, but once he got up, we asked him if he was OK and he said, 'Yeah, I'm fine,' and then I saw him try to check back in," Garrett remembered.
Sure enough, Graham, who has played 40 minutes 16 times this season, and 39 minutes seven other times, did, in fact, try to check back into the game — per KU coach Bill Self's instructions, that is — but as soon as Garrett moved to attack and Newman's shot fell through, Graham's presence on the floor was no longer needed for the final few seconds of the first half.
"It's a huge momentum swing and then we came out and got a bucket (to open the second half) and it went from five to seven instead of two to four," Graham said. "That's a big difference."
Added Garrett of Newman's shot: "That gave him confidence and got him started and got us started."
With Graham emerging from the locker room looking like his usual self and playing all 20 minutes of the second half, there was no need for Garrett to play extended minutes at the point.
But even Graham could not help but laugh at what the freshman from Dallas must have thought when he had the ball in his hands and was asked to run the show for the Jayhawks in a do-or-die NCAA Tournament game.
"He (probably thought) he might have to play point for the next game," Graham said with a laugh. "But he can definitely play point. I think he played point for his high school team and he's got a good feel for how to run the point."
The Jayhawks needed Garrett's versatility for 45 seconds on Saturday night. And, like a dozen other big plays in a tough victory, the one Garrett made helped the Jayhawks reach their third Sweet 16 in row.
---
More news and notes from Kansas vs. Seton Hall
---