Wichita — When a single basketball player produces 20-plus points and 20-plus rebounds in one NCAA Tournament game, it's typically safe to assume said player's team moved on to the postseason's next round.
Amazingly, not even 24 points on 10-of-17 shooting and a career-best 23 rebounds in his Seton Hall finale were enough to get Angel Delgado and his Pirates past the Midwest's No. 1 seed, Kansas.
In a season-ending, 83-79 loss to the Jayhawks Saturday night at Intrust Bank Arena, Delgado more than lived up to his "best rebounder in college basketball" billing.
The senior center became only the fifth player in the previous 40 years to go for both 20 or more points and rebounds in an NCAA Tournament game, joining North Carolina's Tyler Zeller (2012), Wake Forest's Tim Duncan (1997), Maryland's Joe Smith (1995) and Houston's Hakeem Olajuwon (1983). As you might have guessed, every one of their teams left the court with a season-extending victory.
Photo Gallery
Kansas basketball v. Seton Hall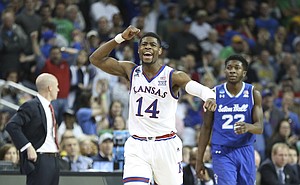 View a gallery of images from Saturday's second-round game between the Jayhawks and the Pirates in Wichita.
After a memorable performance, which included five assists and nine offensive rebounds, Delgado said it hurt to leave Wichita in defeat because he and fellow seniors Khadeen Carrington (28 points), Ismael Sanogo and Desi Rodriguez had much bigger expectations for their final March as teammates.
"We want to win everything and we want to be the best team in the tournament," Delgado began, "but it's one winner and one loser and we're the losing team right now. So I'm just proud of my team, just proud of my coach (Kevin Willard). He's not only my coach; he's like my dad. So it's kind of hard right now, but I just love my guys."
A 6-foot-10 senior from the Dominican Republic, Delgado became the first player to score at least 15 points and secure at least 15 rebounds against KU in the tournament since Duncan produced 16 points and 15 boards in a Demon Deacons loss to the Jayhawks in 1994.
As most coaches who exit the NCAA Tournament, Willard said he did so with at least a regret or two. After KU sophomore center Udoka Azubuike played 22 minutes off the bench for the Jayhawks (29-7), Seton Hall's eighth-year coach said the Pirates (21-12) should have went to their star big even more when Azubuike, still working his way back toward peak condition following a medial collateral ligament sprain in his left knee, entered the game.
"I kind of went away from him, because I didn't want to wear him out a little bit just because of Azubuike's size," Willard said after Delgado played a team-high 38 minutes. "I mean, but someone's going to be really happy with him next year (as a professional), because he's been doing that his whole career. His offensive rebounding just kept us alive throughout the whole game."
Although sophomore guard Malik Newman (28 points) carried much of the offensive load for Kansas, his coach identified Delgado as the best player in the second-round matchup.
"He was a man. And we knew he was good," Bill Self said. "I really think not having Udoka in there more against him probably hurt us some, because I really think physically (Delgado) was able to get the best of Mitch (Lightfoot). And Silvio (De Sousa) didn't get very many opportunities. But I think he's a terrific player. The thing that impresses me as much about him as anything, he never forces it. He takes his time and he's probably as good a passer as he is rebounder. He was great."
Sophomore KU forward Lightfoot, who played 14 minutes as the starting big against Seton Hall, said he knew who to blame for the monstrous nature of Delgado's stat line.
"We did enough (to win) but obviously we didn't do enough when it came to person by person. That's my fault," the 6-8 forward said. "We let him get some angles on some rebounds and stuff like that, so that was my fault. But we're moving on, so I can learn from it and get ready for the next game."
So how exactly did Kansas survive such a dominant show? Sophomore center Azubuike (10 points, seven rebounds, two blocks) knew his answer.
"Playing as a team," Azubuike replied. "Just one person can't win a game for your team. It's about the team. It's about a collective effort. We bought in as a family during the game and went and tried to execute."
---
More news and notes from Kansas vs. Seton Hall
---