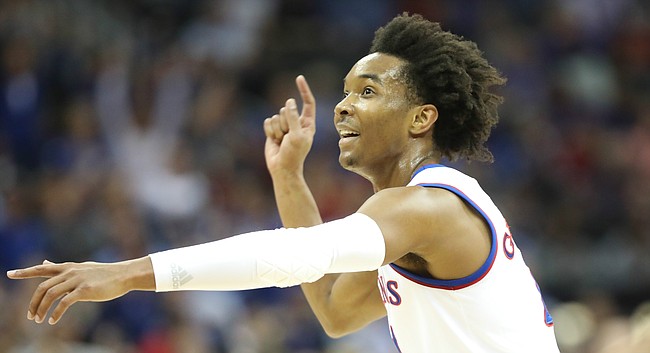 It's the top team in the most competitive conference all season against the smartest group of the bunch.
The Kansas men's basketball team on Sunday earned a No. 1 seed in the NCAA Tournament's Midwest region — its third in a row — and will face No. 16 seed and Ivy League champion Penn (24-8) at 1 p.m. Thursday at Intrust Bank Arena in Wichita.
"I told our guys, the thing about it is, from an academic standpoint, thank God we're not competing against them in all those areas," joked KU coach Bill Self on Sunday night. "But we'll have great respect for them and will know more after we watch film here in the next couple of hours."
The reality of KU's road in the upcoming NCAA Tournament has much more to do with Kansas than it does any of their opponents or even potential foes.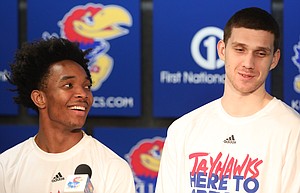 With Duke and Michigan State hanging out in the bottom of the region as the No. 2 and No. 3 seeds in the Midwest, most people came away from Sunday's revealing of the 2018 bracket believing the Midwest was the toughest region.
Self was in total agreement.
"That's hard," he said. "We've got three teams that people were talking about being a No. 1 seed in the NCAA Tournament in our bracket. But the reality of it is, if you're fortunate enough to play in that game, the Elite Eight game, you're going to play a good team regardless."
Kansas (27-7) knows that as well as just about anybody in this tournament.
The Jayhawks' quest to get back to their first Final Four since 2012 has ended in that game in each of the past two seasons. But the regional final loss to Villanova in Louisville in 2016 and last year's Elite Eight loss to Oregon in Kansas City, Mo., are serving as fuel for this start of this year's run.
"It's definitely something that you think about, falling short in the Elite Eight in back to back years," KU senior Devonte' Graham said. "Getting over the hump and getting to the Final Four is something that we definitely want to do and it's our last chance to do it so we're just going to be extra pumped and making sure everybody's ready to play and focused."
That type of motivation seemed to really be the focus for last year's team entering the 2017 NCAA Tournament. But this year's bunch seemed a little more focused on taking things one step at a time and enjoying the process along the way.
Podcast episode
Kansas basketball coach Bill Self met with the media Sunday after the NCAA Tournament bracket was revealed and discussed first-round opponent Penn, how Udoka Azubuike has surpassed expectations in his recovery from a knee injury and how Silvio De Sousa's emergence can help the team.
That makes sense given the current status of this squad, which has had an up-and-down season all year but played some of its best basketball of the season last weekend in winning three games in three days to take the Big 12 tournament title in Kansas City.
Because of that, Self said he thought failing to get through the Elite Eight during the past two seasons would only matter if the Jayhawks get there again.
"People talk like that and, yeah, it could be motivation," Self said. "But each team is so different. I mean, this team is nothing like last year's team. So the motivation for Svi (Mykhailiuk) and Devonte' and Lagerald (Vick) may be different than all the rest of our guys who've never been through anything like that."
The Jayhawks, who opened as a 15.5-point favorite over Penn, joined Virginia (South), Villanova (East) and Xavier (West) as No. 1 seeds in this year's bracket and likely landed in the Midwest, which runs through Omaha on the road to the Final Four in San Antonio, as a result of their strong showing this weekend in the Big 12 tournament combined with Xavier's loss to Providence in the Big East tourney.
"I really thought, after we won (Saturday) night, that we'd be in the Midwest," Self said.
Graham confirmed that notion, saying his team knew it needed to play well in the Big 12 tournament to put itself in the best position possible entering the NCAA Tournament.
"We felt like we played pretty good in the tournament we could lock that 1 seed up," Graham said.
Asked if reaching that goal meant much given the national-championship-or-bust aspirations of the KU program, Graham admitted that earning a 1 seed carried with it a sense of pride.
"It's definitely an accomplishment," he said. "And then you get to play closer to home and the fans can travel and you get that home-court advantage."
That all only matters if the Jayhawks find a way advance through each round. Winning three two-game tournaments is the way Self likes to look at the challenge.
Graham said he thought KU's roster, for the first time all season, truly understood what was required to win these types of high-stakes games and play at a high level for a sustained period of time.
Self agreed and said the key was to play with free minds and have fun doing so.
"This team's shown that we can play as a 1 seed or we can play as a team that doesn't make the postseason tournament," Self said. "We've shown that. So who knows what we're going to bring? But we should not wish to get through a game. We should look forward to playing every minute of it."
With that said, and even with their ultimate goal of winning the national title and, first, breaking through to the Final Four, clearly on their minds, Graham and Self said the focus for the next couple of days would be on one thing and one thing only.
"We're focused on Penn," Graham said. "That's it. We ain't worried about anybody else."
The Jayhawks will practice Monday and Tuesday in Lawrence and head to Wichita on Tuesday afternoon.