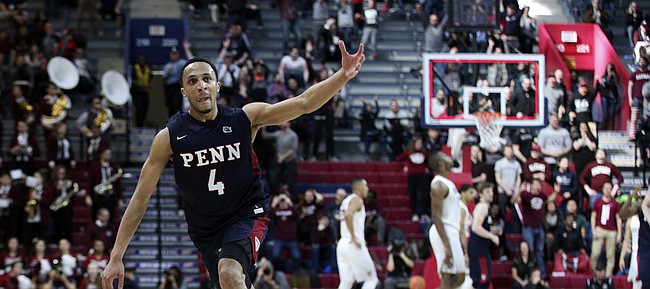 On a whirlwind of a Sunday for the Penn basketball team, head coach Steve Donahue had a lot on his mind as he watched the NCAA Tournament selection show.
Just hours after his Quakers earned their program's first invitation to the Big Dance since 2007 with a 68-65 win over Harvard in the Ivy League Tournament's championship game, Donahue watched with anticipation, thinking Penn (24-8) could nab a 15 or even a 14 seed.
Instead, Penn appeared on the Midwest region bracket as a No. 16 seed, meaning a first-round matchup with top-seeded Kansas awaits the Quakers in Wichita on Thursday.
As Donahue processed it all, he soon found himself reflecting on his time as head coach at Cornell, when he faced Bill Self and the Jayhawks inside Allen Fieldhouse in 2010.
"It was a great basketball game and memorable for our guys for sure," Donahue said during a phone interview with the Journal-World, referring to a 71-66 KU victory that wasn't decided until the game's final minute.
That Cornell team went on to advance to the 2010 Sweet 16, thanks to one of the most efficient offenses in the nation. Donahue said his offensive philosophy hasn't changed since then.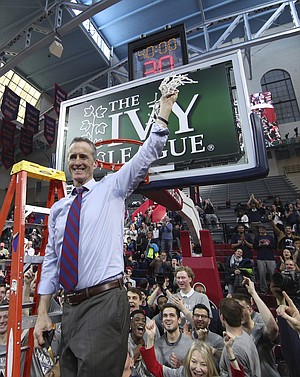 "My teams have always spread (opponents) out and shot 3s, tried to be efficient in terms of taking shots at the rim, foul shots and stand-still 3s," the third-year Penn coach explained.
His 2017-18 Quakers don't look much like Donahue's best Cornell team, though. According to sports-reference.com, the Big Red led the nation in offensive rating that year. This season, Penn ranks 142nd in that category.
"We had a lot of shooters on that (Cornell) team," Donahue said, before sharing what has fueled Penn's success. "We've got a tough, gritty team that really guards, limits teams to one (shot), shares the ball and takes care of it. We're not nearly the team that Cornell was shooting, but we guard a lot better."
A 6-foot-5 guard, sophomore Ryan Betley leads Penn in scoring (14.4 points per game) and has connected on 80 of 206 3-pointers this season (38.8 percent). Another sophomore, 6-foot-8 forward A.J. Brodeur, averages 13.0 points and 7.0 rebounds and was a unanimous selection for the All-Ivy League first team.
Senior Darnell Foreman, a 6-foot-1 guard, averages a team-best 3.6 assists to go with 10.4 points and 4.5 rebounds. Another senior guard, 6-foot-4 Caleb Wood, chips in 10.0 points a game and has hit 58 of 152 3-pointers (38.2 percent).
True, their individual offensive numbers won't blow anybody away. But Donahue said it's the Quakers' collective defense on the perimeter that makes this team go.
Penn enters its NCAA Tournament meeting with Kansas (1 p.m., Thursday, TBS) with the second-best 3-point percentage defense in the nation — opponents have made just 28.9 percent from behind the arc versus Penn.
The former Boston College and Cornell head coach hopes that stingy number will translate this week and give his players confidence as they face a Kansas team that ranks 13th nationally in 3-point percentage (40.3 percent) and 20th in 3-pointers made per game (10.1).
"We have some really good, physical guards, so we don't get beat off the bounce very often and give up that drive and kick," Donahue said.
Penn's defensive rebounding percentage (78.2 percent versus Division I competition, per teamrankings.com), Donahue added, keeps the Quakers out of many scramble situations in which an offensive rebound sets up an open 3-pointer.
"And lastly, we do a really good job getting back in transition," the coach said. "So that's something we really try to win — the battle of the 3-point line."
Penn won the two-day, four-team Ivy League Tournament, in part, by holding Yale to 5-for-25 3-point shooting Saturday and limiting Harvard to 7-for-18 success from long range.
On the season, the Quakers shot 34.7 percent from 3-point range, with 8.8 makes a game.