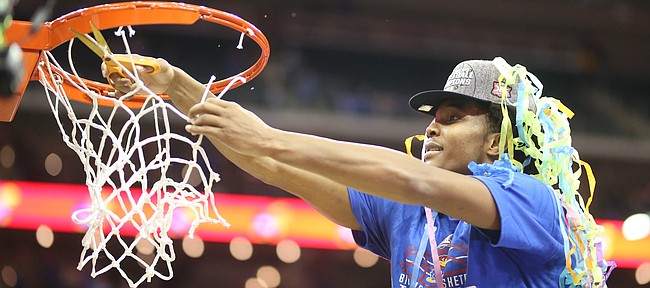 Kansas City, Mo. — It's called a shooting sleeve, looks like a white stocking, and stretches from just above the wrist to just below the armpit.
Devonte' Graham wears his on his non-shooting arm — at least he did until he decided to take it off in mid-dribble.
All alone and just past midcourt, the Kansas basketball team's most impressive multitasker revealed a new move Saturday during the Big 12 title game in Sprint Center.
Graham tore the sleeve off between dribbles and pitched it over the scorer's table with his left hand. It was reminiscent of watching a man who you just know is going to pummel his opponent remove his jacket and glasses before getting down to business.
Photo Gallery
Kansas basketball v. West Virginia (Big 12 Tournament championship)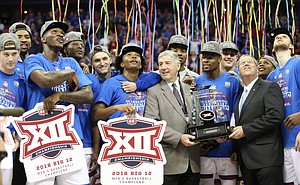 View a gallery of images from Saturday's Big 12 Tournament championship game between the Jayhawks and Mountaineers at Sprint Center.
The sleeve off, Graham went about ensuring Kansas the Big 12 tournament title with an 81-70 victory Saturday against West Virginia.
Newly sleeveless, he dribbled to the left baseline and nailed a pull-up jumper. The next time down the floor, he stood alone with the ball, well above the top of the key, and affected body language that suggested he was going to do anything but what he did, which was shoot. That 3-pointer capped a seven-point run that put Kansas up 73-66, a run that started with Graham finding Silvio De Sousa alone under the basket for an easy two points.
"When I was trying to get open, he held my arm and pulled my sleeve down," Graham said of a West Virginia defender. "It was just hanging on my hand, so I took it off and threw it away."
In order for Kansas to get the most out of its three days in Kansas City without injured center Udoka Azubuike, it needed to gain yet another trophy, and then some.
The Jayhawks came away with more than they had any reason to expect. Malik Newman made 15 of 22 3-pointers in three games, won the Most Outstanding Player hardware, and enters the NCAA tournament with soaring confidence. De Sousa played so little in 12 games that he came to Kansas City with 25 points and 18 rebounds. In three days, he produced 30 points and 29 rebounds, going out with 16 and 10 in the title game. He started this basketball season playing for a high school in Florida and finished Big 12 play by dominating the glass.
"And he'll only get better from here," Graham said.
Too much valuable confidence was gained for Kansas to end the weekend on a bummer. Graham wasn't about to let that happen.
He wasn't himself for the first five halves of basketball during the conference tournament. To that point, Graham had made just 9 of 29 field goal attempts, looking like a shooter weakened by tired legs.
Then winning time arrived, and the most proven winner on the floor took over.
Graham scored 16 of his 18 points in the second half, making 6 of 7 field goals and 3 of 4 3-pointers. He steered the Jayhawks to 48 second-half points and finished the night with a career-high 13 assists and just two turnovers. Fittingly, West Virginia's final possession ended when Graham stole the ball at halfcourt.
"If y'all haven't figured it out, Devonte' Graham is pretty good," said West Virginia coach Bob Huggins, who watched Graham score 27 points to defeat his team in the 2016 Big 12 tourney title game by a nearly identical 81-71 score.
Graham joined Newman, West Virginia's Jevon Carter and Daxter Miles Jr., and Kansas State's Makol Mawien on the all-tournament team announced after Saturday's streamers flew.
Podcast episode
Kansas basketball coach Bill Self, as well as All-Big 12 tournament honorees Malik Newman and Devonte' Graham, explain how the Jayhawks emerged from a heated conference title game as 81-70 victors over West Virginia.
KU's third victory of the season against the Mountaineers finished much as the previous two did, with Graham leading a one-sided assault.
Kansas closed 28-11 in Morgantown, 31-11 in Lawrence, 25-13 in Kansas City.
Look at it this way: If college basketball were played in quarters instead of halves, West Virginia would have outscored KU by 24 points in the first three quarters of the three games, and Kansas had a 49-point advantage in the three fourth quarters.
How do the Jayhawks do it?
"Everybody knows how to play here. Everybody knows how to make the right decision at the end of games," senior Svi Mykhailiuk said. "We know what's the right thing to do. We know what's the wrong thing to do."
And the ball is in the most experienced hands.
"He's terrific," Mykhailiuk said of Graham. "He has the ball every time and he makes plays for us every time."
Graham deflected the credit.
"I think it's coach," Graham said of Bill Self. "The pressure he puts on us in practice; he treats it like it's a game every time. If we miss a layup, he'll say, 'You just cost us two points.' Or he'll say, 'You just cost us the game.' He always makes us think it's a game situation."
If Graham practices in similar fashion to his game performances, he must finish every day brilliantly, which might explain why he wakes up every day with a smile on his face.